Archive: December, 2011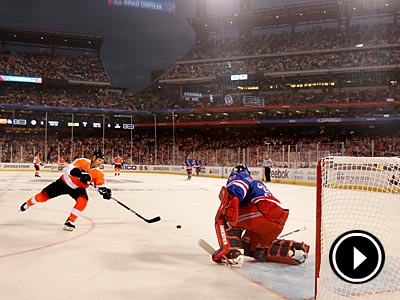 Video: Thousands of fans poured into Citizens Bank Park Saturday afternoon as beloved Flyers and Rangers legends took the ice for the Winter Classic alumni game. Marc Narducci and Sam Carchidi of the Inquirer report.
Video (below): Eric Lindros speaks to the media before the alumni game at the Winter Classic on Dec. 30.
[Video shot by David Swanson]
For another video of former Rangers and Flyers goalie John Vanbiesbrouck talks about the Winter Classic and playing in the alumni game, click here.
Sam Carchidi, Inquirer Staff Writer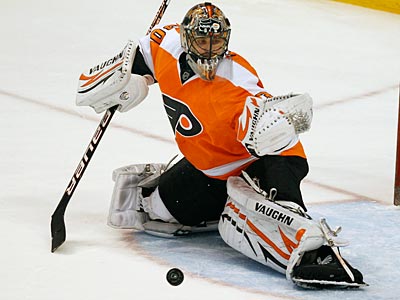 PITTSBURGH _ So did Sergei Bobrovsky's strong performance in Thursday's 4-2 win in Pittsburgh complicate matters for head coach Peter Laviolette?
In other words, will Laviolette have a difficult time selecting a goalie for Monday's Winter Classic against the New York Rangers?
"What a big win tonight," Laviolette said, sidestepping the question with a smirk."Let's stick to tonight right now. I mean, I'm not even out of the building."
Sam Carchidi, Inquirer Staff Writer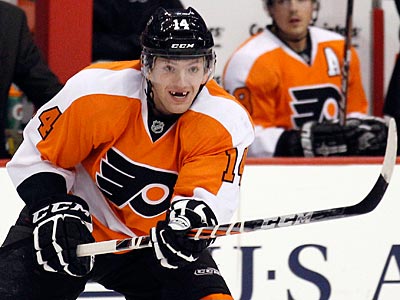 PITTSBURGH - Sean Couturier will return to the lineup Thursday when the Flyers play streaking Pittsburgh at the Consol Energy Center.
The rookie center has been sidelined since teammate Kimmo Timonen's slap shot hit him near his left ear on Dec. 17 against Boston. Couturier said he lost most of his hearing in the ear, but that it is now almost back to normal.
Couturier could be on a line with Brayden Schenn and Harry Zolnierczyk Thursday.
Video: Jaromir Jagr talks about returning to Pittsburgh to face his former team.
Sam Carchidi, Inquirer Staff Writer
TAMPA _ Center Brayden Schenn will return to the lineup for the first time in three-plus weeks, and Ilya Bryzgalov will be in goal when the Flyers play Tampa Bay on Tuesday night.
Schenn, 20, has missed the last nine games since suffering what the Flyers called a "mild" concussion in Phoenix on Dec. 3.
"You just want to get the first shift, the first period and the first game out of the way, then you can stop thinking about it and keep going on with the season," Schenn said of his injury. "I've been sitting home and thinking about it obviously quite a bit lately, and it's just good to get this out of the way and move on."
Sam Carchidi, Inquirer Staff Writer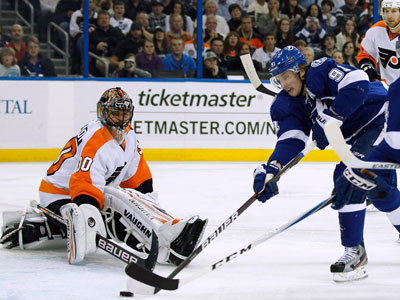 TAMPA - It's difficult not to root for Ilya Bryzgalov.
The Flyers' likable 31-year-old goalie has a great sense of humor and people gravitate toward him.
Clearly, the colorful, zany Bryzgalov has been the star of HBO's 24/7, which follows the Flyers and Rangers as they prepare to play in the Winter Classic on Jan. 2.
NEW YORK -- Danny Briere won't play in tonight's game at Madison Square Garden against the New York Rangers.
Briere suffered a bruised hand in the third period of Wednesday's 4-1 win over Dallas.
The Flyers list Briere as day to day.