Archive: November, 2009
Sam Carchidi, Inquirer Staff Writer
Veteran forwards Danny Briere and Simon Gagne returned to the Flyers' practice Monday, bringing a sense of optimism to a club that has lost five of its last six games and has struggled offensively.
Briere has missed the last three games _ two on a league-mandated suspension, one because of the flu _ while Gagne has missed about a month after undergoing hernia and abdominal surgery.
Briere, who has 10 goals in just 17 games, will return to the lineup Thursday against visiting Vancouver.
Sam Carchidi, Inquirer Staff Writer
What's my take on John Stevens' future as the Flyers' coach?
The Flyers, who have lost five of their last six, are playing for his job.
Either they step up, or the gentlemanly Stevens might be asked to step down.
Sam Carchidi, Inquirer Staff Writer
When your backup goalie allows just one goal _ as Brian Boucher did Saturday night _ you should skate off the ice with two points.
Instead, the Flyers got zero in a 1-0 loss to the Atlanta Thrashers at the Philips Arena.
It was the fifth loss in the last six games for the Flyers, who dearly miss the offense usually provided by Simon Gagne (abdominal/hernia surgery) and Danny Briere (flu).
Sam Carchidi, Inquirer Staff Writer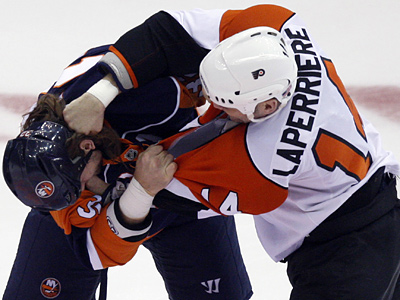 ATLANTA _ More bad news for the Flyers: Danny Briere, who is second on the team with 10 goals, will miss tonight's game in Atlanta because of the flu.
Briere had missed the previous two games because of an NHL-mandated suspension.
Barry Hanrahan, the Flyers' assistant GM, strongly denied a published report that said Briere was bothered by a groin problem that plagued him last season. Hanrahan said the Flyers are hopeful Briere can play Thursday against Vancouver, and that the veteran forward did not make the trip to Atlanta because they do not want him infecting his teammates.
Sam Carchidi, Inquirer Staff Writer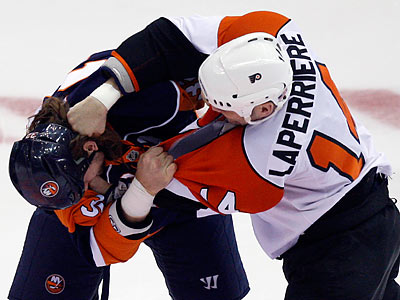 The Flyers' already-long injury list grew when right winger Ian "Lappy" Laperriere and center Jared Ross suffered first period injuries Friday afternoon in their 4-2 loss to Buffalo at the Wachovia Center.
The happy-go-lucky Laperriere lost four teeth and received between 50 and 100 stitches when he blocked Jason Pominville's slap shot with his mouth _ and returned to play in the third period.
After the game, Laperriere's mouth was so swollen that he looked like a cartoon character. Yet, he is expected expected to play Saturday in Atlanta.
Sam Carchidi, Inquirer Staff Writer
Backup goalie Brian Boucher gets my vote as the Flyers' best player on their 2-3 road trip, which ended with their 2-1 win over the host New York Islanders Wednesday.
In three appearances during the trip, Boucher had a 1.61 goals-against average.
Boucher made 27 saves in the first two periods Wednesday and enabled the Flyers to be locked in a 1-1 tie. The Flyers allowed just one shot as they controlled the third period, winning it on a goal by Scott Hartnell with 5:27 left.
Sam Carchidi, Inquirer Staff Writer
Goalie Marty Biron, one of the NHL's all-time good guys, will face his ex-teammates Wednesday when the improved New York Islanders host the Flyers at 7.
"He's a great guy who loved to be at the rink every day and loved to have fun," Flyers winger Scott Hartnell said. "Seeing him in between the pipes will be a little different. You shoot on him every day in practice so you think you may have his tendancies. It will be fun and we need to get ourselves back onto the winning ways."
"It will be nice to see him again," captain Mike Richards said. "Obviously we have been through a lot the last couple of years when we were teammates. I know that he is having some success out here, which is nice to see."
The Flyers have lost three straight on a 1-3 road trip that ends tonight.
Sam Carchidi, Inquirer Staff Writer
Claude Giroux is known for his playmaking, not his fists.
Yet, with the Flyers facing a 5-2 deficit Monday, the little forward pounded Marek Svatos during a fight late in the second period and it seemed to spark his team toward one of its best 20 minutes of the season.
But it didn't matter.