Archive: January, 2013
Sam Carchidi, Inquirer Staff Writer
Hoping to awaken his team's sleepy offense, Flyers coach Peter Laviolette juggled his lines during practice Thursday in Voorhees, moving Danny Briere to the top unit to replace Matt Read.
Briere played left wing on a line with center Claude Giroux and right wing Wayne Simmonds.
Giroux and Briere played together in Germany during the lockout, and they have been occasional linemates in the past with the Flyers.
Sam Carchidi, Inquirer Staff Writer
The new captain, Claude Giroux, is in a rut.
The smooth-skating center has no goals and just two points over his last five games, and he has seemed out of sync recently.
Not too coincidentally, the Flyers are off to a 2-5 start.
Sam Carchidi, Inquirer Staff Writer
NEW YORK _ The Flyers, coming off a 5-1 loss to Tampa Bay, will be making a few lineup changes Tuesday night against the New York Rangers.
Defenseman Andreas Lilja will make his season debut, Ilya Bryzglaov will be back in the nets, and it appears that winger Zac Rinaldo _ who has missed the last four games with a leg laceration _ will replace Tye McGinn, who has been impressive since being recalled from the AHL Phantoms.
Defenseman Kurtis Foster will be a healthy scratch.
Sam Carchidi, Inquirer Staff Writer
NEW YORK - Flyers goalie Ilya Bryzgalov is playing like an all-star, like the Vezina runnerup who carried the Phoenix Coyotes a few years ago.
Yet, the Flyers have wasted his strong start. They are 2-5 because their offense is, well, offensive.
The Flyers have scored a total of five goals in their five losses.
Sam Carchidi, Inquirer Staff Writer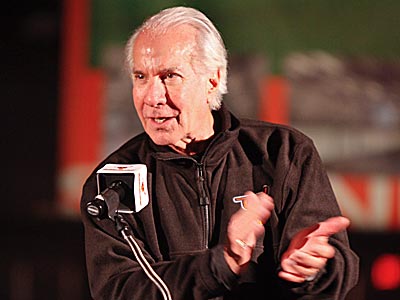 Sitting on the dais with other award winners Monday at the 109th annual Philadelphia Sports Writers Association's banquet in Cherry Hill, Flyers founder Ed Snider dabbed at his eyes as he listened Virlen Reyes' heartfelt words.
Reyes, now a West Chester University ice hockey player, talked about how Snider had "changed my life" by giving her an outlet to play hockey when she was a teenager.
"A little more than five years ago, I faced so many unhealthy obstacles that are typical to many inner-city children _ the violence, drugs, gangs. Honestly, I really didn't have any hope in life," she said. "But everything changed the day I found the Ed Snider Youth Hockey Foundation. I'm just one of the many, many children involved…..You've changed our lives positively and proudly."
Sam Carchidi, Inquirer Staff Writer
TAMPA, Fla. _ From their best game of the season to their worst _ in less than 24 hours.

That describes the Flyers' strange weekend in Florida, where they dominated the Panthers on Saturday, 7-1, and then were embarrassed by Tampa Bay on Sunday, 5-1.
The Flyers' power play was 2 for 7 Saturday and 0 for 6 Sunday.

Their goaltending went from sensational _ Ilya Bryzgalov made 30 saves on 31 shots Saturday _ to a rusty Michael Leighton (21 saves on 26 shots), who didn't have much defensive support Sunday.

To their credit, the Flyers (2-4) didn't use playing on consecutive days as an excuse against the rested Lightning (4-1)
"When you're playing back-to-back, you've got to keep it simple and play smart hockey," winger Matt Read said. "You know, we just got a little ahead of ourselves from our win (Saturday) night, which is no excuse. It's not acceptable by us. We've got to learn how to play both nights, come to play for 60 minutes every game."
Sam Carchidi, Inquirer Staff Writer
TAMPA _ The Flyers are sending center Scott Laughton back to his junior team in the OHL, GM Paul Holmgren said before Sunday's game against Tampa Bay.
Holmgren said it was a difficult decision, but that it was in Laughton's "best interest" to get more seasoning.
"He needs to play and needs to play in all situations," Holmgren said. "...The little bit of time he had here was good for him and good for us."
Sam Carchidi, Inquirer Staff Writer
SUNRISE, Fla. _ Flyers center Danny Briere, who has missed the first four games because of a hairline fracture of his left wrist, will make his first appearance of the season Saturday night in Florida.
Briere said he had no problems shooting the puck, but faceoffs still gave him difficulties. Hence, he will play wing.
Earlier, GM Paul Holmgren said Briere was "probably a no-go" for Saturday, but Briere apparently talked his way into the lineup.