Archive: January, 2012
Sam Carchidi, Inquirer Staff Writer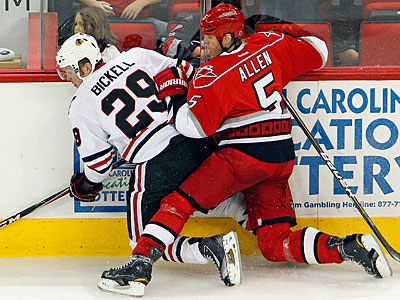 Now that Tim Gleason has signed a four-year, $16-million extension with Carolina, the Flyers may turn their attention to two other defensemen: The Hurricanes' Bryan Allen and Montreal's Hal Gill.
Allen, a rugged 6-foot-5, 226-pounder, is on the Flyers' radar, according to a league source. He would have to waive a no-trade clause in order to be dealt.
Allen, 31, has a $2.9 million cap hit and he can become an unrestricted free agent after the season. (In case you were wondering, he was not with Carolina when Flyers coach Peter Laviolette was there.)
Sam Carchidi, Inquirer Staff Writer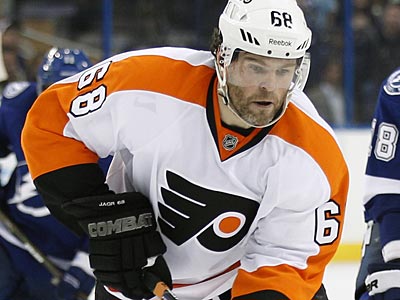 In a bit of a surprise, veteran right winger Jaromir Jagr said he plans to test his groin and play Tuesday night against visiting Winnipeg.
Jagr, 39, has missed a total of eight games - including the last two - because of two different groin injuries. He is searching for his first goal since Dec. 29 against Pittsburgh.
As expected, Ilya Bryzgalov will face the Jets, who have 9-8 and 6-4 wins against the Flyers this season.
Sam Carchidi, Inquirer Staff Writer
OTTAWA _ If the Flyers are going to make a run at Atlantic Division and Eastern Conference titles, they need to play much better at home in the season's last two-plus months.
They will get that chance starting Tuesday against visiting Winnipeg, beginning a stretch in which they play eight of 10 games at the Wells Fargo Center.
The Flyers are just 11-7-3 at home; they are a league-best 18-7-2 on the road.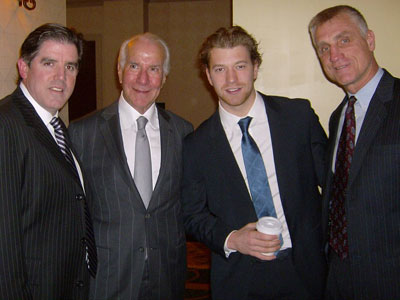 Flyers chairman Ed Snider was upbeat about the state of the team and even more so about the development of Claude Giroux.
Speaking before Giroux was honored as the Outstanding Philadelphia Pro Athlete at the Philadelphia Sports Writer's Association's annual dinner, Snider spoke in glowing terms of the 24-year-old Giroux, who just earned his second consecutive all-star berth.
"I tell everybody that he reminds me of Bobby Clarke at a similar age," Snider said of Giroux. "He looks like he did, acts like he did, played like he did. It's kind of exciting."
Scott Hartnell talks about his experience at the 2012 NHL All-Star Game.
(Video by Sam Carchidi/The Philadelphia Inquirer)
Sam Carchidi, Inquirer Staff Writer
(UPDATED with Suter's comments on Friday)
GATINEAU, Quebec _ It's a longshot, but it's no secret that the Flyers would love to acquire one of Nashville's all-star defensemen, Shea Weber or Ryan Suter, before the Feb. 27 trade deadline.
"We'll see how it goes," Flyers defenseman Kimmo Timonen, a former Predator, said after Thursday's all-star draft. "If we can get any of those two guys, perfect…..To be honest, if they want to win in Nashville, they have to keep those two guys."
Sam Carchidi, Inquirer Staff Writer
SUNRISE, Fla. _ Another gritty effort by the Flyers on Tuesday.
Despite not being at their best, despite being shorthanded by injuries, they outworked the host Florida Panthers and won in a shootout, 3-2.
Repeat: They won in a SHOOTOUT.
The Flyers' Scott Hartnell talks about making his first all-star team.
(Video by Sam Carchidi/The Philadelphia Inquirer)