Archive: January, 2009
Sam Carchidi, Inquirer Staff Writer
ST. LOUIS _ So who is going to be the Flyers' starting goalie for the majority of the season's final few months?
From here, it looks like Marty Biron.
That said, steady Antero Niittymaki, who has not been playing like a backup. He has started four of the last five games, including tonight's 4-0 loss in St. Louis.
Sam Carchidi, Inquirer Staff Writer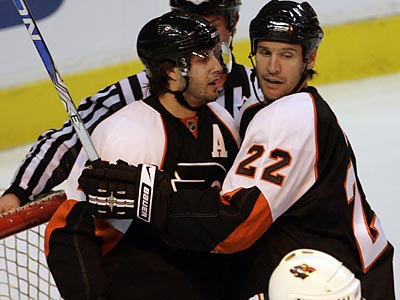 SUNRISE, Fla. _ As the Flyers begin the unofficial second-half of the season tonight against Florida, here are a few observations, free of charge::
1. The power play needs to start being productive on the road.
The Flyers are having spectacular power-play success at home (35.1 percent, best in the NHL), but are a dreadful 15.6 percent on the road.
Sam Carchidi, Inquirer Staff Writer
OK, it's a longshot _ let's say 80/20 _ that Peter Forsberg will return to the Flyers.
But it's not as long as it was yesterday and, by the time the Flyers find out the medical status of Danny Briere on Thursday, the odds could become closer to 50/50.
Briere will have exploratory surgery Thursday to find out why he is still having so much groin pain.
Sam Carchidi, Inquirer Staff Writer

It appears the Flyers will delay Danny Briere's return from a groin injury _ and it may have just as much to do with the salary-cap situation as it does the center's health.
"It's a little bit of both, to be honest," Briere said after today's practice at the Skate Zone in Voorhees.
"I'm not sure about that," said general manager Paul Holmgren when relayed Briere's assessment. "He doesn't feel 100 percent just yet."
After practice two days ago, Briere said he was "100 percent" healthy and that he was ready to return to the ice Wednesday against Atlanta.
Today, Briere _ who played three rehab games with the AHL Phantoms without any problems _ gave no indication he had a setback.
But Holmgren said the speedy center "didn't feel that good" after practice and that it was "likely" he would sit out Wednesday.
Keeping Briere out of the lineup Wednesday _ a decision will be made after Wednesday's morning skate _ would buy Holmgren more time to make the roster moves necessary to get Briere's $6.5 million salary under the $56.7 million cap.
After Wednesday, the Flyers are off for the all-star break and don't play again until Tuesday in Florida.
Sending defenseman Luca Sbisa to juniors and demoting defenseman Lasse Kukkonen and forwards Darroll Powe and/or Claude Giroux to the Phantoms are among the moves that may be made. A trade (Randy Jones?) is also possible.
"At this point, one game isn't going to change much," Briere, who last played for the Flyers on Dec. 2, said of possibly sitting out Wednesday. "It gives me four or five days to get better. It goes both ways. I'd like to play, but at the same time, you get four extra days of not skating and that could be very helpful as well.
"We'll go through the pre-game skate and then make a decision."
Said coach John Stevens: "It sounds as if he's getting better and better, but we can't afford to have any more setbacks where he's concerned; we've already been through it twice. I think it's due diligence on our part to make sure he's ready to come back, especially with the break coming up."
Sbisa, who will turn 19 on Jan. 30, has been a healthy scratch in seven of the club's last 13 games; the Flyers are 4-3 in games he has not played.
"I've been scratched a lot of times and it's not too good not knowing what's going on," Sbisa said. "I know a lot of players have to go through that stuff, so it's just part of growing up. I always knew it was going to be a possibility and if I have to go back, I'll just take it as another step in the way of being an NHL defenseman. If I go back, I'm just going to work hard and come back as soon as possible."
Holmgren has met with Sbisa and Giroux and discussed the possibility of being demoted.
"The young guys concern me, and the only two I've talked to about anything moving forward are Luca and Claude," the general manager said. "I think the other guys are kind of in the same boat I'm in. It's a business and you have to march ahead. It's just the way it is. They're the (cap) rules we all have to work under."
* * * * * * *
Goalie Antero Niittymaki, who missed Monday's practice because of the flu, practiced today and will face visiting Atlanta Wednesday.
In his career, Niittymaki is 11-0 with a 1.64 goals-against average and a .942 save percentage against the Thrashers. The Flyers are 13-0-1 against Atlanta since Nov. 18, 2005.
Niittymaki stayed in bed most of Monday and said he felt a much better today. "I wouldn't say I have 100 percent of my energy back, but I still have plenty of time until game time," he said.
Asked if the thought of playing Atlanta sped up his recovery, Niittymaki smiled.
"I don't think so. I don't think a virus really cares about who we're playing next," he said.
He called the streak against Atlanta "just one of those things. I feel like we always play well against them; it's not just me, but everybody. I don't know how to explain it. Hopefully, we can keep doing that."
"Obviously, he's played well against Atlanta, and I'm sure that's motivation for them, too," coach John Stevens said.
Wednesday, will be the Flyers' final game before the all-star break; they won't play again until Tuesday in Florida. Atlanta, which is led by Ilya Kovalchuk (48 points entering Tuesday), is playing much better than when Niittymaki blanked the Thrashers, 7-0, on Oct. 28.
"It's a big game for us before the break," said Niittymaki, who scored a 3-2 shootout win Friday in Florida. "When you're going to have a break, you want to win the last game and hopefully that will carry on after the break. Last year, we had a tough time after the all-star break and lost 10 in a row, so we want to play well before and after the break."
* * * * *
Mike Knuble, one of three Americans on the Flyers' active roster, was in a patriotic mood as he caught glimpses of today's historic inauguration of Barack Obama.
"You see millions of people there and (realize) just what a defining moment it is in the history of the United States," Knuble said. "There are a lot of things people have never seen in a lifetime and I'm very proud to see it happen."
Matt Carle and Andrew Alberts are the other Americans on the Flyers.
* * * * *
Breakaways. Joffrey Lupul and Scottie Upshall missed today's practice with the flu but are expected to play Wednesday. Mike Richards missed practice for a "maintenance day," Stevens said…..Assuming Marty Biron faces Florida on Jan. 27, he will have gone 11 days between starts. Stevens called it "an opportunity for Marty to get rested and feel physically strong heading into the last third of the season."
_ Sam Carchidi
Sam Carchidi, Inquirer Staff Writer
Center Danny Briere, who has missed about seven weeks with a groin injury, went through today's brisk practice without any problems and seems ready to return to the lineup Wednesday against the visiting Atlanta Thrashers.
Barring a major setback, Briere should play Wednesday and make his first NHL appearance since Dec. 2.
The Flyers' offense, which has been so dynamic for most of the season, has struggled lately and Briere should give the club a pick-me-up. The Flyers have averaged just two goals in their last seven games and opponents are keying on stopping the Mike Richards and Jeff Carter lines.
Sam Carchidi, Inquirer Staff Writer
TAMPA _ In their last two games, the Flyers have lost too many board battles and created few good scoring chances against teams that had been struggling.
As a result, they have lost two straight and look like a team that needs a recharging. The all-star break, which starts after Wednesday's game, can't come soon enough. (And, yes, they could also use a healthy Danny Briere.)
Thursday, the Flyers dropped a 4-1 decision to a Tampa Bay team that is one of the worst in the Eastern Conference.
Sam Carchidi, Inquirer Staff Writer
With all due respect to Jeff Carter, Mike Richards has been the first-place Flyers' best all-around player in the first half of the season and should have been selected to the Eastern Conference all-star team.
But Richards was snubbed. So were teammates Kimmo Timonen and Simon Gagne.
All because the fans made some very dumb selections when they chose the starters. That, coupled with the fact that each team has to be represented, left many deserving players off the team.
Sam Carchidi, Inquirer Staff Writer
WASHINGTON _ Give the Washington Capitals credit. They're doing their best to intensify their rivalry with the Flyers.
In a story in today's Washington Post, Caps defenseman Shaone Morrisonn criticized Flyers fans for their behavior in last year's playoffs, and head coach Bruce Boudreau took some verbal jabs at Flyers enforcer Riley Cote and said Philadelphia ran up the score in a game last month.
Ah, save some of the animosity for the playoffs, boys.