Archive: November, 2010
Sam Carchidi, Inquirer Staff Writer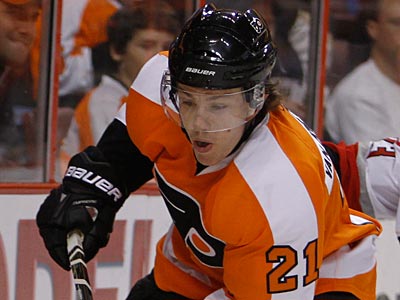 RALEIGH, N.C. _ Sergei "Bob" Bobrovsky will make his eighth straight start Thursday when the Flyers visit the Carolina Hurricanes.
Bobrovsky is 6-0-1 in his last seven starts, and overall he is 8-2-1 with a 2.19 GAA and .926 save percentage. He and Carolina 18-year-old center Jeff Skinner (15 points) are the early rookie-of-the-year favorites.
After today's morning skate, James van Riemsdyk, Oskars Bartulis, Matt Walker and Michael Leighton stayed for extra work.
Sam Carchidi, Inquirer Staff Writer
RALEIGH, N.C. _ The Flyers played almost a perfect game Thursday, but after their 8-1 romp past host Carolina, center Danny Briere said his team was too flat in the second period.
You have to admire that kind of attitude. You have to admire how this team isn't satisfied unless it plays a flawless 60 minutes. You have to admire the chemistry Peter Laviolette's surging club is building.
Jeff Carter had a hat trick, Briere scored two goals, Andrej Meszaros was plus-4, and goalie Sergei "Bob" Bobrovsky played another stellar game Thursday.
Sam Carchidi, Inquirer Staff Writer
RALEIGH, N.C. _ Goalie Michael Leighton and defenseman Matt Walker appear to be recovering ahead of schedule.
Both returned to the Flyers' practice here on Wednesday for the first time since their respective surgeries.
Leighton, who had been practicing on his own, had back surgery Oct. 11 to repair a herniated disk. He was expected to miss six to eight weeks. Leighton would not give a timetable for when he can return to action, but called the workout "a step in the right direction" and said his back was "feeling good."
Sam Carchidi, Inquirer Staff Writer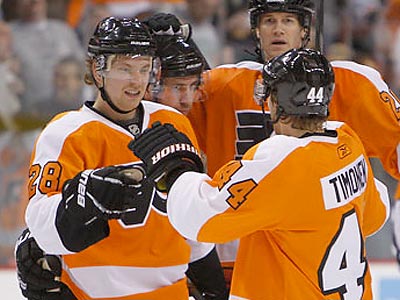 Give Paul Holmgren credit. The Flyers' GM moved swiftly and signed superstar-in-the-making Claude Giroux to a lucrative contract _ but one that won't break the bank.
Giroux, a 22-year-old center who leads the Flyers with seven goals and 14 points, signed a three-year deal Monday for $11.25 million. That's an average cap hit of $3.75 million per season.
That seems like a good deal all around for both sides. Giroux will have an even bigger pay day down the road, but for now, he is more than comfortable _ and the Flyers have a rising star who figures to be the face of the franchise for many years.
Sam Carchidi, Inquirer Staff Writer

WASHINGTON _ Facing a 21-year-old goalie making his first NHL start, the Flyers wanted to throw a lot of shots at the net and create traffic in front Sunday.
Didn't happen.
Instead, they let Washington control the tempo in the Capitals' hard-fought 3-2 overtime win at the Verizon Center.
The Flyers were outshot, 39-25, and outscored on the power play, 2-0. Washington had six power plays, while the Flyers had two.
In what could be a preview of the Eastern Conference final _ the teams each have 20 points, tops in the East _ Washington won it on defenseman Mike Green's power-play goal 29 seconds into OT.
Flyers' goalie Sergei "Bob" Bobrovsky made 36 saves and was the best player on the ice, but somehow did not get one of the game's three stars.
"We fought hard today for that one point," captain Mike Richards said. "I thought we probably could have played better, but Bob kept us in the game."
Braden Holtby made 23 saves for Washington (10-4).
The loss ended the Flyers' six-game winning streak.
Despite the defeat, the Flyers (9-4-2) have to feel good about themselves. They collected five of a possible six points while playing three games in four nights.
Starting Monday afternoon, the Flyers will go on a four-day bonding trip to North Carolina. The trip will include many team activities, including golfing in Pinehurst.
The Flyers will play coach Peter Laviolette's former team, the Hurricanes, on Thursday.
* * * * * * * *
Bobrovsky enjoyed facing fellow Russians Alex Ovechkin and Alexander Semin, who combined for a goal, an assist and 13 shots.
"I've never played against Ovechkin," Bobrovsky said through a translator, "It's very difficult, but, at the same time, very interesting to play against Ovechkin and Semin and face their shots because they are difficult."
Bobrovsky shares the NHL lead with eight wins.
* * * * * * *
Breakaways. Braydon Coburn (four blocked shots) had seven hits and Darroll Powe had six…..Danny Briere returned from his three-game suspension and played well, contributing an assist….Green played a game-high 30:26; Kimmo Timonen played a team-high 24:18 for the Flyers…..The Flyers won just 43 percent of the face-offs….The Caps are 7-1 at home; the Flyers are 3-1-2 on the road….Richards had a six-game point streak snapped…...Defenseman Sean O'Donnell leads the Flyers with a plus-8 rating…..Winger Eric Wellwood, who was impressive in the two games he played, was a healthy scratch and figures to be sent back to the Phantoms this week.
* * * * * *
For constant Flyers updates on Twitter, follow me at www.twitter.com/BroadStBull.
Sam Carchidi, Inquirer Staff Writer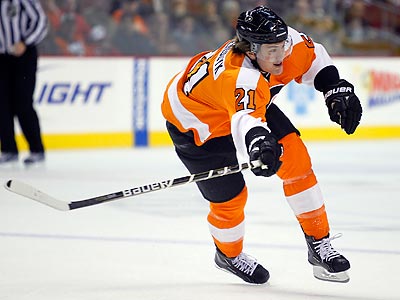 Struggling left winger James van Riemsdyk will be a healthy scratch when the surging Flyers play the host New York Islanders on Saturday night.
After a terrific preseason, JVR is goal-less in all 13 games. The Flyers hope a day (or two) off will rejuvenate him, much like it did winger Nik Zherdev.
Mike Richards' wingers tonight figure to be Andreas Nodl and Eric Wellwood.
Sam Carchidi, Inquirer Staff Writer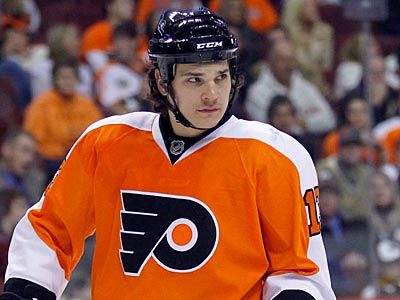 As Gomer Pyle used to say: Surprise, surprise, surprise.
That's my reaction to the news that, as of 1:40 p.m. on Friday, Flyers general manager Paul Holmgren still had not heard from the NHL office about Dan Carcillo's hit on the New York Rangers' Ruslan Fedotenko on Thursday.
"It's probably safe to say" there won't be a hearing, Holmgren said after Friday's practice in Voorhees.
Holmgren said he thought Carcillo made a legal hit and that he didn't expect the league to call.
Carcillo, who has a history of suspensions, admitted he WAS surprised not to have a conference call with Colin Campbell, the league's disciplinary dean.
In the third period of the Flyers' 4-1 win Thursday, Carcillo appeared to elbow Fedotenko to the jaw as the Ranger was falling to the ice. No penalty was called.
"It was kind of a weird situation. I didn't mean to take a run at him or anything," Carcillo said on Friday. "It was an awkward position and it happened pretty quick. He was kind of falling down. I don't know if he ducked of what he did, but it was a weird, weird hit."
Fedotenko, a former Flyer, said the referee told him he shouldn't have ducked.
In other words, if he hadn't ducked to avoid the hit, he wouldn't have been hit in the head.
"If he was up, it would have been a regular hit," Carcillo said.
"The kid was falling and all of a sudden, the position became vulnerable, but I didn't think Danny did anything (wrong)," coach Peter Laviolette said.
So expect Carcillo in the lineup Saturday night, when the Flyers play in Long Island against an Islanders team that has lost six straight. The Flyers will be aiming for their first six-game winning streak in nearly two years.
Sam Carchidi, Inquirer Staff Writer

The Flyers, pending the result of Tampa Bay's late game in Los Angeles, took over the lead in the Eastern Conference with their 4-1 spanking of the New York Rangers Thursday at the Wells Fargo Center.
For the Flyers, there were a lot of positives: Claude Giroux had a pair of assists _ one on a ridiculously good backhanded pass. Jeff Carter won 73 percent of his face-offs and set a screen on Chris Pronger's power-play goal, and Blair Betts and Mike Richards scored goals to aid a balanced attack.
More positives: Nik Zherdev scored his third goal and had one of his best games, and the PP went 2 for 5 and is 9 for 28 (32.1 percent) in the team's current five-game winning streak.
Oh, and rookie goalie Sergei "Bob" Bobrovsky continued to excel…and continued to make everyone wonder why in the world he was never drafted.
Peter Laviolette, naturally, was pleased with his team's performance.
"We need to keep going; I don't know where everybody else is tonight, but it's a chance to be first in the conference, and that's where you want to be," he said. "I like the way we're playing. I think the guys played really hard to get to this point."
The Flyers are 8-4-1
"We went through a little bit of a funk for three games, and from that we came out and played some really good hockey and put some wins together," Laviolette said. "It's early, but the objective is to win games and get to the top spot in the Eastern Conference and that's what we're working for right now."
The one negative Thursday: There is a chance Dan Carcillo could be suspended.
Carcillo appeared to elbow Ruslan Fedotenko to the jaw as the Ranger was falling to the ice in the third period. No penalty was called.
"It was a shot to the head," said Fedotenko, a former Flyer. "I'm sure the NHL will review it and see if it's a clear shot to the head or not. I'm sure it will be addressed."
Fedotenko said he tried to get an explanation from the referee.
"He said I shouldn't try to avoid the hit. I mean, I was looking for the puck and trying to shoot it so I didn't even see him coming until the last second. 'Don't duck' was his explanation."
In other words, if he didn't duck, he wouldn't have been hit in the head.
The league will undoubtedly review the video.
John Tortorella, the Rangers' hot-headed coach, was asked if he had a problem with Carcillo's hit.
"Sure, why wouldn't I?" he replied. "What do we talk about? We get these tapes (on what is permitted) sent to us during the summer and the beginning of the year. Why send them? It's a waste."
Breakaways. Andrej Meszaros and Sean O'Donnell were each plus-2 to lead the Flyers…Kimmo Timonen blocked four shots…..The Flyers, who play in Long Island Saturday against the Islanders, won 52 percent of the face-offs....Danny Briere sat out the second game of his three-game suspension.