Archive: October, 2012
Sam Carchidi, Inquirer Staff Writer
The NHL on Thursday canceled games from Oct. 11 to 24 because of the lockout, which is expected to linger.
For the Flyers, that erases four games _ at home against Boston, Pittsburgh and Winnipeg, and on the road against the New York Islanders.
Maybe it's time the lead negotiators _ NHL commish Gary Bettman and NHLPA boss Donald Fehr _ are replaced by a season-ticket holder from two teams?
Sam Carchidi, Inquirer Staff Writer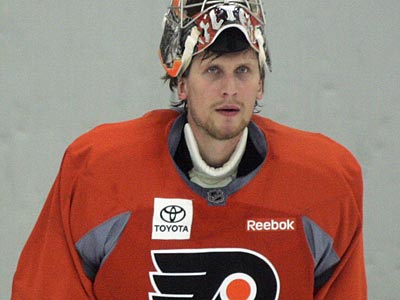 Highly touted 6-foot-7 goalie Niko Hovinen had a disappointing North American debut Tuesday afternoon as the Adirondack Phantoms dropped a 5-3 decision to Albany in an AHL exhibition opener for both teams.
A standing-room-only crowd of 400 crammed into the Skate Zone in Voorhees to watch the game.
Hovinen, 24, who starred in Finland last season, allowed three goals in the first 7 minutes, 41 seconds as the Phantoms fell into a 3-0 deficit and couldn't climb out. They outshot the New Jersey Devils' farm team, 47-23.
Sam Carchidi, Inquirer Staff Writer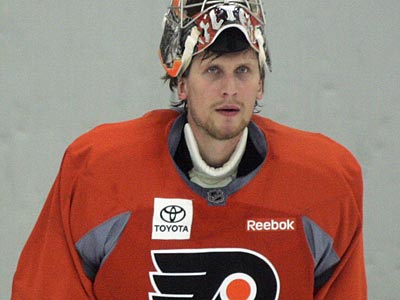 The Flyers' top farm team, the Adirondack Phantoms, will have numerous great storylines this season.
Perhaps none is more interesting than the development of goalie Niko Hovinen, a native of Helsinki, Finland.
No goaltender in the AHL will be taller than the 6-foot-7 Hovinen, who is coming off a superb season in Finland (2.26 goals-against average, .920 save percentage) and will be playing his first pro season in North America.
Sam Carchidi, Inquirer Staff Writer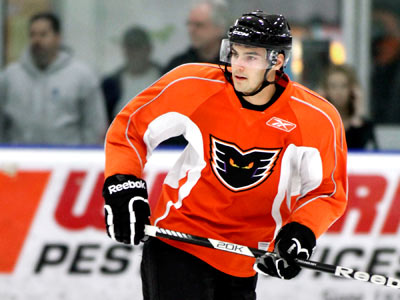 On one of the rinks in Voorhees, the Phantoms were going through drills during the third day of their AHL training camp on Monday.
On the other rink, just across the hallway, a handful of Flyers -- Scott Hartnell, Danny Briere, Nick Grossmann, Kimmo Timonen and Jody Shelley -- and NHL players Brian Boucher and Justin Williams were having another of their informal workouts.
The latter players are locked out by the NHL and have to rent the ice.