Archive: January, 2012
Sam Carchidi, Inquirer Staff Writer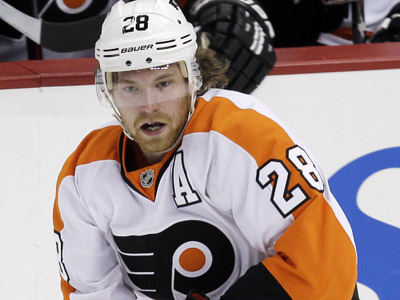 NASHVILLE - Flyers center Claude Giroux has blossomed into one of the NHL's elite players, but he is trying to get through his first prolonged slump of the season.
Maybe he's trying TOO hard.
You can hear the disappointment in his voice after games. You can see his frustration as he slams his gloves on the bench after a goalless shift.
Sam Carchidi, Inquirer Staff Writer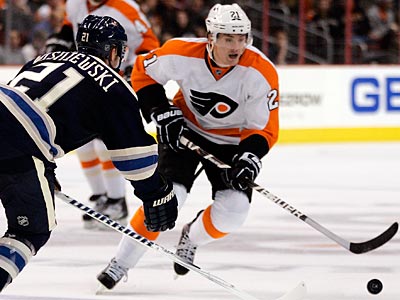 NASHVILLE – James van Riemsdyk has become the fifth Flyer who has been sidelined this season with a concussion.
The 22-year-old left winger will miss Saturday's game in Nashville and will be replaced by Matt Read on a line with Brayden Schenn and Wayne Simmonds.
"It's really unfortunate. I thought we've had some good chemistry _ me, him and Schenner," Simmonds said."We've been playing well the last couple weeks."
Sam Carchidi, Inquirer Staff Writer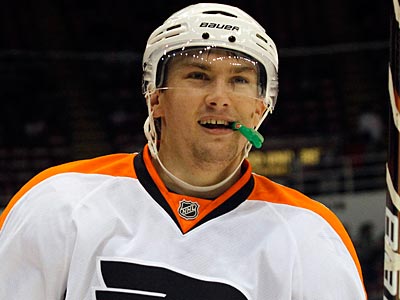 NASHVILLE _ Flyers left winger James van Riemsdyk isn't going anywhere _ at least for now.
A Flyers official denied a report that JVR was headed to Toronto for defenseman Luke Schenn.
"Not happening," he said.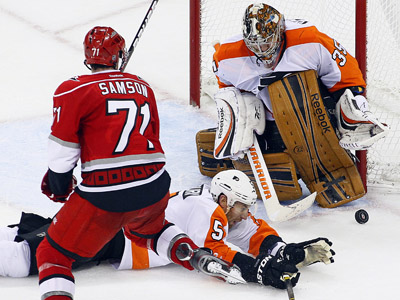 UNIONDALE, NY -- Flyers coach Peter Laviolette said following today's morning skate at the Nassau Coliseum that Sergei Bobrovsky will make his second consecutive start in goal tonight against the New York Islanders.
"I think his numbers speak for themselves, he has been terrific," Laviolette said. "His numbers are excellent and he has played well against the Islanders and he really played well against Carolina.
On Tuesday, Bobrovsky made 36 saves in the Flyers 2-1 win at Carolina. He was named the game's third star.
Sam Carchidi, Inquirer Staff Writer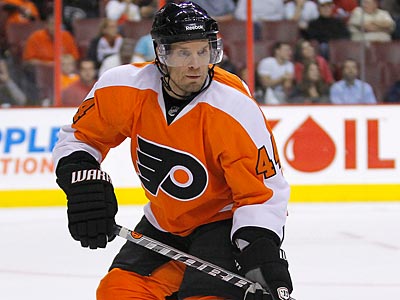 Center Claude Giroux and defenseman Kimmo Timonen were the only Flyers named to the NHL all-star team on Thursday. Left winger Scott Hartnell, who is having a career season, was snubbed.
Coach Peter Laviolette had said it would be "criminal" if Hartnell wasn't selected.
Hartnell, 29, could be added if another all-star is injured. That was the case last year with Danny Briere.
UNIONDALE, NY -- How can Peter Laviolette do anything else but keep riding the hot hand?
Sergei Bobrovsky was sensational in goal during Thursday's 3-2 win over the New York Islanders at the Nassau Coliseum.
It was his second straight start and second consecutive stellar performance. Bobrovsky also was in goal for Tuesday's 2-1 win at Carolina.
Sam Carchidi, Inquirer Staff Writer
Will the Flyers make a move before the Feb. 27 trade deadline?
It may hinge on how well defenseman Erik Gustafsson plays.
Gustafsson was recalled from Adirondack on Wednesday as the Flyers sent little-used Matt Walker to the Phantoms.
Sam Carchidi, Inquirer Staff Writer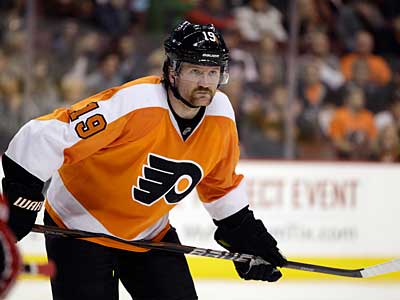 RALEIGH, N.C. _ When the NHL names the remaining 36 all-stars on Thursday, Flyers center Claude Giroux will undoubtedly be selected to the team.
But coach Peter Laviolette made a passionate case on Tuesday for another member of Giroux's high-scoring line.
"I'm not lobbying, but it would be criminal for Scott Hartnell not to be on there," Laviolette said after the Flyers' morning skate in Carolina. "In my opinion, he's the top power forward in the league right now. Based on numbers, based on this season, based on plus-minus, hits, physical play, goals and assists," you'd be hard-pressed "to come up with somebody who has had a better year than Scott. End of story."