Archive: May, 2012
Sam Carchidi, Inquirer Staff Writer
While walking through the Deptford Mall on Monday, a strange announcement was heard over the public-address system:
Attention, shoppers. We have a lost group of 20 bearded young men and they say they don't know how they got here.
The boys call themselves "Flyers," and they seem confused and somewhat religious. They keep talking about their need to exorcise Devils and how they don't want to go golfing so early.
Again, they seem confused. Almost dazed, really.
They say they don't remember much about the last three games, but they believe they won the conference championship against the Penguins a couple weeks ago. And they continually mutter things about being outworked and lacking emotion and needing someone to show them the way.
If you think you know the identity of any of these polite young men — one said he would have made a great astronaut if he hadn't discovered hockey – please contact our main office. Thank you.
* * * * *
Sam Carchidi, Inquirer Staff Writer
For the last three games, the Flyers have had no sustained forecheck, no emotion, no answers in their Eastern Conference semifinals against the surging New Jersey Devils.
And, now, as they try to stave off elimination in Game 5 on Tuesday, they have no Claude Giroux, the star center who leads the NHL with 17 points in this year's playoffs.
Does that mean they have no chance?
Sam Carchidi, Inquirer Staff Writer
NEWARK, N.J. — The biggest indictment on the Flyers' embarrassing 4-2 loss in New Jersey Sunday night wasn't that they blew a 2-0 lead, wasn't that they had 15 more giveaways than the Devils, wasn't that they were outscored, 2-0, in even-strength situations.
It was this: the Flyers went 16 minutes, 23 seconds without recording a shot during a span that stretched over the first and second periods.
Go almost 16½ minutes without a sniff of a shot in a regular-season game would be bad enough. But to do it in a virtual must-win playoff game, well, it's simply mind-boggling.
Sam Carchidi, Inquirer Staff Writer
Update: Sean Couturier has made a quick recovery from a leg injury and is expected to play in New Jersey on Sunday night.
The rookie center took part in the morning skate. Officially, the Flyers say he will be a game-time decision.
Defenseman Andrej Meszaros has been ruled out for tonight.
Sam Carchidi, Inquirer Staff Writer
Based on Saturday's practice in Voorhees, it appears defenseman Andrej Meszaros will return to the lineup Sunday night in New Jersey, and that center Sean Couturier will sit out the game.
Meszaros was paired with Andreas Lilja for most of Saturday's practice; he sometimes was with Erik Gustafsson.
It appears Meszaros will be with Lilja, and that Gustafsson will be a healthy scratch.
Sam Carchidi, Inquirer Staff Writer
NEWARK, N.J. _ New Jersey star right winger Ilya Kovalchuk took part in his team's morning skate on Thursday and it appears he will play tonight against the Flyers.
The 29-year-old Russian missed Tuesday's 4-1 win over the Flyers with a lower-back injury.
Kovalchuk, who scored 37 goals in the regular season, said the decision on whether he plays was up to coach Pete DeBoer.
Sam Carchidi, Inquirer Staff Writer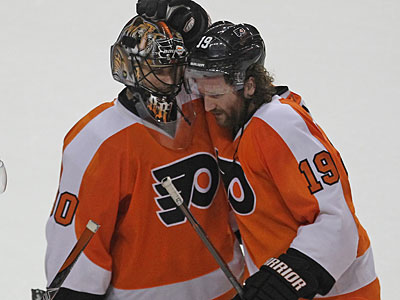 The Flyers need their top line to get untracked if they are going to win their second-round series against the dangerous New Jersey Devils.
On Tuesday, as the Devils tied the series at one win apiece with a 4-1 victory, the unit of Claude Giroux, Scott Hartnell and Jaromir Jagr was stifled by a line centered by New Jersey rookie Adam Henrique.
"I don't think it was as much as what they did as what we DIDN'T do," Hartnell said after Wednesday's practice in Voorhees.
Sam Carchidi, Inquirer Staff Writer
The Flyers fell to the New Jersey Devils, 4-1, in Game 2 of their Stanley Cup Playoffs Eastern Conference semifinal series at the Wells Fargo Center. The series is now even at one game apiece. Flyers players address the media, and The Inquirer's Sam Carchidi offers his take on what he saw Tuesday night.
Sam Carchidi, Inquirer Staff Writer
The Flyers seemed unfazed by the news that New Jersey winger Ilya Kovalchuk would miss Tuesday's game, saying it would not affect the way they play in Game 2 at the Wells Fargo Center.
Kovalchuk, who scored 37 regular-season goals, is out with what has been reported as a back or groin injury.
"For us, the focus is on what we do, not them," winger Wayne Simmonds said. "He's obvioulsy a good player, but this is the playoffs and whoever they put into the lineup is going to play their hardest. We just have to play our game."