Archive: May, 2010
Sam Carchidi, Inquirer Staff Writer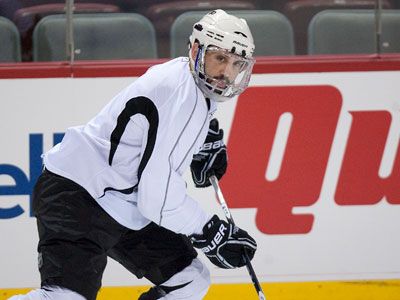 MONTREAL _ Ian Laperriere, the Flyers' gritty right winger, is expected to return to the lineup Saturday afternoon against Montreal, a club source said Friday.
Laperriere skated on a line with Blair Betts and Darroll Powe at Friday's practice. He has been sidelined since April 22, when he blocked a slap shot against New Jersey and suffered a bruised brain, a broken orbital bone and a concussion. He needed nearly 70 stitches to repair a cut above his right eye.
Jeff Carter, recovering from a broken foot, also skated at Friday's practice and scored on a wraparound goal. He looked to be regaining his form, but is still doubtful for Saturday.
Sam Carchidi, Inquirer Staff Writer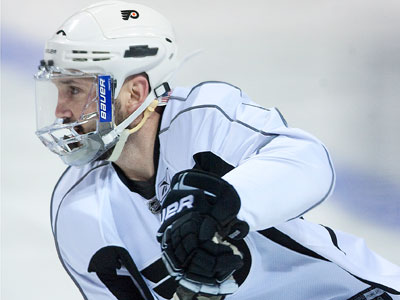 Join the Inquirer's Sam Carchidi for a live Flyers chat Friday at 3 p.m.
Sam Carchidi, Inquirer Staff Writer

MONTREAL _ Flyers captain Mike Richards called it a "good old-fashioned ass kicking," and no one would disagree.
Montreal was faster, more physical, better with the puck and hungrier as they defeated the visiting Flyers, 5-1, on Thursday and climbed off the canvas and back into the Eastern Conference finals.
"We knew they were going to come hard," goalie Michael Leighton said, "and obviously we didn't respond to it."
The Flyers lead the series, two games to one, but there are questions, lots of questions, that have arisen.
Such as: Do the Flyers have enough gas in the tank to reach the Stanley Cup Finals?
The Flyers seemed tired and disinterested right from the start.
That shouldn't happen in a playoff game, but it's easy to give the Flyers a pass. After all, this team has been playing full tilt ever since it fell into a three-games-to-none hole in the conference semifinals against Boston.
They were due for an emotional letdown.
But the disturbing part is this: The Flyers have not played well in the last two games.
In the Flyers' 3-0 home win on Tuesday, Montreal had a territorial edge, but goalie Michael Leighton bailed out the orange and black.
The Flyers, who had their six-game winning streak snapped on Thursday, need to regroup and get back into desperation mode.
That's not easy when you're still ahead in the series, but the Flyers should focus on this: Montreal faced a 3-1 deficit against mighty Washington and won that quarterfinal series, so you don't want to lose Saturday afternoon and give the Habs any more momentum.
The Flyers need to treat Saturday like it's a must-win game.
They need to set the tone and play their first good opening period of the series.
They have been outshot, 46-21, in this series' three first periods, and that should sound some alarms in Flyersville.
"This was a long way coming; we didn't play all that well even in the first couple games. We relied heavily on our power play," Richards said. "This was just a beatdown."
"We've got to be more prepared," said center Claude Giroux, who had a nasty cut on his lip, courtesy of Josh Gorges' stick. "They just worked harder than us tonight."
Asked if Thursday's lopsided loss was a wakeup call, Richards said, "It better be. I'm not calling anyone out. It's myself leading. It's going out on the ice and playing for it, instead of just going out there and hoping."
Defenseman Chris Pronger, who was minus-3 in one of his rare poor performances, was also critical of the team's effort.
Sam Carchidi, Inquirer Staff Writer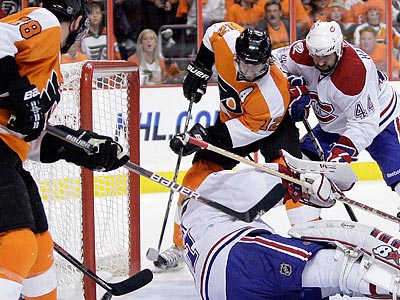 Simon Gagne, the Flyers' veteran left winger who was sidelined with a broken foot earlier in the playoffs, has the magic touch.
Since returning to the lineup earlier than expected, he has played in six playoff games.
The Flyers have won all six, with Gagne scoring six goals.
"What he's done has been very impressive," understated coach Peter Laviolette.
Gagne contributed a power-play goal Tuesday as the Flyers defeated Montreal, 3-0, at the rollicking Wachovia Center and took a two-games-to-none lead in the Eastern Conference finals.
"It's tough now," said Gagne of the series, which shifts to Montreal on Thursday. "It feels pretty good, but at the same time, we've been on the other side, and we know that until the other team (closes) the series, it's not over. For us, we did what we had to do here at home. Get those two wins.
"But at the same time we have a lot of things we can improve on our game, especially five on five. Our goalie had to be very good for us tonight to win the game."
Michael Leighton made 30 saves, including 13 in an acrobatic first period.
The Flyers, who have set a team playoff record with 13 straight goals, were 2 for 4 on the power play, while Montreal was 0 for 4.
"Our special team was the key tonight. But five on five for the most part of that game, they were definitely a lot better," Gagne said. "We're up 2 0, but it doesn't mean anything. They're going to go back to Montreal and try to do the same thing that we did tonight.
Someone mentioned to Gagne that the Flyers seem to be shooting high and to the corners on Montreal goalie Jaroslav Halak.
"Oh, yeah? You know what, for any goalie that's a tough spot now to cover. You know, you're taking sometime a perfect shot especially on the goal that Danny B (Briere) scored _ a perfect shot. Doesn't matter if you're Halak or Marty Brodeur or Michael Leighton, it's going to go in."
The Flyers are 4 for 10 on the power play in the first two games of the series; Montreal is 0 for 8.
"I think it's just about confidence," Gagne said. "Sometimes when you're confident on the power play, you're able to make plays a little bit more than usual that you're not scared to do. You just have to keep it simple, and we did tonight."
Now the challenge is to keep it going in Montreal.
* * * * * * * *
For Flyers updates, follow me on Twitter at www.twitter.com/BroadStBull.
Sam Carchidi, Inquirer Staff Writer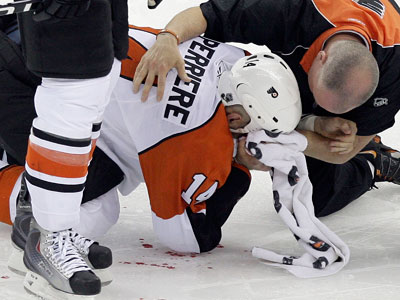 The news keeps getting better in Flyersland.
Gritty right winger Ian Laperriere, who has been sidelined with a brain bruise and concussion since April 22, passed an MRI on Monday morning and participated in the Flyers' practice. He will not play in Game 2 Tuesday against Montreal, but could return later in the conference finals, GM Paul Holmgren said.
Provided he is cleared to play by four neurologists, it's possible Laperriere will return in Games 3 or 4 in Montreal. Game 5 may be more realistic.
Sam Carchidi, Inquirer Staff Writer
Do not expect Flyers center Jeff Carter to return in the Eastern Conference finals against Montreal, general manager Paul Holmgren said on Sunday night.
Holmgren vehemently denied a report that Carter _ who is sidelined with a broken right foot _ would return by Game 3 of the conference finals. He said it was "a stretch" that Carter would return at any point in the series. "He's still walking around in a boot," Holmgren said.
Carter broke his right foot when hit by a shot taken by teammate Chris Pronger during an April 20 playoff game in New Jersey. He had surgery three days later.
At the time, the Flyers said Carter would miss at least six weeks and might be able to return if the Flyers reached the Stanley Cup Finals. (Reaching the Finals seemed like a longshot at the time. Not now.)
Sunday marked the 26th day since Carter's injury.
During the regular season, Carter broke his other foot and missed eight games; he still led the Flyers with 33 goals.
Holmgren also said the Flyers would be cautious with Ian Laperriere and that the club would not rush the right winger back. Laperierre is sidelined with a brain contusion and concussion, and Holmgren hinted it was a longshot that he would return this season.
"It's a safety issue….that we take seriously," he said.
Laperriere has started to skate, but he will not be allowed to practice until an MRI "says everything is clear," Holmgren said.
* * * * * * * * * *
For constant Flyers updates, follow me on Twitter at www.twitter.com/BroadStBull.


Sam Carchidi, Inquirer Staff Writer
BOSTON _ As either a writer or a fan, I've been fortunate to be at several memorable sports events in the last five-plus decades _ some good, some not so good.
Some stupendous.
Like the Flyers' had-to-see-it-to-believe-it 4-3 win in Boston Friday.
We probably use the word "epic" too much in this business.
In this case, however, it almost seems like it doesn't do the game _ or the Flyers' series comeback _ the justice it deserves.
And, so, the Flyers becoming the third team in NHL history _ and the fourth in all of sports _ to win a series after losing the first three games has joined by Most Memorable List of events witnessed in person.

(None can compare to watching my son make an unassisted triple play in a Little League game, but I digress….)
My list starts with 1962. My Mom, rest her soul, took me to my first game at colorful Connie Mack Stadium, where I swear they had the greenest grass I had ever seen. . It was a religious experience of sorts.
Five years later, I was at cigar-stenched Convention Hall watching Wilt beat Bill Russell and the hated Celtics en route to winning the 1967 NBA title against the Warriors.
I was there when the Flyers won the Stanley Cup at the shaking Spectrum in 1974, edging the Bruins, 1-0, in an epic (there's that word again) Game 6.
I was sitting in the press box when the Phillies blew that ninth-inning lead in the 1977 NLCS against the Dodgers. "Black Friday" is how it became known.
I was there when the Phillies won the 1980 World Series, when the Eagles beat Dallas to win the 1980 NFC title, and I sat with my son at the Linc when the Birds beat Atlanta in the 2005 championship game.
I was covering a seemingly innocent game at Montreal's Olympic Stadium in 1991, when, out of nowhere, Tommy Greene threw a no-hitter and blanked the Expos, 2-0.
Just as dramatic was the finish I witnessed in 1994. The "Miracle in Michigan," it was labeled after Kordell Stewart launched a 64-yard Hail Mary pass on the game's final play _ and Michael Westbrook cradled the ball after it was tipped by as defender, giving Colorado a 27-26 win over Michigan.
I was there when Adam Taliaferro, miracle man, beat paralysis and walked onto the field to lead host Penn State out of the tunnel before more than 100,000 teary-eyed fans _ including myself _ in the Nittany Lions' 2001 matchup with Miami.
Oh, and I was there when the Phillies won the 2008 World Series at reverberating Citizens Bank Park, where the fans all stood for the last three innings or so. My daughter texted me every few minutes from college. My Mom watched from above.
All of which brings me back to Boston, May 14, 2010.
That date is now etched in my mind.
And, if you're reading this, yours.

Sam Carchidi, Inquirer Staff Writer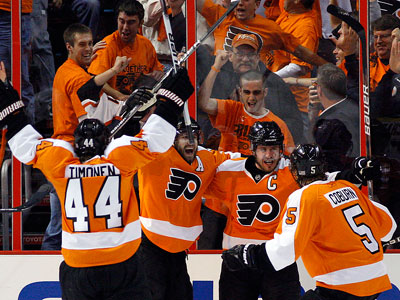 BOSTON _ Been there, done that.

That was the message Peter Laviolette, the confident Flyers coach, delivered at a news conference Friday afternoon as his team prepared to play the Boston Bruins in what he called "our fifth Game 7 here."

Laviolette was referring to the fact that the Flyers, in effect, were getting ready for their fifth elimination game since April 10.

It started with the final game of the regular season. They needed to win that game just to sneak into the playoffs, and they did. Barely. They outlasted the New York Rangers, 2-1, in a shoot-out.

In the Eastern Conference semifinals, the Flyers fell into a 3-0 series hole. They staved off elimination with three straight wins, setting up Friday's showdown to determine which team would meet Montreal in the conference finals.

"It really is our fifth time facing elimination," Laviolette said. "I feel like we're ready for this. The message hasn't changed from Day 1 since I've been here until where we are right now. Everything has stayed the same. The meetings are the same. The message is the same. What's expected is the same.

"When we start mention a Game 7, there's this buildup because somebody's going home, but like I said, we've been faced with that for a while."

Defenseman Chris Pronger was preparing to play in his seventh Game 7, the most on the team. Pronger was acquired in an off-season deal with Anaheim just for these type of games.

"I feel like we're still here today because of what's in our room _ and a guy like Chris Pronger," Laviollete said. "Not only has he proven it in the past, he's proven it already here. Our team has been in survival mode; we've been fighting. And you don't win those fights unless there's great type of people in the locker room. Mike Richards. Danny Briere steps up. Chris Pronger plays his minutes. Guys who have proven they can get there and handle the pressure of an elimination game, and that's where we are tonight.

"There's no question that Chris Pronger can be a difference tonight."

Laviolette said he never looked at being down by three games.

"If you look at it like that, it seems daunting," he said. "We have not approached it like that. We liked the way we played the first three games, especially the way we played in Game 3 (a 4-1 loss with an empty-net goal) _ and that was the most lopsided score against us. We thought we played a terrific hockey game; we had the chances heavily in our favor and the bounces didn't go our way that night. We took a lot of confidence from that, and we really methodically went very slow. One game. Game 4. And here we are, Game 7."

Let the drama begin.
* * * * * * * *
Trying to change its luck, Boston did not have a morning skate _ the first time they haven't had one before a playoff game in two years. (They lost to Montreal the last time they didn't have a morning skate in the playoffs.)
* * * * * *
Simon Ggane brushed aside a report that he re-injured his broken foot in Game 6, saying he has felt "better and better" with each game.
* * * * * *