Archive: March, 2012
Sam Carchidi, Inquirer Staff Writer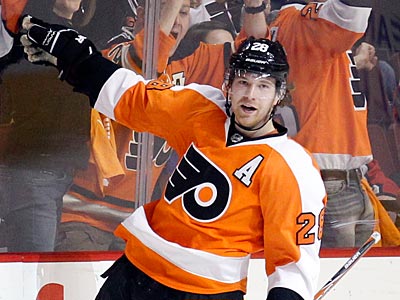 With just seven regular-season games left, center Claude Giroux is a looooongshot to become the first Flyer to win the NHL scoring title in franchise's history.
But Giroux _ who is third in the NHL with a career-high 86 points, 11 behind the leader, the streaking Evgeni Malkin of Pittsburgh _ looks at the positive side.
"There's no way I would have guessed I would have been up there," Giroux said after Sunday's practice in Voorhees. "It's pretty cool….I feel lucky to be up there. It's not just about me. It's about my linemates, too."
Sam Carchidi, Inquirer Staff Writer
Goalie Ilya Bryzgalov, the NHL's best goalie the last month, will continue to carry the workload Saturday night.
Bryzgalov will start for the 18th time in the last 19 games as the Flyers host Montreal and try to clinch a playoff spot.
The Flyers will clinch a playoff berth with a win; they can also secure a spot if they get one point and Buffalo loses to Minnesota in regulation, a shootout or in OT.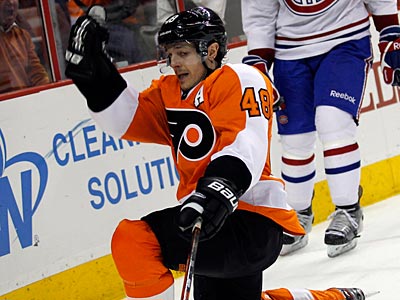 Danny Briere said he had been playing better lately, but the bounces weren't going in. When the postseason starts, those bounces have a way of finding the back of the net for Briere.
And if his performance in Saturday's 4-1 win over the Montreal Canadiens is any indication, then the Flyers will feel more confident about their offense heading into the postseason.
Briere scored two power play goals after entering the game with two. He has now scored 16 goals for the season. What is surprising is that Briere had not scored a non-empty net goal in his previous 29 games.
Video: Ilya Bryzgalov impressed again with 30 saves as the Flyers beat the Washington Capitals 2-1 for their ninth win in 12 games. Sam Carchidi of the Inquirer reports.
Sam Carchidi, Inquirer Staff Writer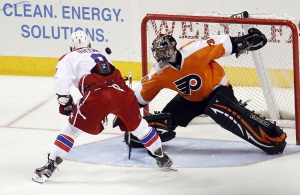 The mantra coming out of the Flyers' locker room lately has been this: We don't care who we face in the playoffs, we just want to be on a roll when they arrive.
With goalie Ilya Bryzgalov leading the way, they are in the process of reaching that goal.
The Flyers outlasted the visiting Washington Capitals on Thursday in a shootout, 2-1, and raised their record to 9-2-1 in their last 12 games.
Sam Carchidi, Inquirer Staff Writer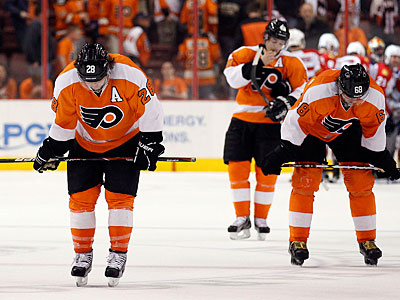 The Flyers have been on a nice roll lately - they are on an 8-2-1 run - but that has masked the fact that they have struggled offensively.
Part of that is because they have emphasized a defense-first mentality in the last few weeks, building a wall in front of goalie Ilya Bryzgalov.
The defense and Bryzgalov have been superb, allowing just 14 goals in the last 10 games.
Sam Carchidi, Inquirer Staff Writer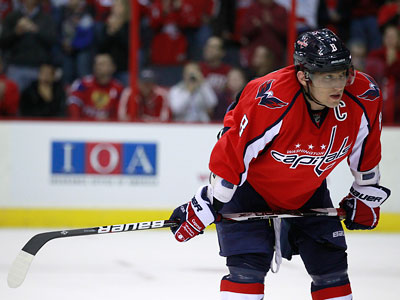 Two streaking Russians - Flyers goalie Ilya Bryzgalov and Washington forward Alex Ovechkin - will be on display Thursday in a key Eastern Conference matchup at the Wells Fargo Center.
Bryzgalov's sizzling month includes a 1-0 win in Washington in which he made 34 saves on March 4. He is 8-1-1, with a 1.27 goals-against average and .955 save percentage this month.
Ovechkin has five goals in his last four games and has 32 goals this season. The left winger has two goals - both scored in the Capitals' 5-2 win at the Wells Fargo Center on Oct. 20 - and is minus-2 in the three games against the Flyers.
Sam Carchidi, Inquirer Staff Writer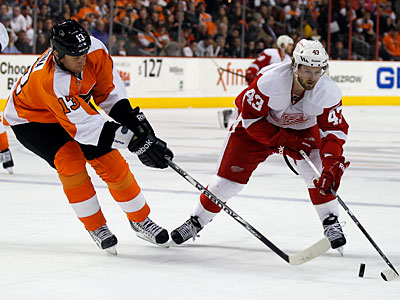 Defenseman Pavel Kubina, who has missed the last seven games with an upper-body injury, will return to the Flyers' lineup Tuesday night against visiting Florida.
Sitting out "has been real hard, but the team has been playing great and it's been fun to watch," Kubina said after Tuesday's morning skate in Voorhees. "Injuries are a part of this game and it happens. I'm just glad I can go back in and play tonight."
Max Talbot and Andreas Lilja, each of whom missed Sunday's dramatic 3-2 OT win over Pittsburgh because of injuries, also took part in Tuesday's morning skate. Lilja was paired with Kubina.