Archive: February, 2010
Sam Carchidi, Inquirer Staff Writer
Blair Betts is the Flyers' fourth-line center, but if you don't think he's important, consider this: With him in the lineup, the team is 25-12-1.
Without him, they are 5-13-1.
Case closed.
Sam Carchidi, Inquirer Staff Writer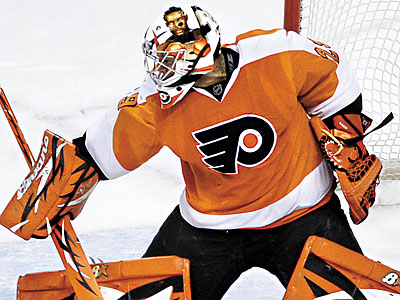 Ten nights ago, the Flyers' Ray Emery blanked Calgary, 3-0, and was starting to look like the goalie who led Ottawa to the Stanley Cup Finals in 2007.
Now his season is in jeopardy.
Emery will be shut down for at least three more weeks and, based on medical information provided by the Flyers Thursday, no one is certain if he will return this season.
Sam Carchidi, Inquirer Staff Writer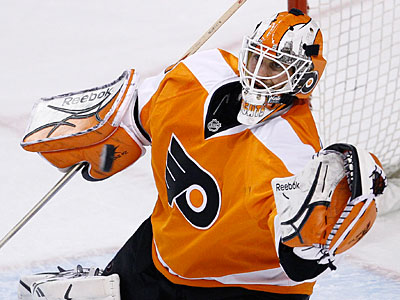 NEWARK, N.J _ Goalie Michael Leighton called it a "character" win.
Defenseman Chris Pronger said the Flyers "showed a lot of moxie."
No argument here.
Sam Carchidi, Inquirer Staff Writer
For one of the few times this season, the Flyers didn't disappear after falling behind.
Trailing 2-0, the Flyers scored two goals late in the second period, then won it on Mike Richards' power-play goal with 7:58 left as they outlasted the visiting New Jersey Devils, 3-2, at the Wachovia Center Monday night.
The Flyers had compiled an NHL-worst 5-25 record in games in which they trailed at any point.
Rookie James van Riemsdyk started the comeback with his 13th goal late in the second period, and Jeff Carter tied it at 2-2 by scoring with 24 seconds left in the session.
Kimmo Timonen set up Richards' game-winner against the legendary Martin Brodeur.
"We are not the most confident team right now," Brodeur admitted. "I think it's been a little struggle for us. I think when you have a setback in the game, sometimes it's harder to recover now than it is when you're doing well. So, we are just going to regroup.
"We played some good minutes of hockey in this game we are going to build on it and we see them again in a couple of days."
Sam Carchidi, Inquirer Staff Writer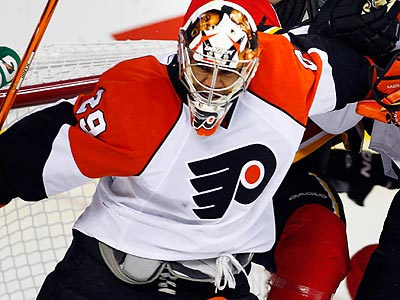 The news coming from Flyersville is not good: Goalie Ray Emery is hurt again.
Oh, and the Flyers, trying to make up for their glaring lack of offensive depth, acquired a player who had managed just four goals and was minus-10 this season.
First, Emery.
Sam Carchidi, Inquirer Staff Writer

ST. PAUL, Minn. _ Flyers goalie Michael Leighton, subbing for the injured Ray Emery, deserves better.
Yes, he gift-wrapped two goals Saturday that, as it turned out, gave Minnesota a 2-1 win.
But Leighton is the guy who seemingly rescued the Flyers season as he went 8-0-1 with one no-decision in his first 10 starts after Emery was originally sidelined .
In his last three starts, including Saturday's, the Flyers have scored a grand total of one goal for Leighton.
One.
So the latest loss falls just as much on the offense as it does Leighton.
In their last four defeats, the Flyers first two lines have zero even-strength goals _ and just one score on the power play.
Oh, and the Flyer had 72 shots and one goal in their last two games.
That's not going to get it done _ even if Bernie Parent in his prime was in the nets.
Asked after Saturday's loss if he planned to make lineup changes when the Flyers host the New Jersey Devils on Monday, coach Peter Laviolette replied: "I'm not there yet."
But don't be surprised if newcomer Ville (rhymes with Philly) Leino replaces Darroll Powe as the left wing on the Jeff Carter line.
That's not meant as a slight to the hard-working Powe, but Laviolette has to try SOMETHING.
The Flyers continued a puzzling trend: When they fall behind, they stay behind. They are now 1-16 when they trail after two periods.
The Flyers had plenty of opportunities Saturday. They outshot the Wild, 39-30, but always seemed a step behind for a rebound or a loose puck around goalie Anton Khudobin, who was superb in his first NHL start.
"Of course I was nervous. It was my first start. In front of 18,000 screaming people," the rookie said with a smile. "I said to myself, 'It's OK. Just play your game.' "
The Flyers' power play continued to struggle. They went 0 for 4 and failed to get off a shot in their last two power plays. They were 0 for 8 on the PP in their last two games _ a 1-0 loss to sad-sack Edmonton and last night's defeat.
"It's the extension of the five on five," coach Peter Laviolette said. "Right now, they're not going in."
Leighton, a standup guy, pointed at himself for the loss.
"I let it two soft goals," he said. "I take the blame."
He also summed up the Flyers' offensive woes succinctly.
"We're at the point now where I think we're a little frustrated, so we're just throwing everything at the net," he said. "We have a lot of skilled guys on this team that can make plays. When we were scoring a lot of goals last month, we were making plays and we had a lot of confidence. I think we have to get back to that."
* * * * * * * *
Breakaways. The shot total (39) was the Flyers' highest since they had 43 in an Oct. 27 game at Washington. The Flyers lost that game, too, 4-2….Mike Richards and Matt Carle clanked shots off the post….The Flyers' first two lines had 19 shots on goal. They combined for 39 shots and zero goals in the last two games…..The Flyers fell to eighth in the Eastern Conference. They went 1-2 on the trip, which started with a 3-0 win in Calgary. The Flyers play a home-and-home series with the Devils on Monday and Wednesday.

Sam Carchidi, Inquirer Staff Writer
An NHL source tells us the Flyers were never a serious player in the sweepstakes for Atlanta superstar winger Ilya Kovalchuk, a potential unrestricted free agent after the season who was dealt to New Jersey Wednesday night.
Kovalchuk, who has 31 goals, turned down two mega offers from the Thrashers (12-years for $101 million, and seven years for $70 million), causing Atlanta to send him to the Devils _ and strengthening one of the Flyers' top rivals.
Atlanta had shown interest in Flyers' wingers James van Riemsdyk and Scott Hartnell, along with defenseman Braydon Coburn. Hartnell has a no-trade clause.
Sam Carchidi, Inquirer Staff Writer
EDMONTON, Alberta _ The Flyers outplayed the lowly Edmonton Oilers, but suffered a crushing 1-0 defeat on a goal by Ryan Potulny with 16.1 seconds left Wednesday night.
As if losing to the team with the NHL's worst record wasn't bad enough, the winning goal was scored by a former Flyer.
Edmonton goalie Jeff Delauriers was brilliant, making 33 saves and handing the Flyers a loss that could haunt them in the Eastern Conference playoff race.
The Flyers had many more scoring chances than Edmonton _ including a power play in which they hit the post with a little over five minutes left _ but Deslauriers had all the answers.
"We definitely outplayed them. We were in their zone most of the time," said Flyers goalie Michael Leighton, who was sharp in his first appearance since Jan. 14. "We were cycling the puck, but you have to give them credit. They played well defensively. We cycled a lot down low, and they didn't give us any in-the-slot shots _ and that's how we've been scoring a lot of our goals."
"We had opportunities to bury and we just couldn't seem to find them," said coach Peter Laviolette after his team outshot the Oilers, 33-27, and hit the post twice. "If one of those opportunities goes in, maybe there's another one" that does.
The Flyers failed to connect on four power plays.
"We could have used more shots on the net on the power play," Laviolette said. "I think the ice was kind of slushy out there and we're trying to make plays, and we should have just bombed away and hoped for a bounce or a rebound."
Edmonton's Sam Gagner was instrumental in the win. Besides sending a pass to Potulny for a tap-in for the winning goal, he drew a penalty on Darroll Powe for high-sticking with 1:50 left. That set up the winning power play.
"I didn't know I hit him, but on the replay, it looked like I kind of caught him," Powe said.
Potulny got a step behind Mike Richards, who blamed himself for the goal.
The Flyers are 0-6-1 against Edmonton since 2001.
Leighton is now 8-2-1 since being claimed off re-entry waivers, and the Flyers have been blanked in each of his losses.
"I felt good. The team played well in front of me again. The defense was blocking shots," said Leighton after the Flyers had 15 blocks, including five by Kimmo Timonen. "The penalty kill was good tonight; they kind of got a lucky bounce at the end."
Added Leighton: "It's a tough loss; we should have gotten at least one point out of it. We just have to learn from it and have a big game in Minnesota (Saturday)."
* * * * * * * * * * *