Archive: November, 2011
Sam Carchidi, Inquirer Staff Writer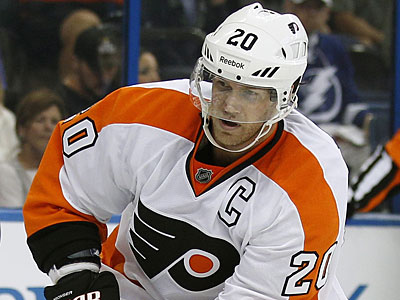 Flyers captain Chris Pronger, bothered by a virus, will not play on Wednesday against the host New York Islanders, GM Paul Holmgren said.
Holmgren said Jaromir Jagr and Braydon Coburn will make the trip. Both are recovering from injuries.
In addition, Braydon Schenn was activated and loaned to AHL Adirondack, and Kevin Marshall was set to the Phantoms. Marshall was minus-1 in his NHL debut Monday in a 4-2 loss to Carolina.
Sam Carchidi, Inquirer Staff Writer
For the second straight game, the Flyers lost to one of the Eastern Conference's worst teams.
This time, it was the Carolina Hurricanes who outworked the Flyers and scored a 4-2 win at the Wells Fargo Center on Monday.
Sam Carchidi, Inquirer Staff Writer
Defensemen Chris Pronger and Braydon Coburn were sidelined Monday, causing Marc-Andre Bourdon and Kevin Marshall to make their NHL debuts against the Carolina Hurricanes.
Pronger has a virus, and Coburn has an upper-body injury, general manager Paul Holmgren said. Pronger may be able to play Wednesday against the Islanders, and Holmgren hinted that Coburn would miss two games.
Bourdon and Marshall, both 22, were recalled from AHL Adirondack.
Sam Carchidi, Inquirer Staff Writer
Jaromir Jagr (groin injury) will not play Monday against visiting Carolina. There is a good chance he will return to the lineup Wednesday against the host Islanders.
Jagr told reporters Monday he used acupuncture to take away the groin pain.
Andreas Nodl, who has missed the last six games - five with a knee injury - will replace Jody Shelley in Monday's lineup.
Sam Carchidi, Inquirer Staff Writer
WINNIPEG, Manitoba _ The Flyers will retire defenseman Mark Howe's No. 2 in ceremonies before their March 6 game against visiting Detroit, a club source said on Saturday.
Howe, 56, who spent 10 years with the Flyers, went into hockey's Hall of Fame on Monday in Toronto.
* * *
Sam Carchidi, Inquirer Staff Writer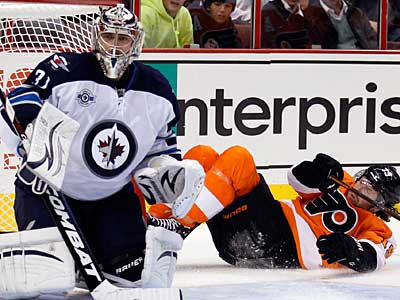 The last time the Flyers met the Winnipeg Jets, they erupted for eight goals in an Oct. 27 matchup.
And lost.
It was the most goals ever scored by the Flyers in a defeat. They dropped a wild 9-8 decision at the Wells Fargo Center, despite outshooting Winnipeg, 48-25.
Sam Carchidi, Inquirer Staff Writer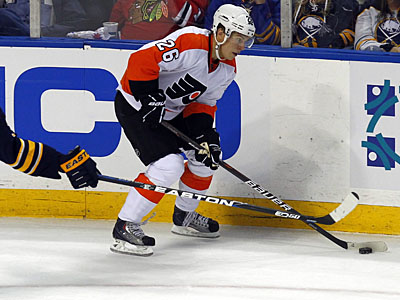 Flyers rookie defenseman Erik Gustafsson, who was plus-6 in his last game, underwent wrist surgery Thursday morning and will be sidelined for six weeks, GM Paul Holmgren said.
The surgery was performed by Randy Culp at Methodist Hospital.
With Gustafsson sidelined, Andreas Lilja will remain as the Flyers' sixth defenseman.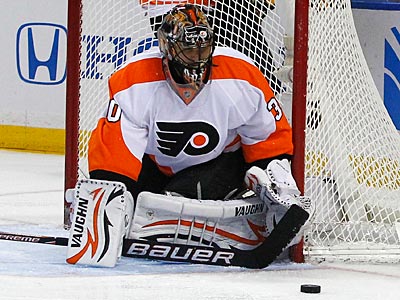 Ilya Bryzgalov wasn't being a cool customer when asked about facing his most recent former team for the first time during the Flyers game on Thursday with the Phoenix Coyotes at the Wells Fargo Center.
Bryzgalov admitted that it wouldn't be a basic run-of-the-mill NHL game. He said he appreciated the chance he was given to blossom. In Phoenix he got his first chance to be a full-time starter and a workhorse at that, averaging 64.25 games in four seasons.
No wonder he's so grateful. Bryzgalov's work in Phoenix landed him a 9-year, $51 million contract from the Flyers.