Archive: November, 2009
Sam Carchidi, Inquirer Staff Writer
DENVER _ The Flyers need their two marquee offensive players _ Jeff Carter and Mike Richards _ to step up and lead the team out of their current funk.
Both have been glaringly unproductive in recent games.
Carter, who scored 46 goals last season, is scoreless in the last four games _ and has just one goal in his last eight contests. All told, he has seven goals; he had 15 at the same point last season.
After a fast start, Richards is also scuffling. He, too, has just one goal in his last eight games. After scoring six goals in his first five games, the Flyers' captain has three goals in the last 15 contests. He had zero shots in Saturday's 3-1 loss to Phoenix.
The Flyers are 1-2 on their five-game trip, one that finishes with matchups against two of the league's most surprising teams _ Colorado (Monday) and the New York Islanders (Wednesday).
* * * * *
Sam Carchidi, Inquirer Staff Writer

There was a lot of complaining from the Flyers that the game-winning goal was scored because of a blown call in their 3-1 loss to host Phoenix Saturday night.
There may be some merit to their claim, but….
The fact is, the Flyers' special teams have been awful the last two nights and have cost them back-to-back losses for the first time since late last month.
On Friday, the Flyers were outscored on special teams, 3-0, as they dropped a 6-3 decision in San Jose. The Sharks had two power-play goals and a shorthanded tally.
Phoenix was 2 for 5 on the power play Saturday, while the Flyers were 0 for 5 _ and looked totally disorganized with the extra skater, managing just five shots.
Before we get to the controversy, it should be noted that the Flyers took a major hit when Blair Betts suffered a dislocated right shoulder for the second time this season. He will miss at least four weeks.
On Friday, Darroll Powe injured his left shoulder, and GM Paul Holmgren said the injury was "significant."
Funny how things can change so quickly. Two days ago, the Flyers had won seven of their last eight and were looking like Stanley Cup contenders.
Now, they have lost two key players and their special teams are in disarray.
Phoenix defenseman Keith Yandle scored a controversial power-play goal with 9 minutes, 41 seconds left to snap a 1-1 tie.
Adrian Aucoin barely kept the puck in at the blue line _ the Flyers protested that it went out of the zone _ and fed Matthew Lombardi on the right side. Lombardi then found Yandle in the left circle and he fired a shot past Ray Emery.
After the game, coach John Stevens was baffled by the lack of a call.
"We thought it was offsides. One lineman had his arm staring up to call it offsides and the other guy waved it off," Stevens said. "It's unfortunate. If they would have just waved it off right away….but you still have to kill the penalty. It looked like the guys on the ice maybe relaxed for a second.
"It's unfortunate it ends up being the difference in the hockey game."
Notes. Phoenix was credited with a goal when it was ruled that Chris Pronger slashed at Shane Doan as he was trying to shoot into an empty net with 40 seconds left.
* * * * * * *
When he dresses for games, Riley Cote is the Flyers' heavyweight. Danny Briere has apparently become their welterweight.
In the second period Friday, Briere's fight with San Jose's Marc-Edouard(CQ) "Pickles" Vlasic was the third bout of his NHL career and first as a Flyer. It was actually more of a wrestling match than anything.
"I'm not one of those guys who prepares or sets fights up before the game," Briere said "It was a spur of the moment, and we ended up being entangled in the corner. He didn't like it. I didn't like it, and it just kind of happened."
Vlasic said the fight wasn't spontaneous. He claimed it was triggered by hits Briere gave him in last month's meeting.
"It built from Philadelphia – a couple shots I got when the ref wasn't looking," Vlasic told the San Jose Mercury News. "So, you know, back it up."
In the online voting at hockeyfights.com, 72.1 percent of the voters called the Vlasic-Briere battle a draw, 14.8 percent gave the decision to Briere and 13.1 percent to Vlasic.
_ Sam Carchidi
Sam Carchidi, Inquirer Staff Writer
It'll be interesting to see how the Flyers respond to Friday night's demoralizing 6-3 loss in San Jose.
Tonight, they'll meet Scottie Upshall and the Phoenix Coyotes at 8 p.m. It'll be the first meeting between the teams since Upshall was swapped for Dan Carcillo, a fan favorite in Phoenix, last season.
Friday's loss in San Jose wasn't as one-sided as the final score indicates. San Jose scored two late goals to pull away from a 4-3 lead.
Sam Carchidi, Inquirer Staff Writer
SAN JOSE, Calif. _ Before the season, I picked San Jose and Washington to play in the Stanley Cup Finals.
But, it wouldn't be so far-fetched to imagine a Flyers-Sharks matchup, either.
That's why tonight's 10 o'clock matchup between the Flyers and host San Jose could have long-range implications.
Sam Carchidi, Inquirer Staff Writer
LOS ANGELES _ Brian Boucher's second start of the season didn't start out well last night.
With 5:07 left in the first period, Jarret Stoll's shot from near the right sideboards somehow got between Boucher's skate and the right post, giving the Los Angeles Kings a 1-0 lead.
"I don't know what happened on the first goal....I thought it was stuck on the outside of the net, but when I heard the crowd cheer, I said, 'You have got to be kidding me,' " Boucher said. "I've had a couple weird ones this year, but I was determined that that wasn't going to be a factor in the game, and the boys rallied around and had a great second period."
Sam Carchidi, Inquirer Staff Writer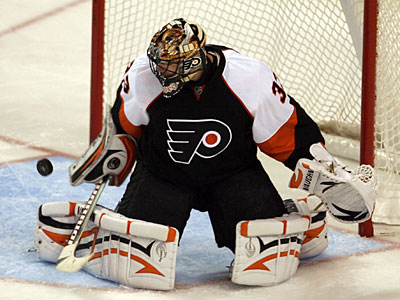 LOS ANGELES - Flyers coach John Stevens, who guards his goalie decision like it's a state secret, has decided to give Brian Boucher his second straight of the season tonight in Los Angeles.
Boucher will be facing a Kings attack that will be depleted because left winger Ryan Smyth is out for four weeks with an upper-body injury.
Smyth (9 goals, 14 assists) had been playing on the NHL's most productive line, along with Anze Kopitar (14 goals, 18 assists) and former Flyer Justin Williams (5 goals, 10 assists).
Sam Carchidi, Inquirer Staff Writer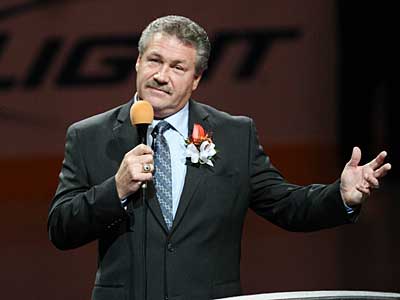 Dave Schultz gave a heartfelt speech when he went into the Flyers' Hall of Fame prior to Monday's game against New Jersey at the Wachovia Center.
Here it is:
"I left 33 years ago, and I am coming back to stay. Thank you to the people that voted for me so that I could receive this great honor. I am certainly joining great company tonight - three Hockey Hall of Famers, my former teammates, Bob Clarke, Bill Barber and Bernie Parent. If it wasn't for them, I wouldn't be here tonight.
Sam Carchidi, Inquirer Staff Writer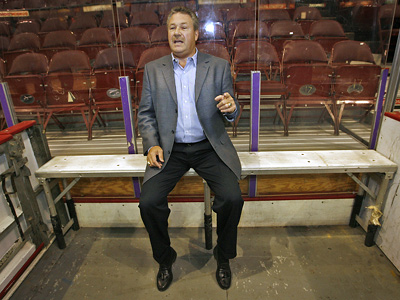 Dave Schultz, who epitomized the Broad Street Bullies' era in the mid 1970s, will be inducted into the Flyers' Hall of Fame before Monday's game against New Jersey at the Wachovia Center.
Is the honor justified?
That was the hot debate in the press box the other day, and the answers were mixed.
Based on his numbers alone, Schultz clearly does not deserve to be in the team's Hall of Fame. He only played four full seasons with the Flyers and averaged about 13 goals per year.
Schultz, a brawling left winger, led the league in penalty minutes during three of those seasons _ and he still holds the NHL record for time in the box in one year (472 minutes in 1974-75).
He even cut a record (remember 45s?) to memorialize his time in the penalty box.
So, based on his numbers, Schultz is an undeserving HOF member.
But here's why he belongs: He helped give the Flyers an identity that was loved in Philadelphia and loathed around North America.
Whether or not you liked his style, he helped put the Flyers on the map and made opponents fear coming to the Spectrum. Many a player mysteriously became ill _ the "Philadelphia flu" it was called _ because they didn't want to go on the ice against Schultz and the Flyers.
Schultz also had a little talent; he scored 20 goals in one of his four seasons, and he netted the game-winner in overtime in the clinching game against the Atlanta Flames in the 1974 quarterfinals _ propelling the Flyers to their first Cup.
He was far from a great player. He was a character and a character guy _ and those guys are needed just as much as the Bobby Clarkes, Bernie Parents, Reggie Leaches, Bill Barbers and Rick MacLeishes.
You can argue that the Flyers would not have won any Cups if Schultz wasn't on the club.
So, yes, I think he belongs in the team's Hall of Fame. Let me know what you think.
* * * * * * * * * * *
Notes. The Flyers shelled Martin Brodeur earlier this season, but the Devils' legend has recovered and will lead NJ into the Wachovia Center Monday, when it will try to to equal an NHL record by starting a season with 10 straight road wins.....Claude Giroux has seven assists but just one goal in 16 games; he had nine goals in 42 games as a rookie last season. Coach John Stevens will move Giroux back to center in Monday's game, with Darroll Powe and Arron Asham as his wingers. Giroux had been shifted to RW earlier in the season....James van Riemsdyk, the Flyers' impressive rookie, will return to the lineup Monday after missing the last game with the flu…..NHL general managers will form a committee that could take a stronger stance on head shots for next season. A hit Mike Richards delivered to the head of Florida's David Booth last month seems to be the impetus for the committee, which will report its findings in March.