Archive: January, 2010
Sam Carchidi, Inquirer Staff Writer

Not sure what was more entertaining: The Flyers' 2-0 win over the visiting New York Rangers Thursday, or the sideshow between losing coach John Tortorella and Philadelphia winger Dan "Car Bomb" Carcillo.
First things first: The ninth-seeded Flyers controlled the game, forced the sixth-seeded Rangers to shoot from the perimeter, and moved to within two points (with two games in hand) of New York in the Eastern Conference.
Ray Emery notched his first shutout since opening night, and James van Riemsdyk _ who has 30 points, placing him third among NHL rookies _ and Mike Richards scored goals. Richards became the Flyers' first 20-goal scorer this season.
The Flyers also got strong games from Chris Pronger _ he had a long, "home-run" pass to set up JVR's goal _ Kimmo Timonen (four blocked shots), Darroll Powe (six hits) and passing magician Claude Giroux.
It was their fifth straight home win, and they are 2-0 on their six-game homestand.
For added entertainment, there were four fights. Carcillo was in two of them, as was the Rangers' Sean Avery.
With the Flyers holding a 1-0 lead, Carcillo pounded Marian Gaborik, the Rangers' 29-goal scorer, in a mismatch early in the second period.
Tortorella screamed expletives at the Flyers' bench.
He carried his anger into the post-game news conference.
The coach thought Carcillo was deliberately trying to take his top scorer out of the game.
"There's no honor in that," Tortorella said. "…I don't want to say too much about it, but there's simply no honor. It's pretty embarrassing."
Flyers coach Peter Laviolette, naturally, disagreed.
"That's not the way I saw it," Laviolette said. "I saw a scrum in front of our net and we were outnumbered. Danny came in and picked somebody off the pile, and Gaborik dropped his gloves first, so Danny can either get punched or he can drop his and fight. I think the refs saw it that way as well because they both got five minutes for fighting."
Tortorella, with sarcasm dripping, called Carcillo a "brave guy."
"Danny Carcillo doesn't make a habit of going after the other team's top players," Laviolette said. "He does a lot of dirty work that other people don't want to do; usually it's with…guys that are pretty tough as well."
Carcillo said he "didn't really expect to fight who I fought, but it kind of worked out. I don't know who on that line would have been able to help him, though. I wasn't expecting him to drop his gloves, but when he did, I pretty much was licking my chops."
In the third period, Avery defeated Carcillo in a fight. Carcillo said he hurt his hand in an earlier fight and consequently wasn't able to throw many punches.
It was the second straight time the Flyers had blanked the Rangers. The last time they posted back-to-back shutouts over the Rangers was in 1999. John Vanbiesbrouck posted both shutouts.
The Flyers kept most of the action in New York's end with a well-schooled cycle.
"We're getting there. The guys, they understand it and they're really working hard at it," Laviolette said. "They're moving a lot; they're moving for each other, and it can create a lot of chances. Sometimes it doesn't create anything, but you're looking all the time. They're starting to get the hang of it. They work hard at it, too, in practice….If something's not natural to you, you have to keep doing it over and over in order for it to feel natural."
Sam Carchidi, Inquirer Staff Writer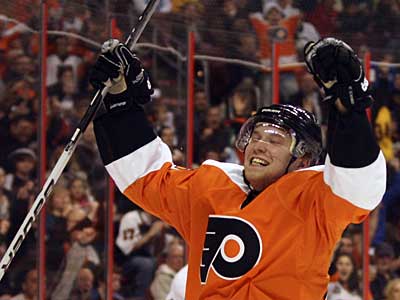 Claude Giroux will remain at center Thursday when the Flyers host the New York Rangers in a key game at the Wachovia Center.
Giroux had been playing right wing on Mike Richards' line, but he switched places with Darroll Powe in Tuesday's 5-3 victory over Columbus.
After Wednesday's practice, coach Peter Laviolette said Giroux would remain at center Thursday between wingers James van Riemsdyk and Arron Asham.
Sam Carchidi, Inquirer Staff Writer

The Flyers, rebounding from losses in Toronto and Washington, started a six-game homestand with a methodical 5-3 win over Columbus Tuesday.
Jeff Carter scored two goals, collected an assist and won 78 percent of his faceoffs to lead the victory.
Columbus was playing on back-to-back nights and faded after getting within 2-2 on a pair of second-period goals by former Flyer R.J. Umberger.
More than 100 fans, thinking Umberger had tipped in a shot with 1:17 left in the game and scored a hat trick, tossed Orange Crush baseball caps onto the ice.
It was a classy move, the fans showing their respect for Umberger, who scored 10 goals in the 2008 post-season and led the Flyers into the conference finals.
But, alas, it was actually Rick Nash _ who, like Umberger, was also stationed in front _ who tipped in the shot and was credited with the goal.
Goalie Ray Emery was shaky on two of the three goals he allowed _ both on rebounds he couldn't control _ but made 25 saves in his first win since Nov. 16. He was making his second straight start after being sidelined since Dec. 5.
Carter has shown vast improvement on his faceoffs, winning 51.9 percent of his draws this season, compared to 48.3 percent last year.
The 6-foot-3 center snapped a 2-2 tie when he scored on a faceoff, firing the draw past a startled goalie Mathieu Garon with 8:29 left in the middle period.
Carter said he had tried the faceoff shot before, but this was the first time in his career he had scored on it.
"The third goal was the difference," said Columbus coach Ken Hitchcock, the former Flyers coach. "We came back; we were really playing well and tied it, 2-2. The third goal goes in and took the momentum out of it. I thought the rest of the game, the back-to-back (games played) really showed its head."
Claude Giroux, who had been playing right wing on Mike Richards' line, was moved to center on the third line and he contributed a slick assist _ pirouetting away from a defender near the left wall and making a backhand pass _ on Arron Asham's goal. Asham quietly has eight points in his last eight games.
"Claude has always played well in the middle," coach Peter Laviolette said. "He seems to generate a lot of speed. You saw the way he attacked the ice; he can get off the wall and come with underneath speed."
Chris Pronger, who tapped in a power-play goal in front with 52 seconds left in the second period, and Dan Carcillo (third period) closed the Flyers' scoring on a night when Kimmo Timonen blocked four shots and was plus-2 and Oskars Bartulis was plus-3.
With the win, the Flyers moved from 11th to ninth in the East. They hope to continue gaining ground during a homestand that includes games against the Rangers, Carolina, Pittsburgh, Atlanta and the Islanders.


Sam Carchidi, Inquirer Staff Writer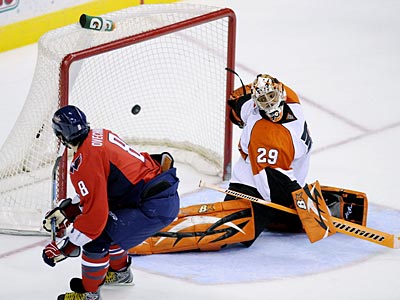 We interrupt Captaingate to bring some news: Goalie Ray Emery will make his second straight start Tuesday when the Flyers host Columbus.
Emery, in his first NHL appearance since Dec. 5, wasn't sharp in a 5-3 loss in Washington Sunday.
Coach Peter Laviolette defended Emery's performance.
Sam Carchidi, Inquirer Staff Writer

WASHINGTON _ For the record, I hate writing about the media, but....
When a player makes accusations that Philly media members "make things up," it strikes a nerve.
That's what Flyers captain Mike Richards did in the latest edition of The Hockey News.
Sam Carchidi, Inquirer Staff Writer
With goalie Michael Leighton's nine-game, regulation unbeaten streak stopped, Sunday seems like the perfect time for Flyers coach Peter Laviolette to give Ray Emery the start against host Washington.
But Laviolette refused to announce his starter after Saturday's practice in Voorhees.
"Decisions are still being made; we'll probably sit on this until game time, for you guys anyway," Laviolette said.
Sam Carchidi, Inquirer Staff Writer
If you saw this coming, you are in the minority.
The Flyers, whose offense had scored a total of 23 goals in their previous four games, dropped a 4-0 decision to the lowly Toronto Maple Leafs Thursday.
The Flyers had 38 shots but few good scoring chances.
Sam Carchidi, Inquirer Staff Writer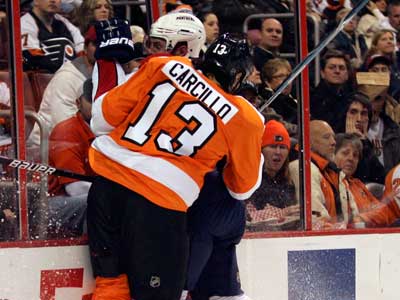 TORONTO _ Flyers left winger Dan Carcillo smiled shyly as he was surrounded by about two-dozen reporters after Thursday's morning skate in Toronto.
One question he fielded, over and over, was this: Do you expect retribution Thursday night for what happened the last time you faced the Leafs?
When the Flyers scored a 6-2 win over the visiting Leafs on Jan. 6, Carcillo scored a goal and celebrated by mocking the Toronto bench. He also gave the throat-slash signal to Toronto assistant Keith Acton and was fined by the NHL $2,500.