Archive: March, 2012
Sam Carchidi, Inquirer Staff Writer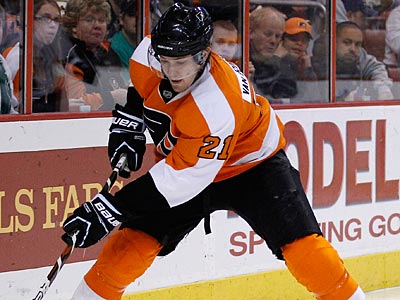 James van Riemsdyk is getting itchy.
Being sidelined with a broken left foot will do that to a player.
"It's been about four weeks now, and it's kind of tough not being on the ice at this time of the year," the Flyers' left winger said after taking part in the team's photo session at the Wells Fargo Center on Friday. He said he hopes to soon get "a couple of weeks of skating and then be ready to go."
Video: The Flyers lost to the Ottawa Senators 4-3, but gained ground on the Penguins for the fourth seed in the NHL Eastern Conference. Sam Carchidi of the Inquirer reports.
Sam Carchidi, Inquirer Staff Writer
Ilya Bryzgalov looked sharp during the Flyers' short practice at the Wells Fargo Center on Friday, but general manager Paul Holmgren said the goalie probably won't play in either game this weekend.
The Flyers host Ottawa on Saturday afternoon, then play a key matinee in Pittsburgh on Sunday.
Bryzgalov, 10-2-1 with a 1.43 goals-against average and .947 save percentage in March, is officially listed as doubtful for both games, and Sergei Bobrovsky is expected to make both starts.
Sam Carchidi, Inquirer Staff Writer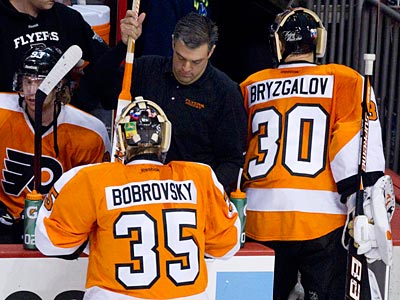 Ilya Bryzgalov, the best goalie in the universe over the last month, won't be able to play Thursday in Toronto because of a chip fracture in his right foot.
The Flyers are unfazed.
"From what I've been hearing, it's nothing too major, so maybe see it as a little break before the playoffs start," center Danny Briere said after Wednesday's practice in Voorhees. "…Maybe I'm naïve, but I just don't think it's too bad."
Sam Carchidi, Inquirer Staff Writer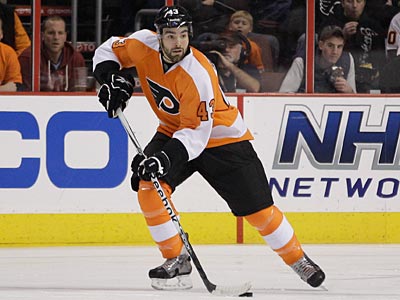 When the Flyers play in Toronto on Thursday night, rugged defenseman Marc-Andre Bourdon figures to make his first appearance for the Orange and Black since Feb. 18.
He missed about a month with the Phantoms as he recovered from a concussion, which may have been suffered while he played with the Flyers earlier this season.
Bourdon will probably be paired with Matt Carle on Thursday; the two were together for most of Bourdon's 39 games.
Sam Carchidi, Inquirer Staff Writer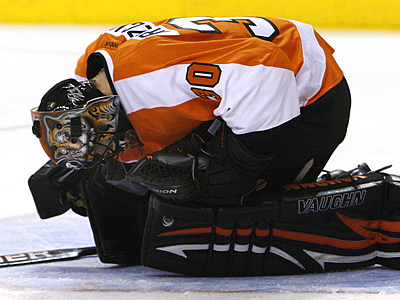 The Flyers rolled the dice unnecessarily by playing Ilya Bryzgalov on Monday against Tampa Bay _ and they might be better served by resting the veteran goalie for the next several games as he recovers from a chip fracture in his right foot.
Bryzgalov, the NHL's best goalie this month, was in pain Monday after he blocked teammate Jakub Voracek's shot during pregame warm-ups. X-rays were negative, and the Flyers surprisingly allowed him to play.
GM Paul Holmgren said Bryzgalov wanted to play and doctors said he couldn't do any more damage.
Sam Carchidi, Inquirer Staff Writer
UPDATE: The Flyers announced Tuesday that Bryzgalov had a chip fracture in his right foot and would not play Thursday. He is listed as day to day, which means they don't think the injury is serious. But one wonders if the injury will throw off his timing.
* * *
Flyers general manager Paul Holmgren, through a team spokesman, said goalie Ilya Bryzgalov was fine after the team's 5-3 loss to lowly Tampa Bay on Monday at the Wells Fargo Center.
Sam Carchidi, Inquirer Staff Writer
The Flyers will try to continue their impressive run - and contain the league's top goal scorer - when they host the Tampa Bay Lightning on Monday night.
Flyers center Sean Couturier and linemates Max Talbot and Jakub Voracek will have a difficult challenge when matched against the high-scoring Steven Stamkos unit.
Stamkos leads the NHL with 52 goals and is third in points with 87 - one more point than the Flyers' Claude Giroux. With his next goal, Stamkos will set a single-season franchise record; he shares the mark originally set by Vinny Lecavalier in 2006-07.