Archive: November, 2011
Sam Carchidi, Inquirer Staff Writer
WESTMINSTER, Calif. _ Flyers goalie Ilya Bryzgalov was asked if he felt refreshed after being benched for 2½ games.
"I was sick, guys, and I'm still sick a little bit," Bryzgalov said after the Flyers' practice here on Wednesday. "I'm catching a cold and have a bad cough."
Is that why he didn't play recently?
Sam Carchidi, Inquirer Staff Writer
In case you missed it, Rangers forward Brandon Dubinsky returned verbal fire on Flyers enforcer Jody Shelley on Monday.
Shelley, a little-used veteran, had called Dubinsky a "weasel" in HBO's 15-minute "24/7" preview.
"It won't be long before he's out of the league, because he's a terrible hockey player," Dubinsky told the New York Daily News on Monday.
Sam Carchidi, Inquirer Staff Writer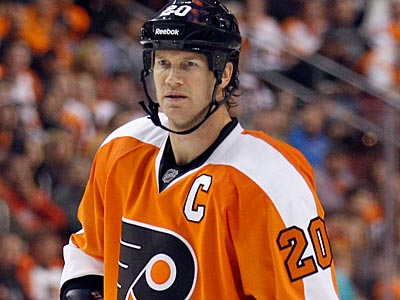 It turns out Chris Pronger's virus wasn't the only thing holding him back, as the Flyers led everyone to believe.
On Monday, the club announced that the often-injured Pronger will undergo left-knee surgery and miss four more weeks. It will be Pronger's fifth surgery in the last 16 months.
Pronger, 37, has missed 10 games this season, including six after he took a stick to his eye. The Flyers are 5-4-1 without him this year. He missed 32 regular-season games last season.
The injury bug continues to hit the Flyers. After Friday's 3-1 win over the Montreal Canadiens at the Wells Fargo Center, general manager Paul Holmgren said that defenseman Andreas Lilja could miss six weeks after suffering a high ankle sprain.
The injury occurred in the second period.
In addition, the three players who were scratched on Friday, Chris Pronger, James van Riemsdyk and Jaromir Jagr, won't make the trip to New York for Saturday's game with the Rangers.
Flyers forward James van Riemsdyk wasn't in the lineup today against Montreal and is expected to miss the next 1-2 weeks due to an upper body injury according to the team.
Van Riemsdyk played nearly 18 minutes in Wednesday's 4-3 overtime win against the host New York Islanders.
He was one of three Flyers scratches. Chris Pronger, who has been suffering from a virus, missed his third straight game. Jamoir Jager (groin) was also a scratch.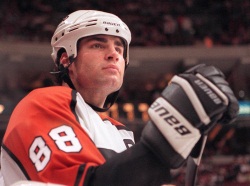 The NHL has released the rosters for the 2012 Bridgestone NHL Winter Classic Alumni Game between the Flyers and New York Rangers. The game will be staged 1 p.m. Saturday Dec. 31 at Citizens Bank Park.
Here are the rosters:
Flyers
Coming off a strong relief effort in Wednesday's 4-3 overtime win against the host New York Islanders, Sergei Bobrovsky will earn the start for the Flyers in goal during this afternoon's game against Montreal at the Wells Fargo Center.
Coming in relief of Ilya Bryzgalov, Bobrovsky stopped all 23 shots against the Islanders. He entered the game to begin the second period with the Flyers trailing, 3-1.
Flyers coach Peter Laviolette said this afternoon during his pre-game media session, that Bobrovsky's performance factored into the decision to give him the start.
Sam Carchidi, Inquirer Staff Writer
VIDEO: Danny Briere talks about his game-winning goal in overtime Wednesday night against the Islanders.
Sam Carchidi, Inquirer Staff Writer
Flyers captain Chris Pronger, bothered by a virus, will not play on Wednesday against the host New York Islanders, GM Paul Holmgren said.
Holmgren said Jaromir Jagr and Braydon Coburn will make the trip. Both are recovering from injuries.
In addition, Braydon Schenn was activated and loaned to AHL Adirondack, and Kevin Marshall was set to the Phantoms. Marshall was minus-1 in his NHL debut Monday in a 4-2 loss to Carolina.
Sam Carchidi, Inquirer Staff Writer
For the second straight game, the Flyers lost to one of the Eastern Conference's worst teams.
This time, it was the Carolina Hurricanes who outworked the Flyers and scored a 4-2 win at the Wells Fargo Center on Monday.