Archive: October, 2009
Sam Carchidi, Inquirer Staff Writer
The Flyers received an unexpected boost from rookie right winger David Laliberte and defenseman Braydon Coburn Saturday as they trounced Carolina, 6-1, in a fight-filled game at the Wachovia Center.
Laliberte, making his NHL debut and subbing for the injured Danny Briere, scored a goal and collected an assist, while Coburn had a career-high two goals. Scott Hartnell and Matt Carle each had a goal and two assists, and rookie James van Riemsdyk added a goal and an assist.
Carle and van Riemsdyk are making strong bids to earn spots on the U.S. Olympic team.
Sam Carchidi, Inquirer Staff Writer
Danny Briere left practice early Friday because of what Flyers coach John Stevens called "a lower-body injury."
Since Briere missed most of last season with groin and abdominal injuries, alarms are going off in Flyerdom right now.
The Flyers recalled David Laliberte from the AHL Adirondack Phantoms.
Sam Carchidi, Inquirer Staff Writer
The Flyers tried to push defenseman Randy Jones through re-entry waivers, but one of his former coaches wouldn't let it happen.
Jones was claimed Thursday by the Los Angeles Kings, whose head coach, Terry Murray, was a Flyers assistant in charge of the defense when Jones was part of the team
The Kings and Flyers will share half of Jones' $2.75 million salary-cap hit _ $1.375 million apiece,
"He certainly would have helped us," general manager Paul Holmgren said. "That's the risk you take, and what are you going to do?"
Holmgren said he had talked to a few teams to gauge their interest in Jones. The Kings were obviously not one of them.
Sam Carchidi, Inquirer Staff Writer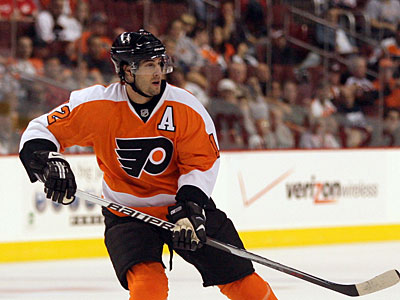 Say goodbye to Simon Gagne for a while.
And maybe, just maybe, say hello again to Randy Jones.
Gagne was placed on the injured-reserve list and will miss at least 10 games and 24 days with two hernias.
Sam Carchidi, Inquirer Staff Writer
The Flyers fired a season-high 43 shots Tuesday night, were 2 for 5 on the power play and got mostly solid goaltending from Ray Emery.
Normally, that translates into a win.
Tonight, it turned into a 4-2 loss to the host Washington Capitals.
Sam Carchidi, Inquirer Staff Writer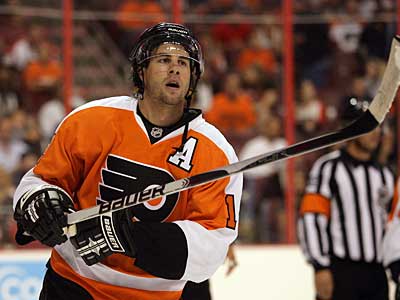 The medical news on Simon Gagne is not good.
The Flyers' left winger had an ultrasound Monday that showed he was suffering from two small hernias, the Flyers announced Tuesday.
GM Paul Holmgren said the Flyers' medical staff will meet with Gagne Wednesday to "discuss all options."
Sam Carchidi, Inquirer Staff Writer
When the Flyers play the host Washington Capitals Tuesday, veteran left winger Simon Gagne is not expected to be in the lineup.
Gagne missed practice Monday because of lower-body discomfort. He had an ultrasound _ results will be available Tuesday, the Flyers said _ to figure out why he has been having pain.
GM Paul Holmgren said the Flyers want to learn if Gagne's problem is related to his off-season hip surgery _ or to a groin injury he suffered in the summer and re-aggravated at Team Canada workouts.
Sam Carchidi, Inquirer Staff Writer
To all those who say the NHL is out to "get" the Flyers _ and there are thousands out there who have that feeling _ you will be surprised that the league Sunday decided not to suspend Flyers captain Mike Richards.
Richards leveled Florida's David Booth Saturday, knocking him unconscious and sending him to the hospital with a jarring shoulder-to-jaw check in the middle of the ice.
Replays showed Richards had one skate in the air as he made the hit; it was inconclusive as to whether the other skate was in the air at the time.