Archive: January, 2011
Sam Carchidi, Inquirer Staff Writer
RALEIGH, N.C. _ In the grand scheme of things, the NHL All-Star Game's MVP award doesn't mean much.
Still, for the integrity of the game, the way the winner is picked needs to be changed.
Chicago's Patrick Sharp, a former Flyer, had a goal and two assists for the losing team on Sunday and was named the game's MVP.
Sam Carchidi, Inquirer Staff Writer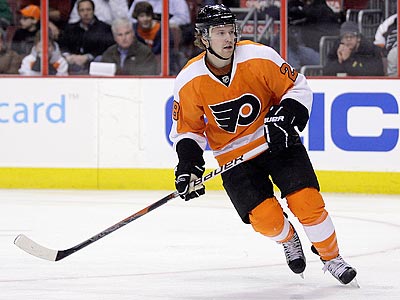 RALEIGH, N.C. _ By scoring three relatively quick goals from a harsh angle in one of the events, Flyers center Claude Giroux helped Team Staal defeat Team Lidstrom, 33-22, in the NHL's SuperSkills Challenge Saturday night at the jam-packed RBC Center.
There were six events, with all-stars and rookies among the participants.
Danny Briere, the Flyers' other all-star, had a great performance in a losing cause.
Sam Carchidi, Inquirer Staff Writer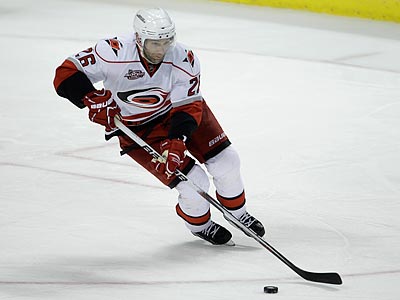 UPDATE: Defenseman Matt Walker cleared waivers Friday and was loaned to the Phantoms.
The Flyers placed defenseman Matt Walker on waivers Thursday, and the $1.7 million that will come off the books will give them about $3.6 million in acquisition space.
In other words, enough to acquire Carolina's Erik Cole, a 32-year-old winger who has 13 goals and 15 assists this season.
Sam Carchidi, Inquirer Staff Writer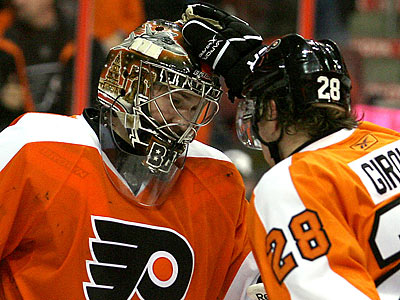 The Flyers started their home dominance by winning their first-ever game at the Spectrum, nipping the Pittsburgh Penguins, 1-0, on a goal by Bill Sutherland and Doug Favell's shutout goaltending.
That win on Oct. 19, 1967 started a march toward 1,000 home victories.
Victory No. 1,000 came on Tuesday, when the Flyers whipped Montreal, 5-2, before a sellout crowd at the Wells Fargo Center.
Sam Carchidi, Inquirer Staff Writer
CHICAGO _ Winger James van Riemsdyk missd the Flyers' impressive 4-1 win in Chicago Sunday with an apparent groin injury, but his teammates didn't skip a beat.
Nik Zherdev, who had been on Mike Richards' line, replaced JVR on the unit with Jeff Carter and Claude Giroux.
The line combined for nine points and was plus-11.
Sam Carchidi, Inquirer Staff Writer
The Flyers are the NHL's most explosive team, averaging a league-best 3.47 goals per game.
Balanced scoring has been the team's trademark as eight players have reached double-figures in goals, including Danny Briere (25), Jeff Carter (20), Claude Giroux (18), Mike Richards (17) and Scott Hartnell (16).
"Obviously, they have a very good lineup; they're very well spread out," said Devils forward Danius Zubrus, a former Flyer. "To me, what stands out since (Peter) Laviolette came there is how much they play in a unit of five, how their gaps are so good."
Sam Carchidi, Inquirer Staff Writer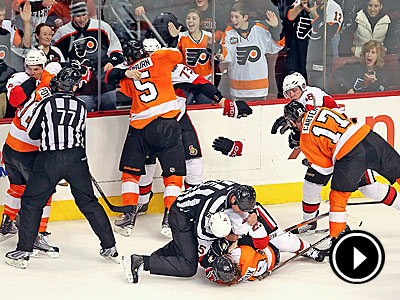 Video: Three third-period fights were the highlight of what turned out to be a 6-2 blowout of the Ottawa Senators. Philly.com's Dave Isaac and the Inquirer's Sam Carchidi keep their gloves on in the breakdown.
---

Get exclusive videos and analysis in our new app for iPhone and Android. Download it here.
Sam Carchidi, Inquirer Staff Writer
Poor Lou Nolan.
The Flyers and Ottawa Senators didn't do him much good on Thursday night.
Because of a nasty cold, Nolan, the Flyers' long-time public-address announcer, nearly lost his voice as he struggled with announcements in the first two periods.