Archive: September, 2012
When city officials told a South Philadelphia businessman that he had to put back the ugly Jersey barriers he'd removed in cleaning a trash-strewn, city-owned vacant lot in the neighborhood, it's no wonder the confrontation went viral.
After all, the city's directive — along with a threat of legal action — was taken to mean that real estate developer Ori Feibush also should return the estimated 40 tons of trash that his crews carted off the corner property near his coffee shop in the city's Point Breeze section.
The dustup was reported on a heavily trafficked online news site, and noted as far away as Pakistan. It showed how, with shockingly little effort, almost any arm of city government can find ways to hold Philadelphia up to national, even global, ridicule.

New Jersey's poorest workers haven't had a raise in three years. But Gov. Christie and the Legislature still refuse to join 18 other states in raising its minimum wage.
In New Jersey, the minimum wage sits at the federal level of $7.25 an hour. That's about $15,000 a year in a state that draws the poverty line at $44,700 for a family of four.
Christie called Senate President Stephen Sweeney's proposal to amend the state constitution to include an automatic minimum- wage hike a "truly ridiculous idea."
Larry Platt chats at 1 p.m. about so-called 'disrupters,' who open up Philadelphia to new ideas and possibility. On a mobile device? Click here to join the chat. Click here to read his Sunday Currents column about Philly's 'disrupters.'
A presidential election that's supposed to be all about the economy shifted to foreign policy last week, most notably due to world events, including a continuation of violent anti-American protests in the Mideast, that couldn't be ignored.
A less-discussed factor in the campaign shift may be growing signs that although Americans still believe the U.S. economy is a hot mess, they are becoming less fearful about participating in it. For example, the latest data indicate average annual spending by consumers has increased at its fastest rate since 2006.
The Wall Street Journal points out that the 3.3 percent increase in spending in 2011 was partly due to a 3.2 percent increase in consumer prices for everyday goods. But it's still a good sign. Consumers spent less when prices rose in 2010.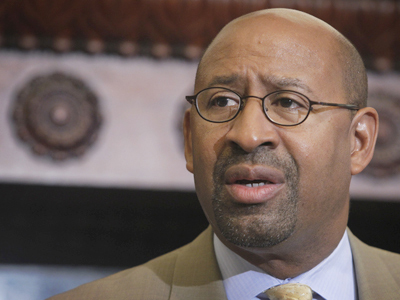 Mayor Nutter, who has been accused of kicking the can down the road when it comes to settling contracts with municipal workers, has at last kicked it into the path of the city-employee unions.
Nutter sent the unions a message by using his executive powers to grant a 2.5 percent raise to the city's 5,500 managers while taking more from their salaries to pay for health and retirement benefits.
His creative interruption of the tradition of settling with the unions and then giving supervisory workers a comparable package comes after three frustrating years of trying to get labor representatives to take a similar deal.

Members of the Camden Board of Education were being patted on the back for turning down four proposals by politically connected interests to add new Renaissance schools to the school system. But since the board didn't offer any viable alternatives to the Renaissance proposals for children trapped in schools that clearly aren't educating them, the board's action appears to be little more than theater.
It's understandable that a city that in the recent past has had to swallow its pride and let the state run things because it was unable to make ends meet would bristle when presented with yet another idea that would undercut the authority of a local institution.
After all, while the Renaissance schools would be under the board's authority as public schools, their degree of autonomy would make them independent for all practical purposes. There is justifiable fear, not just in Camden, but in urban districts across America, that the encroachment of charters will increase to the point that regular public schools no longer get the money and attention they need to improve.
Spreading false information because you don't know the facts is a mistake. Continuing to spread false information when you know the truth is lying.
That's what a Washington-based, big-money political group did by continuing to run TV commercials that used false information to smear Pennsylvania Attorney General candidate Kathleen Kane as being "soft" on rape.
The TV ad cited two cases in which it said Kane, a Democrat, let rapists off with light plea bargains. But the Lackawanna County District Attorney's Office, and one of the rape victim's fathers, said Kane wasn't involved.
After three weeks of limping along with replacement referees, the wealthy owners of the National Football League finally made the right call in ending their lockout — and it sends an important message about business and labor dealings that goes beyond football.
In short, the NFL fell back on the old adage — too often ignored across many industries — that the customer is always right.
What a welcome move in a league better known for its steep ticket prices, seat license fees, and high-handed stadium policies that once even included a short-lived hoagie ban by the Eagles at Lincoln Financial Field.