Archive: September, 2010
The ambitious plan unveiled Tuesday by Amtrak for true high-speed service along the Northeast Corridor has something going for it that no other U.S. rail project can boast: millions of riders already lined up to buy train tickets. As the nation's busiest rail corridor, the route from Boston to Washington, through Philadelphia, has a built-in base of customers. In the event that Amtrak realizes its vision for superfast service, the demand for faster trains in the Northeast seems almost assured — even if the fares, as expected, will not be cheap.
Beyond the pull of tradition, the Northeast is a critical region that faces travel gridlock on the ground along I-95 and, increasingly, in the air. Plans for upgrades to the decades-old interstate can only do so much by way of alleviating congestion. Backups at airports in the Northeast also ripple across the country, as connecting flights are delayed. As the region's population grows — and with the need to fight smog and reduce dependence on foreign oil — it makes sense to maximize use of Amtrak's network not merely to boost the region, but as a national priority.
With talk of a 38-minute trip from Center City to New York — or halving the time to travel the entire 426 miles from Boston to Washington — the proposed high-speed rail route along new tracks would indeed revolutionize mass transit across the Northeast. On the jobs front, thousands of people would be needed to construct such a massive public-works project. Amtrak officials also calculate that the long-term economic boost to the region would mean 120,000 new permanent jobs.
No wonder a key congressman, reacting to Amtrak's announcement at a presentation in Philadelphia, talked of the "critical need for true high-speed rail in the Northeast Corridor." U.S. Rep. John Mica (R., Fla.), minority leader of the House Transportation and Infrastructure Committee, called for moving ahead with planning for the $117 billion initiative as quickly as possible.
Until now, President Obama's high-speed rail efforts have been focused on 10 other corridors with the potential to be transformed by fast train travel. One is a link between Philadelphia and Pittsburgh, which probably bears closer scrutiny to determine if it's actually viable. But while high-speed projects being planned from scratch — such as a route to Orlando, Fla. — may prove feasible, the Northeast Corridor would appear to be an assured investment.
Can the nation afford it, and will high-speed rail be cost-effective? Certainly, there is a great deal of work yet to be done on plans to pay for high-speed rail lines, including possible public-private schemes. But it's appropriate to view the launch of high-speed rail as the equivalent of the nation's push in the 1950s to build the interstate highway system and develop air travel. The federal government has spent more than $450 billion and $200 billion on highways and aviation, respectively, over the last three decades. It's time to invest wisely in the rail system, and there's no better place to begin than in the Northeast.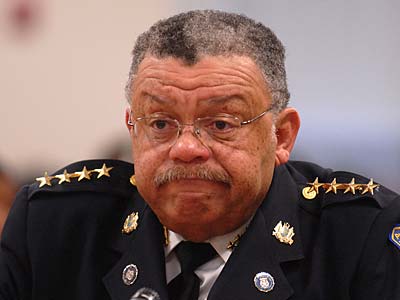 It was a smart move by Police Commissioner Charles H. Ramsey to confirm that he'll go ahead with plans to enlarge the Police Department's Internal Affairs bureau by 25 percent — and to do so during the same week he launched a charm offensive with police-community meetings around the city. Ramsey needs to work in-house and in the community to drive home his message of zero tolerance about police misconduct.
His trouble within the ranks with rogue cops is well-documented. Eleven city officers have been arrested on charges including murder, rape, and drug dealing since early 2009. They're among a squad-size contingent of some 51 officers fired since Mayor Nutter hired the no-nonsense cop. The best immediate means to nab bad cops is to increase oversight, which Ramsey plans to beef up by mid-October, with the addition of 26 officers to Internal Affairs. The cadre of officers includes a number of volunteers — in itself, a positive sign of change in a department that is frequently tainted by corruption.
Beyond that, the commissioner's directive to upgrade ethics training and his proposal to raise the bar for recruits should produce a smarter police force less likely to dishonor the badge. However, Ramsey also has a problem on the street — where Philadelphians encounter officers known to run off the rails by using heavy-handed tactics that raise cries of police brutality.
Those incidents, inevitably, are played out these days in vivid and disturbing video images on the Internet. The latest came in early September, with the violent arrest of an Overbrook man who police say tangled with them outside a restaurant. Officers can be seen repeatedly clubbing the man, who faces assault and other charges. Answering a reporter's questions about the incident, which is now being reviewed by Internal Affairs, a Ramsey spokesman quipped that "not every arrest ends with someone saying, 'Thank you.' "
True, there are two sides to every allegation of police abuse. But the department needs to be less reflexively defensive about such allegations, at least until the facts are aired. A plan to hold forums in police districts across the city should provide a good opportunity for citizens to air their gripes. The mayor said the department welcomed "ideas, concerns, and suggestions for improving interaction" between the police and the citizenry they serve and protect.
During his run for mayor, Nutter unfairly took some heat over stop-and-frisk policies aimed at reducing crime. There may be a political dividend for him in calming inner-city community anxiety over alleged police abuses. But it also stands to reason that holding police officers to higher standards of conduct will increase the odds of achieving better community relations, as well as the cooperation from residents that the mayor rightly contends is a crucial component in "keeping our city safe."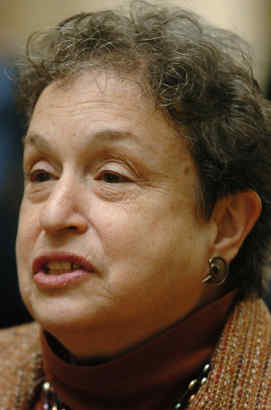 Wealthy donors are influencing state and federal elections more than ever, while the prospects for reforming campaign finance laws fade. Big-money donors are exploiting a landscape without limits in Pennsylvania. Republican gubernatorial candidate Tom Corbett and Democrat Dan Onorato are piling up unprecedented numbers of six-figure contributions.
Corbett has received a dozen donations of $100,000 or more from individuals or groups, including $280,000 from Terrence and Kim Pegula, who earned their fortune in the methane-gas industry. Onorato has collected 11 six-figure contributions. Philanthropist H.F. "Gerry" Lenfest kicked in $200,000 and unions have also contributed heavily, including more than $400,000 from affiliates of the Laborers organization.
Any individual or group could give these candidates $1 million, if he wanted. Pennsylvania is one of 11 states without limits on cash contributions from individuals or political action committees. The absence of reasonable campaign-finance limits guarantees that big-money donors will enjoy an outsized role in influencing policy debates in Harrisburg. Yet legislators perennially reject calls to set sensible rules for elections.
A bill by state Rep. Babette Josephs (D., Phila.) would set an individual limit of $5,000 for donations to statewide candidates, which is generous by federal standards. It has bipartisan support. But the legislation has languished since April in the House Appropriations Committee, where Chairman Dwight Evans (D., Phila.) cited an "overload of the agenda." There will always be excuses for ignoring this needed reform, but not good excuses.
At the federal level, the prospects for reform are equally bad. Since the Supreme Court ruled this year that corporations and unions can spend unlimited amounts, there has been a proliferation of shadowy groups paying for TV ads targeting candidates. The Washington Post reported that independent groups known as "super PACs" are registering at a rate of one per day to spend millions on individual congressional races. The Republican-affiliated American Crossroads' super PAC spent $2.8 million in just two days on TV ads attacking U.S. Senate candidate Joe Sestak of Pennsylvania and three other Democrats. Some liberal groups are waging similar campaigns against Republican candidates.
A House committee chaired by Rep. Bob Brady (D., Phila.) last week approved a bill to create a "fair election" system that would include grants and matching funds. It's a good idea that would increase the value of small donations in congressional campaigns. But the chances of this measure becoming law are virtually nil. Senate Republicans won't even agree to a measure requiring large campaign donors simply to identify themselves. That's not a low bar; it's no bar at all.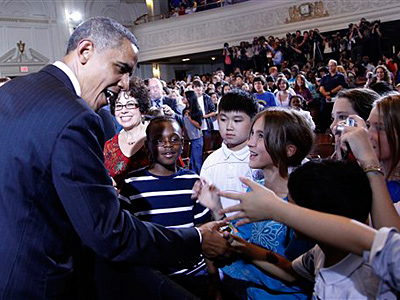 President Obama made another big push for his education agenda this week, with a renewed call to hold the worst teachers accountable. Those who fail to improve quickly have "got to go." It is a harsh directive, but a necessary one, given the sorry state of public education. Students are failing classes and flunking out at alarming rates — unable to read or perform basic math skills.
Obama's plan calls for teachers who miss the mark to get additional training and a chance to improve, which is fair. But those who still fail to improve after a reasonable period could be fired. No doubt, teachers unions are disturbed to hear such tough talk again from Obama, and with it the prospect that some teachers could lose their jobs. But the president has made clear his intent to change the status quo.
Obama did take a conciliatory tone in expressing his desire to work with the education unions. Historically, collective bargaining units have been reluctant to address issues such as tenure that make it difficult to get rid of poorly performing teachers. That must change. Keeping bad teachers who wear tenure like a badge of honor hurts students in chronically troubled schools. It also makes it difficult for good teachers to create environments where students can succeed.
Rather than rise up in knee-jerk opposition to the president, unions should continue to work with the administration to make needed changes that will be in the best interest of students. These reforms include rewarding the best teachers with merit pay, closing the lowest-performing schools, and giving students more alternatives when their neighborhood school is bad.
The president was on point in calling for higher standards for students, who too often become victims of low expectations. He also rightly acknowledged that more money alone will not fix the public schools' problems. Obama announced plans to recruit 10,000 teachers in science, technology, engineering, and math over the next two years. Emphasizing these disciplines will better prepare students to compete in a global economy.
In a nationally broadcast interview about education, Obama also endorsed extending the school year. He offered no specifics, but the idea certainly makes sense. Giving students more time in the classroom would bring the United States in line with Asian countries, where students are performing better academically. Philadelphia Superintendent Arlene Ackerman has also called for a longer school day. In fact, much of her five-year strategic plan almost mirrors Obama's proposals.
The president has set the right priorities for overhauling America's public schools. To pass the test, he wants to put more good teachers in the nation's classrooms so every student will have a better chance to succeed.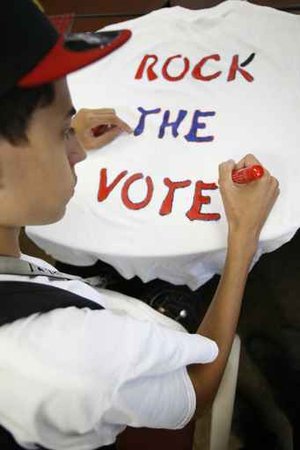 Visits by President Obama and Vice President Biden to college campuses this week are an attempt to reach an audience that candidates have largely ignored. Campaigns are failing to reach out effectively to potential voters under age 30, unlike the presidential election in 2008.
Two years ago, more than 2.5 million young people registered to vote. But about two-thirds of them now say they're more cynical about politics, a survey by Rock the Vote reported. About one in four people under 30 in Pennsylvania aren't registered to vote; the deadline is Monday. New Jersey's deadline is Oct. 12. (Find registration information at www.rockthevote.com.)
This untapped pool of potential voters is large, but candidates are not making meaningful appeals. Colin Hicks, state coordinator of Rock the Vote, hasn't seen a candidate visit the seven Philadelphia-area campuses where he organizes voter-registration efforts. Students and young adults feel they're being taken for granted in this election. And the weak economy is their top concern. "The job issue is everything to this age group," said Heather Smith, president of Rock the Vote, in an interview with the Inquirer's Editorial Board. "They're dreamers with no jobs."
Young voters tend to be attracted to a candidate rather than a political party; in 2008 many of them participated in the election because of Obama. The RTV survey indicates that people under 30 still generally like Obama, and his endorsement would make them more likely to vote for a candidate. But they're disappointed that Obama hasn't done more in two years. Of the respondents who said they won't vote on Nov. 2, about 70 percent said corporate interests have too much power and prevent real change.
Young voters aren't ready to walk away, but they feel many candidates aren't speaking to them.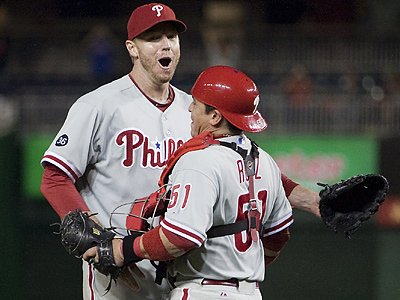 Ah, so this is what it is like to expect to win. Another season, another division championship for the Philadelphia Phillies. That makes four in a row, along with two World Series trips. Longtime Phillies fans aren't used to this. But it's like flying in first class. Let's do it again.
The recent winning ways of the Fightin' Phils has helped to ease the sting of 10,000 losses, the 1964 collapse, Joe Carter's home run to win the 1993 World Series, and countless dreary nights at the Vet. Not that this season was a cakewalk. One or two fans may have even fallen off the bandwagon in July, when the Phillies appeared to be fading from contention.
Credit manager Charlie Manuel, for staying calm and keeping the team focused despite a string of injuries to nearly every star player. Credit general manager Ruben Amaro Jr., for making a key mid-season trade for pitcher Roy Oswalt, helping to ease the agita from the loss of Cliff Lee. Credit the once-maligned mystery owners, for spending what it takes to put a winning team on the field year after year. (Now, Mr. Werth, if you will just sign right here.)
But most of all, credit the players, for battling through a long, tough season. Every player stepped up at key moments. It was especially nice to see Roy Halladay, Mike Sweeney, and Brian Schneider sipping champagne for the first time. Enjoy, fellas. But don't forget: Everyone around here knows the baseball season in Philadelphia now runs through the end of October.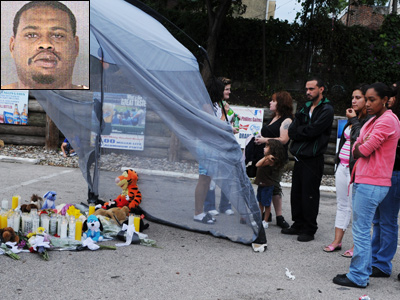 The brutal death in Kensington of a tow-truck driver involved in a territory dispute with a fellow operator turned the rough-and-tumble business of wreck-chasing in Philadelphia into a life-and-death struggle. It was bound to happen, and it's only surprising that a tow-truck driver had not been killed in a confrontation before now.
In July, police said a driver was shot in the leg by another driver, who faces charges in the shooting. The incident was followed by vandalism at both drivers' companies, including the torching of 13 vehicles at one firm and shots fired at the rival's offices.
The deadly confrontation early Sunday in which police say Glen McDaniel, 25, repeatedly ran over another driver, Ray Santiago, 30, was fueled, in part, by drinking. But police say it stemmed from a running clash between the men over areas they trolled for accident victims' vehicles. Their dispute was not uncommon, since tow-truck firms routinely race to be first at the scene of a crash. But with Santiago's death, city officials have to get far more aggressive about reining in the now-deadly cowboy antics.
Had the city stood behind its 2008 launch of a system for dispatching tow trucks by rotation, tow-truck operators wouldn't have to do battle for customers. But the Police Department took a hands-off attitude, so the system was little used. Now, City Councilman James F. Kenney has introduced legislation to mandate dispatching tow trucks, along with licensing, and better oversight to weed out rogue operators. New safeguards should be put in place before a feud between tow operators leads to another death.
For more than two years, City Hall officials have known they were pretty much powerless to prevent the theft of hundreds of houses in Philadelphia by con artists who transfer deeds fraudulently. Despite the prosecution this past spring of a 13-year property theft operation resulting in a lengthy jail sentence for the ringleader, the city has yet to put procedures in place to stop other deed thefts.
Mayor Nutter's aides have gotten better at flagging these scams — by notifying homeowners and mortgage holders that a deed has been transferred. So far, 442 suspect deed transfers have been referred to city prosecutors. But those steps do not prevent fraudulent deeds from being recorded, at which point the legal owners face a costly and arduous process in recovering their property through the courts. Homeowners in the inner-city neighborhoods most often targeted by these scams can be forgiven, then, for growing impatient with the pace of reform enacted by the Nutter administration.
A City Council hearing last week on legislation designed to strengthen safeguards against property thefts didn't provide much hope, either. Records Commissioner Joan Decker came out in opposition to a proposal drafted by Council members William K. Greenlee and Maria Quiñones-Sánchez. The Council measure would require Decker's staff to verify that the actual owner of a property was transferring a deed. It would apply to less than 10 percent of all transfers — those not handled by title companies, insurers or lawyers.
That makes sense. But Decker told Council that state law and a decade-old court ruling bar city officials from delaying deed recordings. And that represents a maddening, Catch-22 situation for homeowners. As a flabbergasted Greenlee said to Decker, "You mean that no matter what junk is presented to you, you're required to record it?" Decker insists the solution is to amend state law. That's a Harrisburg strategy Nutter aides have been discussing actively only since the summer. One promising idea would be requiring a thumbprint on deed documents. So if nothing else, Greenlee's proposal should be the catalyst for city officials to get off the dime and move aggressively on new rules to thwart deed thieves.