Archive: February, 2012

With the deeply troubling disclosure that Cardinal Anthony J. Bevilacqua ordered aides to shred a memo identifying 35 suspected predator priests, there's no longer any question that Pennsylvania should give victims of long-ago abuse an avenue to have their day in court.
The revelations about Bevilacqua present a textbook illustration of what's at stake in victims' efforts to uncover the truth about the apparent cover-up of alleged abuse by clergy spanning decades. The cardinal died Jan. 31, on the eve of the sex-abuse trial of a former church administrator and two former parish priests.
Just as two Philadelphia grand juries concluded, Bevilacqua's reported 1994 shredding directive, brought to light only last week, appears to confirm that there was a carefully orchestrated effort by Archdiocese of Philadelphia officials to shield predators. Similarly, it has been revealed that Bevilacqua joined with other Pennsylvania bishops "to examine how the dioceses … can better protect their secret archives from civil-law discovery," according to court records.
Another fatal school shooting, this one in Ohio, again has parents across America wondering if their children's schools are safe.
Details slowly emerging depict the alleged shooter as another troubled youth whose aberrant behavior wasn't predicted, but perhaps should have been. T.J. Lane, 17, allegedly walked into the high school cafeteria with a knife and a .22-caliber handgun and randomly opened fire. Three students died after the rampage Monday at Chardon High School near Cleveland. Two others were wounded.
The spree could have been more tragic, but for the heroic actions of a teacher who chased the gunman from the school.
Each day, the Inquirer Editorial Board posts a new poll on its Say What? blog, as well as in that day's printed edition of the newspaper. Just since the summer, more than 100,000 votes have been cast by phily.com readers. To the right is our latest poll.
Cast your vote now.
And see earlier polls here.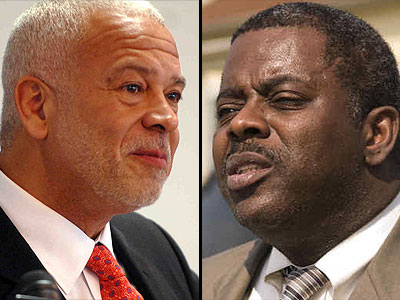 It makes sense for the U.S. Department of Housing and Urban Development to hold the Philadelphia Housing Authority in receivership for a while longer, so executive director Michael P. Kelly can continue his good work to repair the broken agency.
PHA was deeply hurt by the autocratic rule of former Executive Director Carl Greene. The board appointed by the mayor and the city controller was incapable of stopping Greene from spending money just about any way he wanted, including to secretly settle sexual-harassment complaints and pay belly dancers to perform at an authority event. The board didn't even have an in-house counsel with the power to review Greene's contracts with the city's politically connected law firms. That sort of damage isn't repaired overnight.
The delay in restoring local control of the PHA also gives Mayor Nutter time to sort out a dispute over the agency's governance, which has long-term implications. Under the existing system, the mayor and city controller pick two board members each. Those four members then elect a fifth, typically a tenants' representative. But Nutter wants to appoint all nine members, arguing the mayor should have ultimate responsibility for the agency's board. The flaw with that arrangement is that a future mayor might fill the board with yes men.
Postmaster General Patrick R. Donahoe says nothing is "set in stone," so there's some faint hope of altering the sweeping cutbacks planned for the U.S. Postal Service. But time is running out, and congressional action is critical.
The postmaster's plan to save $15 billion over three years by closing or merging more than 200 mail-handling facilities could slow first-class mail, throw up to 35,000 people out of work, and risk even greater erosion in post office business. Among the facilities affected in eastern Pennsylvania are Altoona, Erie, Greensburg, Lancaster, New Castle, Reading, Scranton, Washington, Paoli, and Williamsport.
It's not that Donahoe has much choice but to pursue such a strategy, even if it proves self-defeating. The quasi-governmental agency he heads faces a $14 billion loss this fiscal year. It has seen the volume of first-class mail drop by 25 percent in recent years, yet the post office receives no direct taxpayer aid.
Each day, the Inquirer Editorial Board posts a new poll on its Say What? blog, as well as in that day's printed edition of the newspaper. Just since the summer, more than 100,000 votes have been cast by phily.com readers. To the right is our latest poll.
Cast your vote now.
And see earlier polls here.
A welcome reprieve that saved four Catholic high schools from being closed seemed like a miracle to fearful students. But now they and their parents are looking for divine intervention to solve the archdiocese's long-term budgeting woes.
Just last month, Philadelphia Archbishop Charles J. Chaput revealed his decision to shutter the high schools and 45 elementary schools in June. Fund-raising saved 18 elementary schools, but the high schools appeared doomed until $12 million in donations and pledges poured in last week. Chaput announced Friday that all four would remain open. The reprieve speaks volumes about all the parents, students, and supporters who rallied to save the schools. The archbishop said nearly 20,000 financial donations were received, many from everyday working people.
Developer J. Brian O'Neill, who said he had promised his dying mother he would help the Roman Catholic Church, led the campaign and helped recruit 10 anonymous major donors. O'Neill's involvement becomes even more extraordinary when one considers that he never attended any of the archdiocesan schools but is a strong believer in Catholic education.
Being the nation's third-largest egg producer means Pennsylvania should pay close attention to a proposal in Congress to improve the living conditions of egg-laying chickens. The state, though, has not yet joined the movement to ban so-called battery cages, which can house as many as 11 hens in a space little bigger than a microwave oven. That's an image that should spoil your breakfast.
Ohio, Michigan, and California, where voters in a 2008 referendum mandated hens have enough room to stretch their wings, have banned new battery cages. The Humane Society of the United States and the United Egg Producers trade group are also pushing for more humane standards.
The congressional legislation that has resulted from this unusual alliance shows a good balance between real-world egg-production practices and the idealistic goal of free-range chicken farming. It calls for replacing conventional cages, but only over a lengthy phase-in period stretching out 15-18 years, and with financial protections that allow farmers to fully depreciate existing equipment.