Archive: January, 2011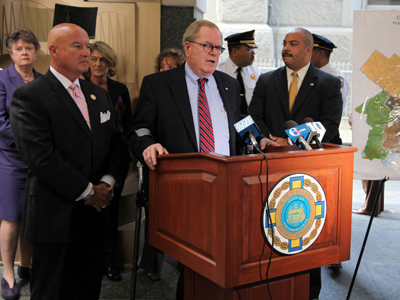 A major overhaul of court procedures ordered by state Supreme Court Chief Justice Ronald D. Castille and his colleagues represents a leap forward for crime victims in Philadelphia.
Rather than require victims to testify at all preliminary hearings, the high court freed prosecutors to rely on police testimony in cases involving car thefts, burglaries, other serious property crimes, and fraud. The justices also are making their first concerted effort to school county judges in ways to shield witnesses so that courts can get to the truth.
With the two moves announced Friday, Pennsylvania's top court officials are taking aim at two problems that have hampered the course of justice in the city. One: the stalling tactics and other gamesmanship used by lawyers to get their criminal defendants off without a court's actually weighing any of the evidence. The other: a distant and more sinister cousin that comes in the form of witness intimidation, as practiced by crime suspects and their confederates.
Inquirer Editorial Board
@ 9:00 AM 
Permalink
|
Just as rules against helmet-to-helmet contact are helping to protect professional football players from head injuries, scholastic athletes in Pennsylvania deserve new safeguards to prevent concussions and assure injured players get enough time to heal.

The good news is that two Harrisburg lawmakers last week renewed efforts to do just that. The not-so-good news is that the state Senate, for whatever reason, took a pass last year on enacting new public-health measures designed to shield young players from potentially life-altering brain injuries on the field.

Fortunately, the sponsors of this effort, State Sen. Pat Browne (R., Lehigh) and State Rep. Tim Briggs (D., Montgomery), last week returned with companion bills. Like measures passed in New Jersey and several other states, their legislation would mandate that student athletes and parents receive detailed information about concussions.

(In this encounter between St. Peter and Jack LaLanne, who died last weekend, the latter speaks in his own words.)
St. Peter: Hello, Mr. LaLanne. Welcome to the hereafter.
LaLanne: I can't die. It would ruin my image.
Gov. Corbett was swept into office with a pledge of fiscal discipline, limited government, and no tax increases. He faces billions of dollars in deficits, pension liabilities, and loan repayments.

Corbett is clearly looking for savings in public education, which is the largest expense at both the state and local levels, and which reaped substantially increased state subsidies under the Rendell administration. The new governor believes competition and choice will improve the quality and efficiency of education, and the state Senate has already scheduled hearings on a bill to provide state vouchers for students in failing public schools.
But those are long-term endeavors, and the governor needs to cut costs now. A great place to start is eliminating the wasteful state school-construction program called PlanCon. Each year, Pennsylvania school districts spend more than a billion dollars on school construction, with hundreds of millions reimbursed by the state. The subsidy depends on the wealth of the district, but some districts receive 25 percent or more of construction costs.
Al Gore and his supporters promised us that, if only we used enough fossil fuels, man-made global warming would bring about an environmental disaster that would simultaneously roast and flood Earth.
In the 1990s, one of the leading global-warming scientists predicted that European and American children would soon grow up without ever seeing snow. Another top climate scientist firmly declared that the traditional White Christmas was a thing of the past.
We were told that the science was settled: As environmentally irresponsible and all-around-dreadful humans drove Earth's temperature upward, the polar ice caps would melt, the polar bears would drown, and the rising ocean levels would inundate the world's coastal areas, creating millions of eco-refugees.
Japanese and American scientists say they may soon clone a woolly mammoth — the huge, hairy cousin of the elephant that went extinct about 10,000 years ago. They say they may be as few as five years away.
About a decade ago, I wrote a few editorials against the idea. I hereby reverse myself. I'm still uneasy and fretful and skeptical, but my argument now is pragmatic:
OK, we are going to do this. It will come. As our methods improve, we may well revivify many extinct species. Since it won't stop, let's think about how we go about this.