Archive: September, 2010
Republican leaders have heard the public's anger at Washington, and they've come up with an election-year plan: increase the federal debt. You won't find "more borrowing" listed as an agenda item in the House Republicans' pandering "Pledge to America." But sending the country deeper into debt is integral to their plan.
Minority Leader John Boehner (R., Ohio) and his crew want to extend tax cuts for all taxpayers regardless of income level, which would add nearly $4 trillion to the national debt over the next decade. It is a formula for extra borrowing from foreign governments, to be paid by generations of future taxpayers — the very problems that supposedly motivated the GOP's action plan. The House GOP leaders propose to cut discretionary non-security spending with a blunt axe, reducing federal agencies across-the-board by about 20 percent. That would amount to the biggest social cuts in recent history, but it still wouldn't come close to offsetting the cost of the tax cuts.
If Boehner and his pals were serious about producing something more meaningful than a feel-good campaign document, they would have talked about a balanced-budget amendment. They didn't, because that would require hard work. If they wanted to show their commitment to cutting government waste, they would have proposed eliminating federal "earmarks." They didn't, because Republicans have feasted at this incumbent-protection smorgasbord as eagerly as Democrats.
As for controlling the cost of Social Security and Medicare, Boehner would only say that his team is ready to have an "adult conversation" about entitlements. And as soon as he can round up a few adults, he'll get back to us. No doubt there is room, as they claim, to cut the federal civilian workforce of about 2.1 million. It's about 17 percent higher than it was in 2001. But most of that growth has been in the areas of homeland defense and national security, where the GOP appears unwilling to cut. Instead they want an across-the-board freeze on federal hiring, which wouldn't allow the flexibility to handle increased demand for, say, Social Security claims or veterans' benefits.
Democrats also lack a credible plan to reduce deficits. But their tax-cut proposal is slightly less burdensome to the overall debt because it would raise taxes on families earning more than $250,000 per year. The GOP "Pledge to America" includes few specifics and a host of phrases intended to pander to the tea party. It's a campaign document that offers no real plan for governing.
As such, it might produce its desired effect by making Boehner the new Speaker. The Republican leadership is actively courting the tea-party movement, while Democratic leaders are simply running for their lives. In 1994, another year of great unrest, Newt Gingrich came out with the "Contract for America." It brought Gingrich the power and fame he sought, but it had little practical effect for the public. The "Pledge to America" looks like more of the same.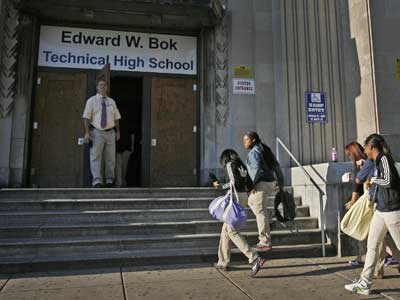 The Philadelphia School District has seen more than its share of plans to fix an ailing system. Too many have produced disappointing results. Let's hope the latest plan to address school violence contains more than fancy buzzwords, and actually produces real results.

The plan, unveiled last week, would target 46 problem-plagued and persistently dangerous city schools. It is a much-needed attempt to change the climate in schools, where troublemakers have been allowed to run amok. But the "Focus 46" plan has some shortcomings and may need fine-tuning. Some critics want a bolder approach that targets troubled students and their families. Nevertheless, the plan provides a chance for the district to send a strong message that violence will not be tolerated.

Violence is a daily problem at many city schools and undermines broader efforts to improve learning. Dozens of criminal offenses — some involving guns, knives, and sexual attacks — take place throughout the district every day. That's inexcusable. A disproportionate number of the district's violent incidents occur at the 46 targeted schools. Nearly half of the schools are on the state's list of persistently dangerous schools. Putting more attention and resources at those schools to crack down on violence, disciplinary problems, and truants makes sense. That must include better monitoring and reporting — which means that principals and teachers must give an honest account of incidents at their schools.

Of all the things Haiti's earthquake victims are running out of, patience may be the most important.This destitute country has endured the consequences of revolution and the abuse of dictators. Now it is struggling mightily to recover from the Jan. 12 temblor that left 300,000 dead and more than a million people homeless.

The frustrations of the survivors, many of them recovering from loss of limbs and other injuries, are chronicled in letters placed in suggestion boxes installed at homeless camps by the International Organization for Migration. "I gave birth six months ago, the baby died, I have six other children, they don't have a father, I don't have work, my tarp is torn, the rain panics me, my house was crushed, I don't have money to feed my family, I would really love it if you would help me," said one woman in her letter.
It's not that Haiti is being ignored by the international community, but the assistance it promised isn't coming in as quickly as it should. Donors made a two-year pledge of $5.3 billion for earthquake relief, but the United Nations says only about 18 percent of that has been received.
There has been some good donor news for Haiti, but it won't bring immediate relief for the letter writers and others living in tents and other make-do abodes. In announcements last week, Haitian officials revealed an agreement with the South Korean company Sae-A Trading to build a garment factory expected to employ 10,000 people; and a pact with France and the United States in which each will contribute $25 million to rebuild General University Hospital in Port au Prince.
Even in its damaged state, the hospital has been serving thousands of patients since the earthquake. More controversial is the garment plant. Sae-A Trading, which makes clothing for Gap, Banana Republic, Target, Wal-Mart, Levi's, and others, has been criticized for its low wages. But Secretary of State Hillary Rodham Clinton has defended the planned factory, saying it will provide "good jobs with fair pay that adhere to international labor standards."
Time will tell whether that will be the case. The concern now is to provide more relief to Haitians. The Institute for Justice and Democracy in Haiti released a report Tuesday that said 75 percent of all families had at least one member who went a full day without eating in the past week. Haiti has been wracked by poverty for so many years that many of those families probably had a hard time getting fed before the earthquake. But that doesn't excuse the tardiness of promised disaster aid by other nations. The need is evident. So, too, should be the assistance.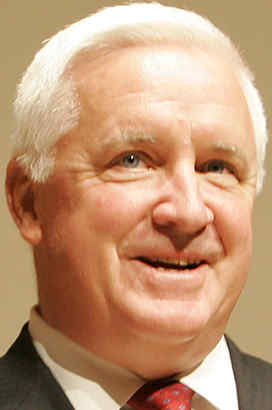 Only three abbreviated weeks of work remain for Pennsylvania's legislature, which is on a familiar course toward dodging its responsibilities. When legislators approved a state budget in July, they also agreed to enact a new tax on the booming methane-gas industry by Oct. 1. Pennsylvania is the only major gas-producing state without such a tax.
Municipalities need help paying for the environmental impact of drilling, and the state could use the revenue. But it looks as if legislators will fail to approve a tax on drillers at all, let alone by Friday. Time is running out to work on tedious legislation in Harrisburg. Legislators need to rush home to campaign for reelection, many using donations provided by those same natural-gas drillers.
Both parties are at fault for this impending failure. Any bill to tax methane drilling must originate in the House. But majority Democrats are feuding over the formula for splitting revenue between the state and municipalities and can't get a bill to the floor. Their disagreement takes the heat off the Republican-led Senate, where the industry is pushing a laughable proposal to tax gas production at a lower rate than virtually any other state in the nation. Of course, this proposal would be higher than Pennsylvania's current tax of zero.
Gov. Rendell has proposed a fair tax on the industry, modeled on West Virginia's. But a spokesman for Senate President Pro Tempore Joe Scarnati (R., Jefferson) called a similar proposal by House Democrats "entirely unacceptable." A significant portion of tax revenue from methane production should go to the state for tapping a valuable, nonrenewable resource and enforcing environmental regulations. The House and Senate agreed in writing to enact a tax, but they're about to break that promise. And they still manage to keep a straight face while asking for your vote.
Drilling companies are only too happy about the prospect of failure. They're banking on GOP gubernatorial candidate Tom Corbett, who opposes any new taxes. Corbett leads Democrat Dan Onorato in the polls, and also leads the Democrat by six to one in methane-industry donations, with a total of more than $361,000. If the industry can coax three more weeks of gridlock from a legislature that aspires to inaction on its best days, drillers should escape the tax for four more years.
The legislature has other responsibilities whose chances for solutions are fading rapidly. House Democrats have all but given up on a plan to raise needed transportation revenue for new construction projects next year, despite a swelling backlog of crumbling bridges, deteriorating roads, and aging transit systems. The House in June approved a bipartisan plan to ease the state's looming pension crisis. Without a solution, taxpayers would be forced to contribute an extra $5 billion in fiscal 2012-13 and high amounts for years afterward. But Scarnati's spokesman said it "remains to be seen" whether the Senate will send back its own plan before the House is scheduled to adjourn Oct. 6. Only in Harrisburg can you get such low performance at such a high cost.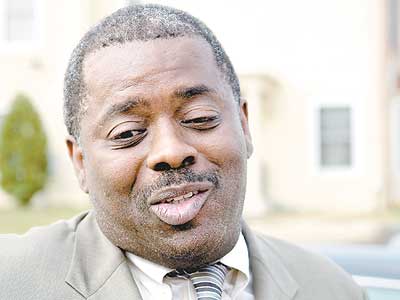 Carl R. Greene got himself fired. Period.

But a host of enablers either failed to investigate, looked the other way, or engaged in a years-long conspiracy to hide allegations that he sexually harassed women.

Greene denies any wrongdoing. But an internal investigation by the Philadelphia Housing Authority board found Greene was "a serial sexual harasser" who "mentally tortured, physically assaulted, and professionally damaged" at least four female employees.

The failure of the Senate to repeal the military's policy banning gays was another missed opportunity to conquer prejudice. By a 56-43 vote along party lines, Republicans on Tuesday managed to block consideration of a bill that would void the "don't ask, don't tell" policy that has little validity in today's Army, Navy, Air Force, or Marines.

Proponents of "don't ask" may have won that round, but they are losing ground against a growing mood that indicates the country is ready to overturn an unfair policy that discriminates against homosexuals and lesbians who want to serve their country.

Gay-rights advocates are justifiably frustrated by yet another delay in repealing the 17-year-old policy. President Obama promised after his election to make overturning it a priority, but progress has been disappointing.

A state Senate measure that passed its first legislative hurdle this week could help thwart a repeat of the two upstate Pennsylvania judges accused of railroading hundreds of teens in a prison kickback scheme.

Under legislation sponsored by Sen. Lisa Baker (R., Luzerne), teens would be required to have lawyers in juvenile courts across the state, with counties providing attorneys for defendants who could not afford to pay.

The measure was approved 13-1 on Tuesday by the Senate's judiciary committee.