Archive: August, 2010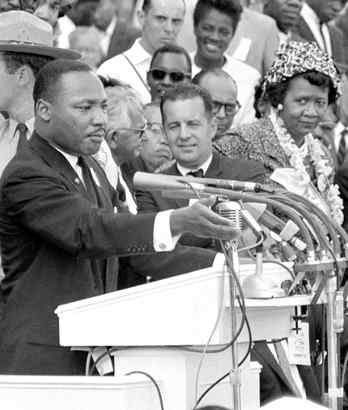 The Rev. Dr. Martin King Jr.'s philosophy of peace may be sorely tested when competing rallies staged by Glenn Beck and the Rev. Al Sharpton come within a stone's throw of each other Saturday at the Lincoln Memorial. But let's hope not. After all, it will be the 47th anniversary of King's "I Have a Dream" speech.
Right-wing radio-show host Beck claims that choosing Aug. 28 for his "Restoring Honor" rally, which will feature an appearance by Sarah Palin, was a case of "divine providence," not intent. "Whites don't own Abraham Lincoln. Blacks don't own Martin Luther King," Beck said. "Those are American icons, American ideas, and we should just talk about character, and that's really what this event is about. It's about honoring character."
National Urban League president Marc Morial told the Washington Post that Beck's choice of day and setting for the rally was "insulting." But he and Sharpton say their "Reclaim the Dream Rally" isn't meant to counter Beck's. That event will begin at Dunbar High School, and end at the planned site of the King memorial on the National Mall at about the same time that the Beck rally should be wrapping up. Sharpton says no confrontation is planned. "We will not desecrate the march and what King stood for," he said.
King certainly stood for freedom of speech, which will be expressed abundantly when folks gather at their preferred events. As King would, they should be exemplars of tolerance, maybe even taking the time to listen to what someone they disagree with has to say. If there's enough listening, maybe some will hear.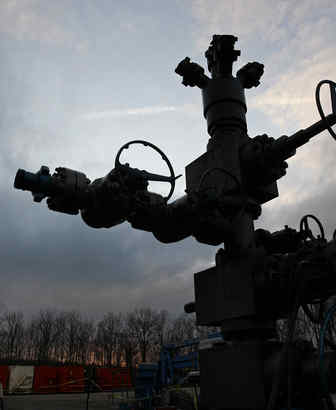 Legislators in Harrisburg should resist the efforts of natural-gas companies to obtain a sweetheart deal of tax loopholes and lax drilling regulations. The legislature has agreed to enact an extraction tax on methane wells by Oct. 1. Pennsylvania is the largest gas-producing state without such a tax to help pay for environmental protection and accident cleanups. It's overdue. But as the deadline approaches, natural-gas companies are demanding rules on their terms. They want generous exceptions to a fair tax system, and to write favorable land-use regulations that would govern their industry.
Natural-gas companies are lobbying the legislature to resolve complicated issues of landowners' rights and local zoning in the industry's favor by Oct. 1. They want state laws on drilling to preempt local zoning ordinances, and the right to drill under a property without the landowner's permission. These issues deserve careful study and thoughtful debate, not a rush job in a few weeks to satisfy an industry wielding its clout. "They could locate their operation right next to a house," state Rep. Bob Freeman (D., Northampton) said of the drillers' proposal. "I don't see where they get the right to dictate conditions."
If the drillers don't get their way, the implication is that Senate Republican allies who've taken gushers of campaign cash from the industry could reject a production tax. Senate President Pro Tempore Joe Scarnati (R., Jefferson) has received more than $105,000 in campaign donations from the gas industry in the past decade. If he burrows any deeper into the drillers' pockets, Scarnati may get luckier than Jed Clampett. Oil and gas companies have flooded Harrisburg with more than $4 million spent on lobbying since 2007, and $3 million given to state candidates since 2001. Yet some in the industry feel that gas companies should be tossing even more money around the state Capitol.
Kathryn Klaber, president of the Marcellus Shale Coalition, which represents drillers, told the Inquirer Editorial Board that the industry's donations "are probably not where they should be." She needn't worry. Contributions to legislators will soar even higher by the next reporting period as firms influence legislators and take full advantage of Pennsylvania's shameful absence of campaign-finance limits. At the same time, the industry is seeking to water down the tax proposed by Gov. Rendell and Democrats in the legislature.
Rendell has proposed a 5 percent tax on the value of methane extracted, plus 4.7 cents per thousand cubic feet. It's modeled on the tax that West Virginia imposes on drillers. A tax should have been enacted last year, but Sen. Scarnati & friends killed it. Now that a tax is looming again, the industry wants it to be ridiculously low. The coalition seeks a tax of 1.5 percent in the first five years of a well's operation — typically the period of peak production — and 5 percent thereafter, until production falls below a certain level. Under the drillers' proposal, they would pay an effective tax rate of no more than 2.3 percent on most wells, according to an analysis by the nonprofit Pennsylvania Budget and Policy Center in Harrisburg.
An undetermined portion of this revenue will go to municipalities to help them deal with the impact of drilling, including road repairs and environmental cleanup. The industry shouldn't be trying to skimp on such obligations while it pours millions into buying friends in Harrisburg. The boom of methane drilling in Pennsylvania is invading public lands, cashing in on natural resources, contaminating drinking water, and posing other serious environmental risks. It's time for public officials, especially Democrats in the legislature and Gov. Rendell, to stand up for the public's interest in this debate.
The one-way fare system that SEPTA is exploring for its regional rail lines could invite jokes about commuters being lured into Philadelphia for free - then socked with a big fee for the privilege of getting out of town.
But that's hardly the only pitfall suggested by this plan, which SEPTA officials say is in the talking stages as part of a long-delayed transition to a $77 million "smart card" fare system for buses, subways, trolleys, and trains.
Would there be nightly logjams of passengers trying to squeeze through the turnstiles at gated Center City rail stations? What works at the starting gate for thoroughbreds at PhiladelphiaPark may result in chaos with commuters lugging briefcases and other belongings.
An outbreak of salmonella poisoning that has sickened hundreds of people who ate bad eggs should prompt the Senate to stop sitting on legislation to give the Food and Drug Administration more clout. But instead of its watered-down version that has been collecting dust, the Senate should adopt a House bill passed a year ago.
More than 1,300 recent salmonella cases have been linked to contaminated eggs. FDA officials say those illnesses, and the subsequent voluntary recall of a half-billion eggs, might have been avoided if it had the power to inspect agribusinesses before an outbreak and to order product recalls when necessary. The FDA needs more authority to regulate the massive agribusinesses that dominate the U.S. food market. The current wave of salmonella (which weakens immune systems and can be life-threatening to babies and the elderly) has been traced to two Iowa egg farms that share the same supplier of chickens.
The House bill would set up a system in which the frequency of FDA inspections would be based on the level of risk of contamination at a facility. High-risk operations would be inspected every six months to a year; medium-risk, every one to three years; low-risk, every five years. The weaker bill written in the Senate would call for higher risk facilities to be inspected within seven years of the bill's enactment, and every three years after that; with low-risk facilities being inspected anywhere from seven to 17 years after enactment, and then every seven years.
Why are the senators suggesting a more laid-back approach to food safety? It's the cost, they say. The Congressional Budget Office estimates that the Senate legislation would add $1.4 billion to federal spending over a five-year period, compared to $3.5 billion for the House bill. Senate Republicans say they are taking a stand against deficit spending, but they ignore a remedy. The House bill also includes a schedule of inspection fees that would recoup enough to make its cost only slightly higher than the Senate measure.
The agribusinesses don't want inspection fees imposed. But the current salmonella outbreak is just the latest evidence that they need much greater scrutiny. Then, too, the price of inspections must be weighed against the $152 billion a year that food-borne illnesses cost this country in health expenses and lost productivity. Not to mention the 5,000 deaths. There are other differences in the House and Senate bills that need to be hashed out, including the proper definition of a high-risk facility or product. But the cost of inspections should not become a ruse for politically partisan filibuster threats that could jeopardize public health.
Some new FDA rules requiring more testing for salmonella went into effect in July, but by then the current outbreak had begun. "We need additional resources, we need additional authority, we need greater ability to trace back products to their sources so that we can identify how contamination occurred and what products are at risk," said FDA Commissioner Margaret Hamburg. The Senate has waited long enough. It needs to reconcile its bill with the House version and act swiftly to protect Americans from food that makes them sick.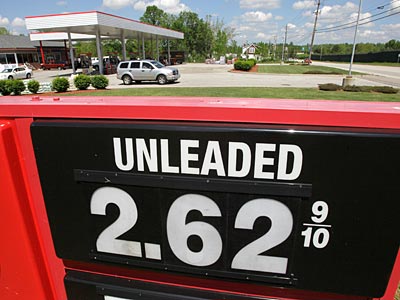 Commuters and businesses can't afford for legislators to ignore Gov. Rendell's call to raise at least $1 billion more for roads, bridges and mass transit. The state's transportation network is badly underfunded. Pennsylvania has the most structurally deficient bridges in the nation — 5,646. About 10,000 miles of state roads are also in poor condition, and many capital-improvement projects have been postponed at dozens of mass-transit agencies across the state. Deficient roads and bridges pose a public-safety hazard, and they cost car owners for wear and tear on their vehicles. Increased congestion causes businesses and commuters to sit in traffic an extra 38 hours per year — a work week.
Senate Majority Leader Dominic Pileggi (R., Chester) asked PennDOT Secretary Allen Biehler why he's requesting only $1 billion per year when the state really needs $3.5 billion. Biehler replied that $1 billion would be a "good start." That's a diplomatic way of saying it's pure fantasy to expect the legislature in an election year to come up with more, when it resists raising even $50 million by taxing cigars.
Rendell would raise the money by imposing an 8 percent tax on the profits of oil companies, which avoid paying their fair share of the state's corporate income tax by locating their headquarters out of state. The governor also would raise about 60 motor-vehicle fees, including registration (from $36 to $49), driver's license ($28 to $32) and certificate of title ($22.50 to $31). Rendell didn't propose raising the state's 31-cent-per-gallon gasoline tax, but that would be the fairest way to get revenue. A four-cent increase would raise nearly $250 million, largely paid by people who use the roads heavily, including out-of-state truckers.
Rather than address the funding problem before election day, many legislators want to wait until a possible lame-duck session, when their courage might return. Others want to put it off until next year, when Republican Tom "No New Taxes" Corbett might be governor and shield them from tough choices.
A bipartisan commission recommended in 2006 that the state raise an extra $1.7 billion per year to fund transportation needs. The legislature responded with Act 44, which was supposed to provide nearly $1 billion per year. But about half the funding was to be generated by placing tolls on Interstate 80, a move rejected by the federal government. Partly due to soaring construction costs, Biehler says the state now needs an extra $3.5 billion per year. It's time for the legislature to stop stalling.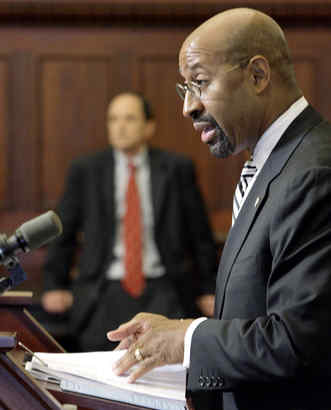 Who is going to get to the bottom of the mess at the Philadelphia Housing Authority?

Executive Director Carl R. Greene has taken a leave of absence. The PHA board seems out of the loop and has been slow to respond to allegations against Greene.

Mayor Nutter has had nothing to say. Ditto for City Controller Alan Butkovitz, who, like the mayor, appoints two commissioners to the PHA's five-member board.

It makes far better sense to honor more hallowed ground in Gettysburg with links to the pivotal Civil War battle and President Abraham Lincoln's historic visit than to bring a casino to the neighborhood.
Gambling investors may believe that the best hope to boost the Gettysburg economy is their plan to build a full-blown casino just a half-mile south of where thousands of Union and Confederate soldiers fought and died.
But it's more important to preserve the unique setting and character of the Gettysburg battlefield - a drawing card for the small town that hasn't lost any of its appeal after nearly 150 years.
Many baseball fans are keeping a close watch on the Phillies' playoff race, but the deeper meaning of the game was on full display in Williamsport this weekend.

That's where the dream of winning the Little League World Series came to end for the Toms River National team. The kids from New Jersey were eliminated by Hawaii on Sunday.

Toms River advanced to Williamsport after beating another local team, Council Rock Newtown, a week ago. But after getting knocked out of the tournament, the kids from Toms River remained mostly upbeat.