Archive: May, 2012
By Lalita Clozel
Although some Democrats have been distancing themselves from the Obama campaign, this doesn't mean the party is severely divided.
It is true that in some purple states, Democrats are forced to dissociate themselves from some of the party's more liberal views, but that usually happens. According to Politico, Arizona Democratic congressional candidate Ron Barber avoided mentioning Obama in a recent debate with his rival in a special election.
In the 13 seconds it took a police officer to respond, a homeless woman believed to be mentally ill allegedly plunged a butcher knife again and again into two tourists, killing them on a busy Atlantic City street.
The officer was part of the beefed-up security in the tourism area, but the show of force wasn't enough to save the women — and it won't be enough to save Atlantic City, so long as its decades-old and overwhelming homelessness problem continues to go untreated.
The system is broken. Three days after the killings, police and human-service workers found a mentally ill woman sleeping under the boardwalk. She attacked them. They took her to a hospital. Less than an hour later, the hospital put her back on the streets, saying she was too violent.
A bill introduced in New Jersey that would impose fines rather than jail time for marijuana possession offers a more reasonable approach to the war on drugs.
Under the measure, a first-time offender arrested with 15 grams of marijuana or less would face a $150 fine. The fine for subsequent offenses could increase to up to $500, along with referral to a state drug-education program. The bill won unanimous approval with bipartisan support Monday from the Assembly Judiciary Committee. A Senate version was introduced last week.
Unfortunately, legislative approval may not be enough. A spokesman for Gov. Christie has said it is unlikely that the former federal prosecutor would sign it.
By Lalita Clozel
We've arrived at a new level of futility in the coverage of the presidential campaign.
The Washington Post published a lengthy article two weeks ago recounting Republican presidential candidate Mitt Romney's high school years at the Cranbrook Academy, where he apparently was quite the prankster. It was a very detailed piece, including anecdotes from former classmates. One story detailed how Romney pinned another boy down to forcibly cut his bleached blonde hair. The tale made a splash and was repeated on all the major political blogs. The resulting criticism forced Romney to apologize for his agitated past.
More than 1,000 people took to the streets Wednesday in Center City to protest a School Reform Commission proposal to address an overwhelming budget deficit that includes drastic cuts, including possible layoffs for more than 2,700 blue-collar workers.
Despite union leaders' portrayal of the blueprint as a ruse just to privatize jobs, the SRC would be hard pressed to mount a credible defense of its plea for additional funds from the city if it didn't show that it was ready to do whatever it takes to keep the district out of bankruptcy.
With a projected $218 million deficit for the 2012-13 school year, the district's condition is critical. Hard decisions must be made, and everyone — from bus drivers to teachers to administrators — must understand that pain is unavoidable.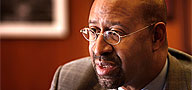 Cheers to the Nutter administration for clearing some of the bureaucratic impediments that have paralyzed Philadelphia's ability to manage its wealth of properties, much of which is stuck in a hellish cycle of abandonment and blight.
Using an interactive database accessible to anyone, a potential property buyer can key in an address, a block, or a neighborhood, find a piece of city-owned property and start negotiating to buy it. The hope is that transfers of city land to private owners will speed up and help stabilize neighborhoods trying to fight blight. The aim is to turn weed-covered, rat-infested properties into community assets that can draw investment.
The best estimate is that there are 40,000 vacant properties in Philadelphia, with about 9,000 held by the Philadelphia Redevelopment Authority, Department of Public Property, or Philadelphia Housing Development Corp. Many of those 9,000 parcels will become available to earnest buyers in a much more straightforward way than they are now.
Americans who pick up the phone to call overseas have no way of knowing whether they're on the modern-day equivalent of a party line. For that, they can blame the unwarranted expansion of U.S. antiterrorism surveillance in the wake of 9/11.
More than a decade after the terror attacks, the constitutionality of spying on untold numbers of likely innocent citizens — including by monitoring their e-mail messages — has yet to be tested by the courts. Now, though, the Supreme Court could clear the way for that long-overdue legal review with a ruling granting citizens the right to challenge secret wiretapping of international calls and messages on the plausible fear that their privacy rights are being breached.
The court agreed Monday to hear the case brought by Amnesty International, the American Civil Liberties Union, journalists, and others who contend they've had to curtail completely legal overseas communications because of the massive wiretapping sweeps.
While it's widely accepted that texting behind the wheel is so dangerous that many states have banned it, including Pennsylvania, a North Jersey town as well as a New Jersey Superior Court judge may be on shaky ground when it comes to bans.
A ruling may come Friday in a Morristown lawsuit concerning two motorcyclists who lost their legs in a crash triggered by a driver who had just received a text message from his girlfriend. The court is being asked whether the girlfriend should be held liable, too, for knowingly texting a driver who would be violating New Jersey law if he answered her.
The case is believed to be the first of its kind in the nation. It should also be the last. If a cell-phone user can be blamed for causing a crash by sending a text message, where does it stop? Should placard-carriers promoting store sales be prosecuted if a distracted motorist runs his vehicle into another car?