Archive: May, 2011
With Pennsylvania boasting the nation's second largest number of solar-industry jobs, state officials would be foolish to let the sun set on such a nascent but promising industry. But that could happen due to a temporary mismatch between solar-energy financing and market demand.
The construction of more than 4,000 solar projects has been a roaring success, responsible for generating several thousand jobs at 600 solar businesses. Growing that industry from scratch, with state and federal aid, also boosted the use of nonpolluting and renewable energy. That will be particularly helpful in meeting summer's peak demand.
Yet, the boom in solar projects has outpaced the amount of solar energy utilities are required to buy under the state's alternative-energy rules. That has depressed the value of solar-energy credits needed to provide a return on photovoltaic solar systems, which have a steep, up-front price tag.
Graduations at Valley Forge Military Academy and College are a bit different than at other schools.

Of course, there are similarities. The relieved and happy grads. Parents bursting with pride and armed with cameras. And, always, just one speaker too many.
But Valley Forge graduations also include distinctive moments showing just how different a career path their cadets have chosen.
NEWS ITEM: The United States Army has announced plans to toughen its fitness testing to make sure all soldiers have the strength, endurance, and mobility for battle. The system that is used now, the Army admits, "does not translate into survival on the battlefield."
The current outmoded system, the Army admits, is 30 years old.
One of the installations at which testing is to be held is Fort Leonard Wood in Missouri.

I spent the winter of '62 — that's nineteen sixty-two — at Leonard Wood. Thanks to a summons from my Uncle Sam. Hospitality courtesy of the 33d Infantry Division.
Forty-nine years later and the memories still linger. Fort-Lost-in-the-Woods it was called then. There was a sort of grudging admiration in that sobriquet for a hill-pocked mud hole of a military reservation located in the scrub trees and red clay foothills of the Missouri Ozarks.
He once stood tall, with deep Italian skin and his head covered in thick, dark brown hair.
Now he sits across from me, his small, pale blue eyes hidden behind large-frame glasses. His hands are folded calmly together, fingers interlaced, in his lap. There are strands of gray in his hair, but he is still tan as if he had been out at sea for months, weathered by the swift winds and harsh waters.

This is Robert Cameron, my grandfather.
It was early October, and he would soon turn 85. For a class assignment I had decided to interview my grandfather, who spent 22 years in the Navy, about his experiences on D-Day.
He had been living with my family for almost five years, but that part of his past had always been left alone. If he did mention it, the subject was only lightly acknowledged and then forgotten. On this day, I could not imagine the stories he would tell.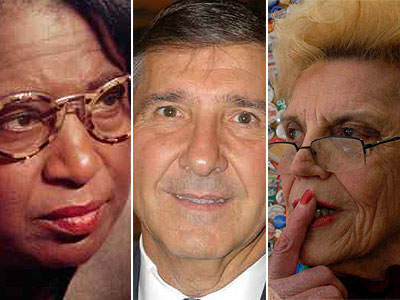 City Council members whose idea of reform is to prop up the controversial DROP retirement perk will be thumbing their noses at Philadelphia taxpayers if they do that.
Mayor Nutter has a better idea: Scuttle the costly benefit for everyone, cutting the city's current annual losses of $9 million to $22 million — even if that sparks a rush by some city employees to sign up before DROP dies.
That's the starting point for a long-delayed debate at a June 8 hearing over the fate of the Deferred Retirement Option Plan.
With the entire Legislature up for election, voters in New Jersey's June 7 primary have a crucial role to play.
There are only two contested Senate races in Philadelphia's South Jersey suburbs. Both contests feature candidates who can do well in Trenton.
In the Seventh District, The Inquirer endorses the incumbent, DIANE ALLEN, in the Republican primary over Carol Lokan Moore, an Edgewater Park businesswoman. The Seventh District includes portions of Bthe urlington County plus Camden County towns Merchantville and Pennsauken.
The five-year-long housing crash is not over. Nationwide, prices have fallen a stunning 33 percent from their peak. While the Philadelphia area's housing market has held up as well as any in the country, prices in this region are off 17 percent. Given the millions of foreclosure and short sales in process nationwide, house prices will decline further.
It is hard to be enthusiastic about the economy's prospects as long as house prices are falling. A house is most families' most important asset, and the crash has cost the typical American homeowner nearly $85,000 in housing wealth. The loss is particularly hard on middle-income households, who have benefited less than their higher-income neighbors from rising stock prices.
Shaky house prices have also made it difficult for the owners of small businesses to use their homes as collateral. Bank lending to small businesses has picked up over the past year, but it is hard to see how credit will flow freely until house prices rise again. Since small businesses are a key part of job creation, this is a significant impediment to a stronger job market.
Local governments, meanwhile, struggle as falling house prices hit property-tax revenues.
Mitch Daniels would have added some much-needed substance to the national dialogue. His reason for not running for president is a sad commentary on the sideshow our elections have become.

I spoke with Indiana's popular chief executive last week. We discussed how he had turned a $200 million deficit into a $1.3 billion surplus without raising taxes. And how his insistence on drastic spending cuts had played a large part in Indiana's ability to avoid a dip into the red.
"All in all, it's a matter of matching means to ends, deciding what's most important, and doing less of the things that are secondary," he told me.