Archive: April, 2010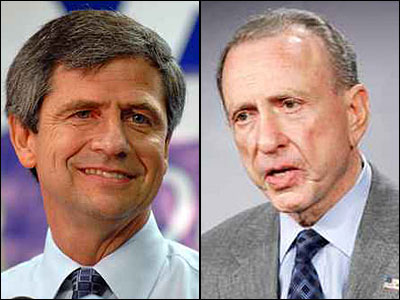 Pennsylvania's longest-serving U.S. senator has experienced a lot, but Arlen Specter has never before faced voters in a Democratic primary. Until a year ago, the five-term incumbent navigated political life as a moderate Republican known for his independent streak. He'd defend a woman's right to choose in one breath, and in the next obtain tax-funded grants for abstinence education in schools. But last year Specter became one of only three Republicans in Congress to vote for President Obama's $787 billion economic recovery plan. The resulting backlash led Specter to conclude he couldn't win the May 18 Republican primary against conservative Pat Toomey. So Specter switched parties in an attempt at political survival. He has the backing of Democratic Party leaders, but faces a strong challenge from U.S. Rep. Joe Sestak of Delaware County.
So, Democratic voters must decide whether this 80-year-old newcomer to their party is worthy of their support. After all, over the years Specter has cast his share of votes they didn't like; he favored conservative judges and opposed same-sex marriage. Yet, when you look at the sum of his career and what it has meant to Pennsylvania, you have to conclude he's a good choice for Democrats, which is why The Inquirer endorses ARLEN SPECTER for the Democratic nomination.
Specter has at times disregarded party labels, which made his switch plausible and workable. For years, conservatives referred to him as a RINO — Republican In Name Only. He earned that moniker for his willingness to work across party lines. More than ever, Washington needs lawmakers who are eager to do that. Specter lost his seniority on Senate committees in the switch, but he hasn't lost his clout. The senator is still a highly influential lawmaker and appropriator on behalf of Pennsylvanians. He is also one of those rare congressmen who contribute both on the national and international stages. His expertise on the Middle East, federal law enforcement, the judiciary, and health-care research has provided presidents of both parties with valuable counsel.
Sestak, a worthy opponent for the nomination, suffers from low name recognition and the absence of support by party leaders from President Obama to Gov. Rendell. (He said someone in the White House offered him a job if he would drop out, but has dismissed further questions about that as "just politics.") The two-term congressman, 58, is a tireless campaigner and has raised an impressive war chest. Sestak says Specter's expertise isn't worth much "if it gives us \[Supreme Court Justice Samuel\] Alito." He points out that Specter, as a Republican under President George W. Bush, voted for tax cuts that heavily favored the wealthy. Both Specter and Sestak voted for the recent health-care reform law.
A retired rear admiral, Sestak has impressive qualifications. He served as President Bill Clinton's director of defense policy on the National Security Council. After the 9/11 attacks, Sestak became the first director of the Navy's anti-terrorism unit. Sestak has been criticized for high staff turnover in his congressional office, but suffice it to say neither candidate is likely to win a Favorite Boss award anytime soon. A progressive advocacy group has given Sestak a higher rating than Specter, but Specter has been voting more reliably with Democrats since his switch. His recent record suggests that his poor standing with progressives won't last long.
This race is competitive largely due to Sestak's determination and to an anti-incumbent fervor that is bound to hurt the state's longest-serving incumbent. But Specter is a senator for the ages. He is still a vital player and a worthy choice for Democrats.
The airline industry seems to love following trends. So, it was refreshing to see five major airlines bucking what could become the latest bandwagon: fees for carry-on bags. Well, at least for now they are saying no.
Spirit Airlines sent the industry — and some lawmakers — into a tail spin when it recently announced that it would begin charging up to $45 for bags carried aboard. It is the first carrier to impose such a fee. Many travelers, especially frequent fliers, consider carry-on bags a necessity, not a luxury. They can also avoid costly check-in fees, which have become the norm. Spirit contends fewer passengers are likely to bring carry-on bags, which will help speed up security lines and empty planes faster. By giving passengers an a-la-carte option to purchase only what they need, the airline says it can keep its base fare low.
It will be worth watching to see if those benefits pan out and passengers come out ahead financially, which seems doubtful. The new fees take effect Aug. 1. Sen. Charles Schumer (D., N.Y.) has strong-armed pledges from American, Delta Air Lines, United Airlines, US Airways, and JetBlue not to charge for carry-ons. There was no indication, however, on how long they could live up to that promise. The airlines deserve credit for resisting the chance to ramp up revenues by adding yet another fee for passengers who now pay for meals, pillows, and checked bags — services that not so long ago were free.
As an added measure to discourage other airlines from following Spirit's lead, lawmakers have introduced legislation to levy a tax on airlines that charge for carry-on bags. Bills are pending in both houses. Rather than legislate the fees, Congress should heed a suggestion from Spirit CEO Ben Baldanza and let consumers decide the market. Meanwhile, let the passenger beware.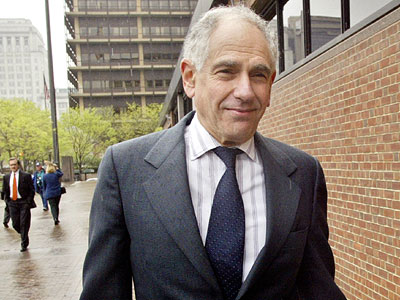 A federal judge has wisely advised the Lower Merion School District to settle a racial bias case in order to avoid a court ruling that it might not like.

But what on the surface appears to be an argument with a simple solution actually has links to one of the most controversial decisions made by the U.S. Supreme Court under Chief Justice John G. Roberts Jr.

The Lower Merion district was sued last year by black parents who alleged that it had unfairly targeted African American students to be bused past closer Lower Merion High School to Harriton High to achieve greater racial diversity there.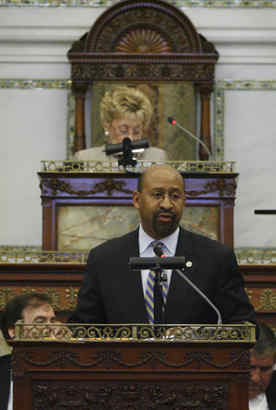 Mayor Nutter and City Council continue to negotiate which taxes they should raise to balance the city budget. They should be spending as much effort looking for ways to reduce spending and improve efficiency.

Consider the recent budget hearings regarding the so-called elected row offices, which include the sheriff, register of wills, and city election commissioners.

A report last year by the Committee of Seventy correctly called for eliminating these offices, as well as the municipal courts' clerk of quarter sessions.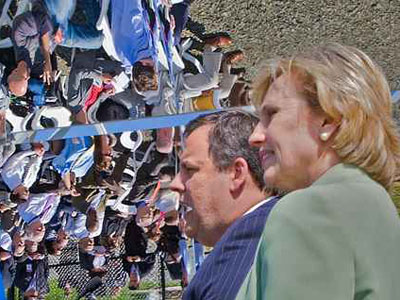 In making its recommendations Monday, Gov. Christie's red-tape review panel had the good sense not to halt implementation of a rule requiring new homes to have fire sprinkler systems in New Jersey.
The life-saving regulation was one of dozens temporarily stayed during a 90-day review conducted by a panel chaired by Lt. Governor Kim Guadagno. The panel gave the go-ahead for implementing the requirement for sprinklers in newly-constructed one- and two-family dwellings, effective in January 2012.
Since the review wasn't supposed to stall any rule that had public-safety implications, it was pretty clear from the start that the sprinkler regulation – putting New Jersey in the forefront nationally – shouldn't be delayed. Lives could be at stake.
The sheer volume of Web-cam photos snapped by the Lower Merion School District to track school-issued laptops indicates how oblivious school officials were to students' privacy rights.

An investigation by the district found that nearly 56,000 images were taken after tracking software was turned on, usually when a computer was reported missing.

Henry E. Hockeimer Jr., the attorney hired by the district to lead the inquiry, said the photos did not capture students in embarrassing poses.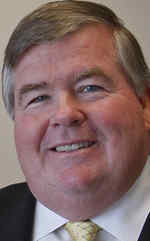 The recent court challenges by the city GOP against its own committee candidates have all the earmarks of the classic Philadelphia election story: potential fraud, party infighting, and voting by dead people.

The temptation is to chuckle, shrug, and move on. What's new here?

Well, for starters, the district attorney, Seth Williams, who campaigned last year on changing his predecessor's pass-the-buck approach to political corruption in Philadelphia. Instead, his office is investigating the matter, as it should.
That's because it appears that fraud was committed. Determining who was responsible and deciding on the appropriate punishment shouldn't be left to political insiders.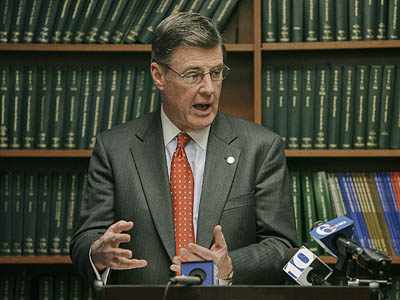 Another injustice has been dumped on the Camden defendants whose convictions were thrown out amid a police corruption probe. The Camden County Prosecutor's Office has overturned drug convictions and other charges in at least 185 cases. But many of the suspects — including some who spent time behind bars for those crimes— have yet to receive notice that their convictions were overturned.
The cases were dismissed in the wake of a widening federal investigation into a rogue operation run by several police officers who allegedly routinely stole drugs and money from suspects, made false arrests, and lied to cover up their illicit actions. That mockery of the criminal justice system has been made worse by the failure to advise defendants that charges against them have been dropped. Some only learned about the police scandal after being contacted by Inquirer reporters.
No one had told Dayna Hinton, who spent more than five months in jail for buying a $10 bag of crack, that her 2007 conviction was tossed out last month. Without being told, defendants who may have been falsely arrested are unlikely to know that they have the option to file suit for wrongful conviction and imprisonment. Knowing their charges have been dismisssed could also clear up related legal issues and outstanding fines, which could help put their lives back on track.
Prosecutors contend ethics rules bar them from directly contacting defendants whose cases were vacated. But that doesn't excuse them from working more closely with defense lawyers — most of them overburdened public defenders — to make sure that every defendant is properly notified as quickly as possible. That's not to say every defendant is innocent. But when the legal system fails as it did in Camden, the way to correction must begin with an admission of error.