Archive: December, 2010
Now that Congress and President Obama have finished congratulating themselves on extending tax cuts, the harder work of deficit reduction must soon begin.

The agreement to prolong the Bush-era tax cuts for two more years, cut the payroll tax, and extend unemployment benefits was necessary to boost the sluggish economy. But it also adds about $900 billion in deficits at a moment when the federal government is awash in red ink.

It's easy for elected officials to add to the national debt, which is about $13.8 trillion and climbing. The more difficult task is trying to balance the budget.

The region continues to dig out from the first major snowfall of the winter and -- wait for it ... -- the last storm (let's hope) of 2010.
The condition of city streets ranged from cleared to clogged with snow, typical in a town with hundreds of miles of narrow byways and steep hills. Streets Department Commissioner Clarena Tolson announced that city crews would continue to "fight this storm" all day and, indeed, the city's efforts already had covered a 24-hour period by the Monday holiday-week rush hour.
SEPTA regional rail trains were running, but behind schedule by up to 90 minutes with limited cancellations. Those lucky enough to grab an early train from Chestnut Hill and Mount Airy were treated to picture-perfect scenes in Wister Woods. Snow-covered rooftop dormers in Germantown gave that neighborhood a Dickensian look.
There's nothing better than football played in the snow — especially when viewed from the living room sofa with a cold beverage and warm flames crackling in the fireplace.

That explains why many fans were rightly upset that the Eagles-Vikings game was moved to Tuesday night. But the decision by the NFL and the Eagles to postpone the game was the proper one.

With a massive storm hammering much of the Northeast on Sunday, there were legitimate public safety concerns to warrant rescheduling the game. Mayor Nutter issued a snow emergency and asked motorists to stay off the roads to give crews time to work.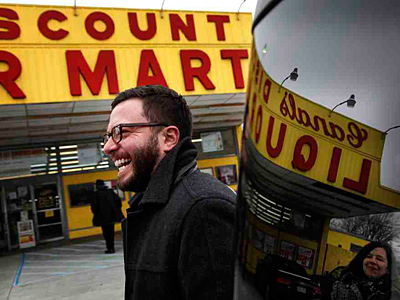 It's been noted that Pennsylvania's Soviet-style ministry of alcohol might be headed the way of the U.S.S.R. for a few reasons.

The incoming governor and state House majority leader (not to mention most of the state's humans) are avowed detractors of ye olde Liquor Control Board. And a $4 billion budget deficit should have Harrisburg reconsidering nonessential functions, as well as such nonessential malfunctions as the booze bureaucracy.

But the most compelling case for eliminating the LCB has been advanced by the LCB itself. After eight decades of encouraging us to buy liquor in Jersey, the agency stepped up its bid for oblivion last summer by debuting its wine "kiosks."

Philadelphia auditors investigating Sheriff John D. Green's sloppy bookkeeping have raised alarming new concerns — with the City Controller contending that Green and his staff created "an opportunity for fraud" by failing to adequately track $53 million handled by the Sheriff's Office.

The latest findings ratchet up the stakes in the two-month-old inquiry by Controller Alan Butkovitz, whose October demand for a complete probe of Green's financial house prompted the sheriff to delay indefinitely his planned retirement.

Green needs to be replaced, for sure. Beyond that, Mayor Nutter and City Council must seize this opportunity to enact reform.

Pennsylvania is losing a congressional seat due to the new census, but more worrisome is the loss of Sen. Arlen Specter from Washington's halls of power.

The state's longest-serving senator in history will leave office on Jan. 3, after losing last spring's Democratic primary. He has represented Pennsylvania with determination, independence, and skill for 30 years.

During his long tenure, Specter, 80, has done his best to represent all Pennsylvanians. It was no easy feat in a state that, in the past decade, elected conservative Republican senators Pat Toomey and Rick Santorum, while also twice electing liberal Democratic Gov. Ed Rendell.

Elections have consequences, so it's hardly shocking that Republican Gov.-elect Tom Corbett is loading up his transition team with business leaders.

But Corbett's reliance on advisers who contributed bundles of cash to his campaign is another deflating example of money buying access in Harrisburg. It's a strong argument for campaign finance limits in Pennsylvania.

Since the election on Nov. 2, Corbett has been assembling people to help him devise policies on energy, transportation, welfare reform, and education. Collectively, these individuals spent $1.9 million to get Corbett elected.