Archive: November, 2010
Two million people still die annually from HIV, a sobering thought as another World AIDS Day is observed. Events will be held around the globe Wednesday in the campaign to raise awareness about HIV/AIDS, and remember the millions who have died from the disease. The observances offer an opportunity to mark gains in the battle to conquer the epidemic by preventing its spread and to push for renewed efforts to find a cure.
The United Nations estimates that 2.6 million people were newly infected with AIDS in 2009. That figure is down 20 percent from the previous decade. According to the Centers for Disease Control and Prevention, 580,000 Americans have died of AIDS since it was first identified in the United States in 1981. An additional 1.1 million have been infected and are living with HIV, the virus that causes AIDS. The disease has disproportionately affected blacks, men who have sex with men, and young people.
Recent medical breakthroughs may provide the strongest weapon against the disease. A study of healthy gay men who took an anti-AIDS pill daily yielded encouraging results — they were 44 percent less likely to get infected with HIV. But more funding is needed to continue research projects that could one day save lives. There must also be more aggressive outreach such as the campaign by black clergy in Philadelphia to encourage testing to prevent those already infected from unknowingly spreading the disease.
In New Jersey, the Legislature should pass a bill that would allow for the sale of needles in pharmacies without a prescription. More than 40 percent of all HIV/AIDS cases in the state have been attributed to the sharing of contaminated needles. New Jersey and Delaware are the only states with a complete ban on over-the-counter sale of syringes in pharmacies, according to the Drug Policy Alliance.
The sales would supplement the state's successful needle-exchange programs in five cities, including Camden, that have distributed needles to more than 6,000 people in the past three years. Those at risk for HIV/AIDS or Hepatitis C, who may be less likely to visit a clinic to get clean needles, could take a more proactive step to protect themselves.
On this World AIDS Day, there is renewed reason to hope for a cure. Then, Dec. 1 could be just another day on the calendar.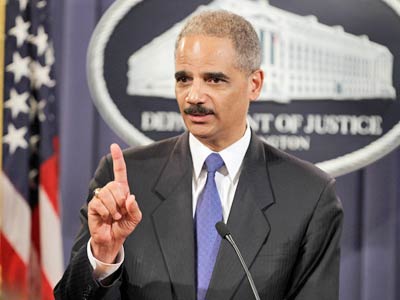 The release of thousands of State Department documents by whistle-blower WikiLeaks sheds some light on U.S. foreign policy, but has provided few truly startling revelations.
It was fascinating, for example, to learn that King Abdullah of Saudi Arabia urged Washington to "cut off the head of the snake" (Iran) to prevent the saber-rattling nation from developing nuclear weapons. To its credit, the Obama administration has focused instead on hardball diplomacy and resisted such entreaties to use military force against Iran. But the common purpose of Arab states and Israel to work against Iran's nuclear ambitions had been reported for years. It is not breaking news.
Similarly, many Americans already thought that Libyan leader Moammar Gadhafi was at least half a bubble off level before WikiLeaks revealed that he "relies heavily" on a buxom Ukrainian nurse, fears staying on upper floors, and loves flamenco dancing.
This was the third document dump by WikiLeaks and its Australian founder, Julian Assange. Four months ago, WikiLeaks disseminated more than 75,000 stolen classified government documents concerning the wars in Afghanistan and Iraq. In October, the organization disclosed another 390,000 documents about Iraq. This time, WikiLeaks is releasing more than 250,000 diplomatic cables, about half of which were classified. Although government officials want to keep this information secret, its publication by the New York Times and other news outlets does give the public valuable insight into U.S. alliances and policies.
Government alone doesn't get to decide what information is safe for public consumption in this country. Too often, government officials hide documents simply to save themselves from embarrassment. That said, President Obama should be embarrassed. In the digital age, when uploading thousands of documents is all too easy, his administration apparently allowed one disgruntled Army private with a flash drive and a compact disc to download classified information.
Some of these documents could compromise the identities of U.S. agents and informants in the field. The New York Times said it consulted with the government and scrubbed this type of sensitive information prior to publication, but other media outlets may not be so careful. Attorney General Eric Holder said he will conduct a criminal investigation to punish those responsible. Of greater concern is making sure such lax data security is improved, so it isn't exploited by avowed enemies of the United States.
It's not clear how this breach will affect U.S. diplomacy. Our allies are driven by self-interest, so they're not likely to dwell on hurt feelings. If they needed us before, they need us still. One unfortunate result of these leaks could be to discourage U.S. diplomats from writing brutally honest cables, if they fear their words will end up on the Internet. That could harm the ability of diplomats in far-flung locations to convey important information to one other.
There will always be a tension between the public's right to know and the government's desire to conceal. National security concerns notwithstanding, the public is entitled to a full understanding of how and why its representatives form policies that affect us all.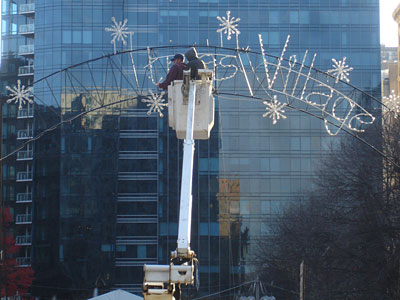 It's coal in the stockings of the Philadelphia officials – notably, Managing Director Richard Negrin – who agreed to the silly decision to strip "Christmas" from atop the German-style Christmas market set up each year just outside City Hall.
Negrin said he'd received complaints from the public, so he ordered the name change on Monday.
It was supposed to be changed to "Holiday Village," but the village operators have since decided to take it down altogether.
Philadelphia schools superintendent Arlene C. Ackerman hurts her credibility by not answering questions about the controversial awarding of a $7.5 million no-bid contract.
The Inquirer reported Sunday that Ackerman interceded to remove a contractor and instead award a project to install surveillance cameras in 19 dangerous schools to a small minority firm. The article cited unnamed sources familiar with district business operations who suggested that Ackerman failed to follow proper procedures.
The sources said Ackerman ordered key aides in September to award the $7.5 million contract to IBS, without competitive bidding. This was after another firm had been asked by her professional staff to begin the expedited work. The IBS award raises troubling questions. The firm was not on a state-approved list of contractors eligible for emergency work, and state guidelines that allow bid requirements to be waived may have been violated.
Ackerman declined two written requests for interviews from the newspaper. She also turned down a request Monday from the Editorial Board seeking comment. Instead, a written statement was released by deputy superintendent and CEO Leroy D. Nunery II. He said the district's actions were justified to quickly stem violence at the worst of 46 persistently violent schools.
"We made decisions to expedite the process of installing cameras in 19 of the Focus 46 schools because we understood … that the potential for any type of serious incident — theft, fights, rape, etc. — could be offset if we acted quickly to correct deficiencies. Thus, we made the executive decision to do a sole-source contract for professional services as opposed to conducting a request-for-proposal process that would have taken several weeks," said Nunery.
He confirmed that the district's facilities and information-technology staff had been working on the cameras project with Security and Data Technologies Inc., but he said they had acted prematurely. He said IBS, with 30 years of experience, was deemed better suited to do the job. Nunery added that in a district that is 80 percent minority, IBS's being a minority firm was also considered.
It reportedly was the second time in the last year that Ackerman directed work to IBS. On the earlier occasion, the district is said to have paid 12 times more to the Mount Airy company than the price of another contractor. District spokeswoman Shana Kemp said Ackerman personally had "nothing to do with" selecting IBS for the cameras project. But that contradicts what sources told Inquirer reporters. The superintendent herself should explain exactly how she handled this matter.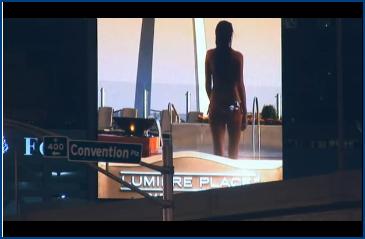 UPDATE: SCRUB'S Mary Tracy reports Thursday that 'Councilman DiCicco has introduced an amendment to Bill 100552 deleting the special exception clauses which would have allowed a developer to erect a six story video sign. The Councilman wrote in an email that he was particularly concerned about the visibility of this sign on residents of Old City.'
***
With a flashing, multi-story digital billboard near the Benjamin Franklin Bridge, the evening commute could become even more risky for New Jersey-bound drivers than the typical rush hour of fender benders and worse.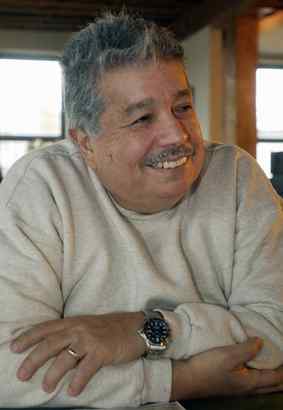 Who knew that all that "We the people" stuff could be so easily forgotten just a few blocks from where it started?
Thanks to a recent court ruling, Philadelphia's commoners will now have an opportunity to speak at regular meetings of the City Council. But it took nothing less than the highest court in the commonwealth — overruling more than a half-century of backward practice, two lower courts, and a dissent by three of its seven justices (including the court's two Philadelphians, Chief Justice Ronald D. Castille and Justice Seamus P. McCaffery) — to bring this revolutionary concept into our own house of lords.
As you might suspect, Council members were none too happy about being forcibly dragged into the 18th century, and the company of their unwashed subjects. Council President Anna C. Verna's reaction fairly dripped with aristocratic peevishness: "Of course, Council will comply with all final decisions of the Pennsylvania Supreme Court and with all statutory requirements, and if that means changing our procedures to provide a public-comment period during Council sessions, we will do so."
It's tiresome indeed when one's cherished "procedures" are trampled in the name of such trivialities as the courts, the laws, and the public. For his part, former Councilman Angel Ortiz worried that public comment would "cause a lot of commotion," encouraging people to "come in and think they're the next city councilperson." Imagine that: noisy plebeians deluded into thinking that just anyone could be a member of City Council! These are hereditary offices, after all.
Public-comment periods are standard at city council meetings around the country — appropriately so, given that these are the elected governments closest to the people. Moreover, Pennsylvania's 1993 Sunshine Act requires that the public be given "a reasonable opportunity" to comment at public meetings. But since 1951, Philadelphia has relegated public comment to its committee meetings and kept the rabble out of full Council sessions.
The Supreme Court majority, ruling on a 2007 lawsuit by a landlords' association that was prevented from weighing in at a Council meeting, found "simply no authorization" in the Sunshine Act "for delegation of the obligation to entertain public comment to some body other than a board or council."
That the local government of the birthplace of American democracy could so thoughtlessly exclude public participation for so long — and now allow it so reluctantly — is a sad irony. It's enough to make you want to hear what that self-appointed "next city councilperson" has to say.
Time has all but run out for the Senate to take a modest and reasonable step to restore sanity to out-of-control campaign spending. Although a majority of senators favor the DISCLOSE act, Republican lawmakers are blocking a vote. The measure, which passed the House last summer, proposes a basic requirement that people who donate hefty sums for election ads identify themselves. What's wrong with that?
In this year's midterm elections, at least $125 million was donated secretly to defeat or support various candidates. It was the first time in nearly 40 years that such large amounts of secret money influenced an election, for which the blame goes to the Supreme Court's tragically misguided ruling in the "Citizens United" case. Because the money this year was given to outside nonprofit groups, instead of political parties or individual candidates, no accounting or disclosure was necessary.
An overwhelming majority of Americans favors limits on funding of campaigns by corporations or advocacy groups. A New York Times/CBS poll in late October found 92 percent of respondents supported disclosure of campaign expenditures and the donors' identities. The DISCLOSE act simply would require those donating money to campaigns to stand up for their actions, rather than hide behind a shadowy front group.
The leaders of corporations or labor unions paying for the ads would need to appear in the commercial and declare that they approved of the message. That's it. There's no good reason to reject this limited step. The argument that donors could open themselves up to harassment is a red herring. In free and democratic elections, there's no room for anonymous manipulation of the process.
Disclosure gives voters a fighting chance to assess the motives and accuracy of a given message. Without it, the audience can't discern the donor's real goals. That's what the forces of the right want: to keep the public in the dark. In the past, Republican lawmakers opposed limits on campaign donations by arguing that full and immediate disclosure was the way to go. But now, even previous supporters of campaign disclosure such as Republican Sens. Olympia Snowe and Susan Collins of Maine, John McCain of Arizona, and Richard Lugar of Indiana all are wimping out. Their hypocrisy is no secret.
The Senate failed by one vote in September to pass this needed measure. And last week the Senate failed to bring up the legislation before leaving for the Thanksgiving holiday. Senators will return for votes this week, but there's little room on their agenda. And next year's incoming House speaker, Republican John A. Boehner of Ohio, has already said he doesn't plan to reintroduce the DISCLOSE act. Republican lawmakers are encouraging a secret dismantling of open and fair elections, and it's no secret where the blame lies.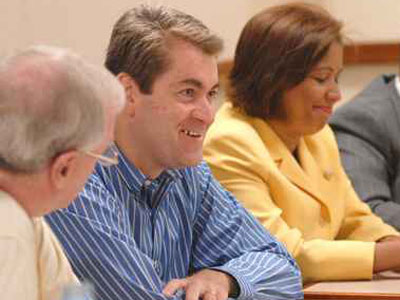 Most Philadelphians would likely agree that the city's overall tax burden is one of the highest in the country and that the current tax structure chases away jobs and businesses. Given the recession and two years of general tax increases by the Nutter administration, it is a good time to rethink the city's tax policy. Toward that end, City Council is scheduled to hold hearings Tuesday on a bill that would shift the business-tax burden from a levy on profits to a tax on sales. As with almost any new idea in Philadelphia, it is being met with resistance. But the proposal deserves a hearing.
Whether the measure is the right one, Council members Bill Green and Maria Quinones-Sanchez deserve credit for trying to come up with a better, fairer way to tax businesses. With the city's revenue base eroding, City Hall is in need of some bold ideas to attract and retain businesses, and create jobs. Green and Quinones-Sanchez's measure seeks to spread the business-tax burden and take away the incentive to locate a company outside the city. They believe the bill would provide a more predictable revenue stream.
The big question is how the change will impact city coffers. The Nutter administration said it would reduce business-tax revenues by $23.3 million a year. The analysis also said the bill would mainly benefit law firms, real estate, and manufacturers, while hurting the construction, insurance, and hotel industries. Green and Quinones-Sanchez questioned the administration's calculations, but they did agree to amend the bill to address the construction industry's concerns.
The broader goal of the bill is to shift the tax burden away from businesses headquartered in the city and capture revenue from big firms located on the other side of the city line, including Home Depot and Wal-Mart. The upside of the plan is that it would reduce the onerous tax on net income, or profits. To make up for the lost revenue, the bill would boost the tax on gross receipts, or sales, by 300 percent over five years.
Taxing revenue before a profit defies common sense. Since 1995, the city policy has been to trim the tax on gross receipts. But Green and Quinones-Sanchez argue that a tax on sales is easier to calculate and capture. Big outside firms can't avoid the tax, as they often do with the tax on profits. Economist Mark Zandi has endorsed the concept, while Wharton's Robert Inman and
City Controller Alan Butkovitz
have raised concerns.
One red flag: Any major shift in tax policy creates uncertainty for businesses and City Hall coffers. A counter argument is that the city needs to overhaul the current tax policies, which make it hard for Philadelphia to compete. Whether the bill before Council is best for the city is open to debate. But one thing is clear: Mayor Nutter and Council need to reduce the city's overall tax burden to attract more jobs and businesses to Philadelphia.