Archive: November, 2009
The operators of Three Mile Island should have notified the public sooner about a relatively minor radiation leak that nevertheless raises troubling concerns.
Gov. Rendell had every reason to blast Exelon Corp. for a five-hour delay in informing state emergency officials about the incident Saturday.
The biggest reason: Three Mile Island is forever linked to a near-disaster - the 1979 partial meltdown that occurred at the plant's sister reactor Unit 2, which remains shut down.
Thanksgiving traditions can become routine, but however you celebrate today, don't take your circumstances for granted.
Whether your family is large or small, whole or incomplete, comfortable or struggling, nearby or serving our country overseas, this holiday more than ever asks us to appreciate what we have.
The reminders of tough times are everywhere.
About 45 million turkeys will be consumed today for the greater good, so let us pause to reflect upon one bird that avoided the usual fate.
Her name is Tammy the Turnpike Turkey. She's an 11-pound wild turkey from New Jersey (no, not all wild turkey in the Garden State comes in a bottle).
Tammy lived at the toll plaza at exit 14B of the New Jersey Turnpike. You know - the exit after Bayonne, but before the Holland Tunnel? It's not your usual wild gobbler habitat.
Philadelphians have long looked to the Police Department's Civil Affairs officers to defuse unruly confrontations like the street brawl Saturday night in Port Richmond. But that night, an off-duty Civil Affairs cop shot and killed an unarmed 21-year-old.
So how did Civil Affairs Sgt. Frank Tepper - who fired the round that killed aspiring barber William "Billy" Panas Jr. - lose his touch as a peacemaker?
That's a question Police Commissioner Charles H. Ramsey and the District Attorney's Office need to answer quickly. If the inquiry drags on into January, it will be the first major test for freshman District Attorney Seth Williams - who takes over an office that, under Lynne M. Abraham, often was slow to prosecute cops for wrongdoing.
New Jersey is one of seven states with fuzzy eminent domain laws that make it easier to wrongly take people's property. It's a measure the Garden State should clarify, especially in the wake of the fallout from a landmark Connecticut case.
Eminent domain allows governments to take private property and compensate its owners when the result would benefit the greater community. That may sound reasonable, but it isn't when the greater good isn't so clear cut.
A perfect example is the recent announcement that Pfizer Inc. is shutting down a Connecticut facility that became the poster child for the wrong way to apply eminent domain. People were kicked out of their homes to make room for new development, including a hotel, that never occurred.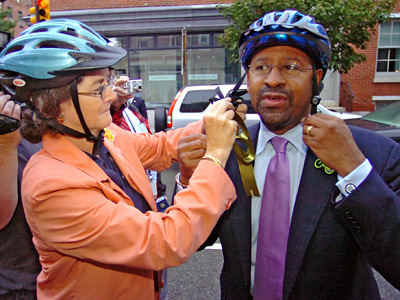 The Police Department's welcome crackdown on bike safety was launched after two Philadelphia men died from injuries suffered after cyclists hit them last month. The move shows the city is trying to balance the safety needs of motorists, bikers, and pedestrians.
City Council is also getting into the act, with one good measure to boost fines for unsafe cycling and a second silly proposal that calls for registering bikes.
Cars and trucks still pose the greatest risk to pedestrians, but the growth of bicycling has highlighted the dangers from some riders on two wheels.
At the risk of being nicknamed the million-dollar man, Pittsburgh lawyer Templeton Smith Jr. insisted on a costly - and likely fruitless - recount in the close race for a fourth seat on the Pennsylvania Superior Court.
The recount is expected to be completed by tomorrow, with the winner certified next week. Secretary of State Pedro Cortes estimates that the recount could cost taxpayers as much as $1.3 million.
That's a hefty price tag at a time when the state faces budget shortfalls, including cuts at the environmental protection agency and historical sites like the Brandywine Battlefield.
In any review of the nation's worst public-policy practices, New Jersey can usually expect a prominent mention — so much so that residents could be forgiven for ignoring such dubious honors.
But the latest example, in a report by the Pew Center on the States, makes some illuminating points about the Garden State's fiscal quagmire.
The report, "Beyond California: States in Fiscal Peril," measures others against the Golden State as the gold standard for fiscal apocalypse. While California is "in a league of its own," Pew ranked nine other states as playing at the triple-A level — just shy of the big leagues of budgetary disaster. It shouldn't surprise anyone who's been paying attention that New Jersey is among them.
All that passes for a bright side is that seven states were judged to be worse. Of course, that means 42 are looking better. (Pennsylvania was ranked among those farthest from California-style calamity.)
New Jersey's weaknesses are troubling in that they have relatively little to do with the recession. Rather, decades of bad management of state finances are mostly to blame. The report quotes the Center for Budget and Policy Priorities' Jon Shure, a longtime Trenton watcher, comparing the recession in New Jersey to "a tornado hitting a house that was already falling."
Some of the states profiled have taken the recession's hardest punches — soaring foreclosure rates in California and Florida, for example, or Michigan's auto industry collapse. But New Jersey's foreclosure rate and its rise in joblessness have been less severe than the nation's.
The state did suffer disproportionately from Wall Street's contraction, but financial industry woes weren't enough to put New York or Connecticut on the list. Unlike the troubled states in the West and Midwest, New Jersey isn't part of any regional cluster of concern.
Its problem, as Pew notes, is a structural imbalance between what it spends and what it collects. And there's little room to raise more revenue: Taxes on property, income, businesses, and sales are all at or near the national ceiling.
Instead of fixing the imbalance, politicians from both parties have engaged in irresponsible borrowing for years, contributing to a per capita debt that's almost unmatched nationwide. Paying the interest puts still further pressure on the budget.
If you're a governor-elect named Chris, it might be particularly dispiriting to learn that Gov. Corzine has taken many difficult steps toward righting the state's finances — and yet "barely made a dent," Pew says. Corzine performed the remarkable feat of reducing state spending, eliminated fiscal gimmicks, limited borrowing, and pushed unsuccessfully to retire state debt with highway toll increases.
Probably the most tangible immediate result of all this was Chris Christie's victory earlier this month. In some ways, Christie is well positioned to meet these daunting challenges. He was elected on vague promises to bring upheaval to Trenton, and that gives him considerable leeway to do so. He will need it.