Archive: January, 2011
Great guys. Bad radio.

That's my conclusion after having had the privilege of interviewing several Medal of Honor recipients over the years — the most recent of whom was former Navy SEAL Lt. Mike Thornton last week.
Don't get me wrong. The stories about those who have received the nation's highest recognition are unbelievable. They are universally patriotic. Their heroism is undeniable. But their humility makes interviewing them a challenge. They don't much like a public reading of their official citations. Invariably, they are the first to tell you that they did what countless other guys would have done in similar circumstances.
Barack Obama's reelection recipe combines a heap of Clinton centrism with a dash of Reagan optimism.

His State of the Union speech — in essence, the opening salvo of the '12 election cycle — signaled the strategy. I heard so many echoes of Bill Clinton, circa 1995 and 1996, that it felt like time travel. It made me want to watch Seinfeld and dance the Macarena.

After Clinton's party was shellacked in the '94 midterms, he muted his most liberal ambitions and moved to the middle. In the parlance of the time, he "triangulated," working with Republicans as well as Democrats, without being hostage to either camp. He successfully seized the center by stressing modest, nonpartisan issues — while suggesting that his conservative foes were prisoners of their ideology.
House Republicans in Harrisburg should take a step back from a heavy-handed move to squelch Democratic proposals.
Holding the majority for the first time in four years, GOP leaders are poised to pass a rule that would make it harder for Democrats to get amendments considered on any bill. That seems unnecessary at best, given the Republicans' 112-91 advantage in the House.
The issue erupted Wednesday in an embarassing display of legislators talking over each other, shouting and cursing in a committee meeting. Republicans wanted to pass three worthwhile bills to improve government operations, but took offense when Democrats proposed more than 40 amendments.
The outdated system of financing presidential elections with public money should be modernized, not dismantled.

The Republican-led House voted to end public financing on Wednesday, saying the move would save $617 million over 10 years.

The House approved this wrongheaded legislation without a hearing or even any real debate. It now heads to the Senate, which should reject the bill and work instead to fix the current system.

Much of the Delaware River Port Authority's workforce was rescued from the indignity of paying to cross the agency's bridges last week, when an arbitrator overruled Gov. Christie's attempt to rescind the perk. It must have been a nail-biter for DRPA employees, what with only a few months left before the tolls jump from $4 to $5 for regular drivers (also known as the chumps).

The arbitrator ruled that — as everyone who is not the governor of New Jersey might have guessed — Christie can't unilaterally undo the DRPA's contracts with its unions, which allow workers to cross the Delaware for free for commuting purposes and 100 other trips a year.

This may be a wasteful, ill-conceived contractual agreement, but it's still a contractual agreement. As DRPA board member John Dougherty told The Inquirer, going after the benefit was a lawyer-enriching "loser" from the get-go.

The worst economic meltdown since the Great Depression could have been avoided.

Try telling that to the millions of Americans who have lost their jobs, received pay cuts, and remain out of work. Tell it to the millions of people who have lost their homes to foreclosure, and the millions more whose homes have dropped in value or are under water.

Same goes for the millions of innocent small investors who saw their 401(k)s sliced in half or who lost most or all of their retirement savings.

After seeing $12 million in fees seemingly squandered on the stalled development of a new Family Court building in Philadelphia, taxpayers across the state couldn't be blamed for wondering whether they'd ever catch a break on this project.
So it's good news for them, and the Pennsylvania treasury, that the actual cost of putting up the courthouse at 15th and Arch Streets is coming in nearly one-third cheaper than planned.
What once was estimated to cost $200 million may well total only around $140 million - a substantial savings at a time when Gov. Corbett struggles to close a $5 billion state budget gap.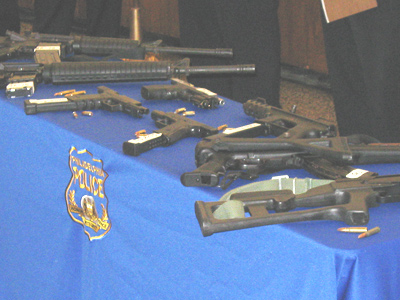 Just because Americans have the right to bear arms shouldn't mean that public-health experts cannot study ways to reduce the risk of deadly gun violence.
That, however, effectively has been U.S. policy since the mid-1990s. That's when the National Rifle Association went ballistic over a study by the Centers for Disease Control and Prevention, which found that having a gun in the house for protection actually made a family less safe.
As spelled out in a front page article Tuesday in the New York Times, the NRA and its congressional allies went after CDC funding of its "injury control and prevention" office. Millions were pulled from the agency's appropriation, and only restored after a provision was written into the regulations that precluded any work that could be "used to advocate or promote gun control."