Archive: January, 2010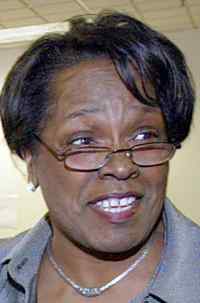 City Democratic Party boss and U.S. Rep. Bob Brady (D., Pa.) should reconsider seeking another interim judicial appointment for Joyce Eubanks.

Eubanks, a veteran public defense lawyer and political insider, served as an interim city Common Pleas Court judge, but failed to win election last fall.

She capped her 15-month appointment to the court with an unusual ruling in a theft case that is being challenged by District Attorney Seth Williams.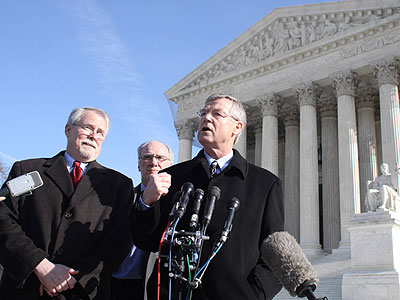 Congress must immediately blunt the impact of the Supreme Court's disastrous decision allowing unlimited corporate spending on elections.
A 5-4 majority of the court ruled that the Constitution's guarantee of free speech means corporations can spend whatever they want to support or defeat an individual candidate. The ruling overturns a century of limitations against firms using profits to directly affect political campaigns.
If you thought lobbyists and corporate fat cats already dominated politics, just wait. The decision assures that powerful special interests, such as the insurance industry and drug manufacturers, will enjoy a playing field tilted heavily in their favor in Washington. The losers will be average citizens and consumers whose donations can't compete with the Chamber of Commerce's war chest.
Although the court did not address explicitly spending by labor unions, the decision almost certainly will allow labor to spend freely as well. There's already too much money in campaigns. The answer is not a new arms race.
The ruling's impact will affect state and local elections, too. One of the few restrictions on campaign spending in Pennsylvania was a prohibition against spending on behalf of candidates by corporations and unions. That's now open to a legal challenge.
It apparently won't affect Philadelphia's campaign-finance law, which permits corporations and unions to donate up to $10,600 per year to candidates through political-action committees.
The court reversed its own rulings of 1990 and 2003, which upheld campaign-finance restrictions. Not only did Chief Justice John Roberts Jr., Justice Samuel Alito, et al., overturn recent precedent, they overreached to broaden the impact of this case far beyond its original question.
So much for judicial restraint by the court's conservatives. It's a glaring case of judicial activism.
The majority's twisted reasoning is that corporations are entitled to the same free-speech rights as people. The court overlooked the fact that corporations and unions had not been banned from participating in elections previously. They were allowed to spend on elections through political action committees, which raise money from employees and dues-paying members.
The only bright spot was the requirement for corporations to disclose their contributions. Without it, audiences wouldn't know who was paying for the new flood of negative ads you'll be seeing.
Rep. Bob Brady (D., Pa.) and other lawmakers with jurisdiction on the matter pledge to do what they can soon to mitigate this awful ruling. They could require stronger rules against campaigns coordinating with outside groups, or require publicly traded firms to get approval from shareholders before spending on elections.
Congress also needs to fix the public-financing system for presidential elections, a cure that was needed even before the new ruling. The harm from this court decision can't be overstated.
Camden County officials should put the brakes on their rush to build a new jail and hire private operators.

Instead, efforts should continue to reduce prison overcrowding — the heart of the problem — at the downtown Camden facility.

A consultant has already helped drive down the prison population by almost 20 percent with some basic recommendations to run the jail and courts more efficiently. In short order, the average inmate population has dropped from 1,800 to 1,460. There appears to be even more room for improvement.

Democrats' problems in trying to pass health-care reform remind you of that old saying, "The spirit is willing, but the flesh is weak."
And it got weaker with last week's Massachusetts election that saw Republican Scott Brown win a U.S. Senate seat that had been held by Democrats for more than half a century.
The election wasn't a referendum on health-care reform. But all the horse-trading and partisan sniping associated with that issue, as well as its cost, played into voters' mood for change.
President Obama understood that. "The same thing that swept Scott Brown into office swept me into office," he said. Obama rightly cut off talk of trying to jam reform through Congress before Brown takes his seat, even though his election means Democrats no longer have a filibuster-proof majority in the Senate.
So, now the question is can reform still be achieved. The answer is a resounding yes. It may not be as ambitious as originally sought, but it was good to hear Obama say that he "won't just do what's safe" because "the things that are non-controversial end up being the things that don't solve the problem."
In the coming debate, Congress must not abandon the basic goal to reduce health-care costs while improving the quality of medical care. Unfortunately, though, the aim of expanding coverage to all Americans most likely will have to occur down the road.
At the least, scaled-back reform should prevent insurance companies from denying coverage to people with pre-existing illnesses, allow young adults to stay on their parents' policies, aid individuals and small businesses in paying premiums, and encourage Medicare payments for quality care instead of sheer volume.
Conferees from the Senate and House were making progress 10 days ago on resolving the differences between competing overhaul proposals, but that seems to matter little now.
GOP senators who have refused to support any meaningful proposals are using Brown's victory to dig their heels in even deeper.
An agreement with House members would likely require some concession to their more progressive ideas, like a Medicare-style plan for working adults to compete with private insurers. But facing such a vote, some Democratic senators might bolt, as they cast a wary eye on their own chances for reelection in November.
The political dynamic has indeed changed, but the imperative to fix the health system remains.
There are nearly 47 million Americans without health insurance, and most didn't vote in Massachusetts. They still need health-care reform. So do the millions of working adults who are just a pink slip away from joining the growing ranks of the uninsured.
Thousands of U.S. businesses are clamoring for relief from insurance costs as a means to preserve their competitiveness and spur the overall economy. They still need health-care reform.
And while some who owe their livelihoods to the $2.5-trillion health-care system won't admit it, that colossus will collapse under its own weight without meaningful reform that assures greater access and quality.
Democrats and Republicans alike will have some explaining to do if they drop the ball now. Americans still need health-care reform, but they want assurances that the remedy is genuine relief.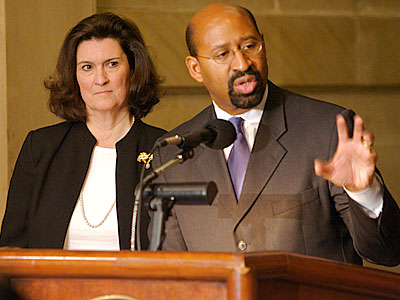 Mayor Nutter was already facing another difficult budget crunch in the coming fiscal year even before arbitrators awarded Philadelphia police officers raises that will cost taxpayers at least another $114 million over five years.
Now, Nutter must find even deeper cuts to offset the raises, which weren't budgeted.
He could have appealed the arbitration award but chose not to. That decision could haunt him, at least in the short term. It guarantees Nutter and City Council will face another bruising budget.
The added police-salary costs are in addition to a projected deficit of more than $30 million by the end of this fiscal year, due mainly to continued sagging wage-tax revenues.
In addition, the three other municipal unions have yet to settle their contracts, but are likely to get similar raises in the coming months. That could add another $200 million or so to the city's costs over five years.
Most taxpayers would agree that the cops deserve a fair and decent wage. They have a difficult job, and officers put their lives on the line each day they put on their uniforms.
But most taxpayers also aren't getting 3 and 4 percent annual raises like the police, and probably the other city workers. Nor are most taxpayers enjoying virtually free health care and generous pension benefits. If anything, wages for many residents are stagnant or even decreasing, while other costs continue to climb.
That cuts to the broader problem that continues to plague the city budget. Its cost structure remains out of line with the tax revenues that come in. While the mayor has made cuts, the city has not done enough to shrink the size of its government or to find more savings through efficiencies.
Changes in the police contract attempt to lower the pension and health-care costs, which for all city employees account for 25 percent of the total budget. But the savings appear to be relatively small and will not be realized until well down the road.
At the same time, raising taxes to meet the higher budget costs isn't a viable option. The city raised its sales tax last year. Even that was a fight, given that reluctant state lawmakers had to sign off on the move.
Meanwhile, the city's property tax system is in chaos. The city is in the middle of blowing up the agency that oversaw property assessments. The property assessment data it has is unreliable and needs to be overhauled.
Raising business taxes in the middle of a recession is a difficult sell as well. Not to mention that the city already has perhaps the highest tax burden in the country. So any tax increase just makes the city an even less competitive place to live or do business.
That leaves one option: reduce costs. Nutter has been making cuts to offset the shrinking revenues. The city budget of $3.7 billion this fiscal year is about 5 percent less than the previous year.
But the mayor and City Council must get even more aggressive in shrinking the government and finding more efficiencies.
On the heels of accusations that Luzerne County judges took bribes from juvenile-detention center operators comes a new federal government report detailing sexual abuse of young inmates at such facilities.
The Justice Department's Bureau of Justice Statistics reports that 12 percent of youths in state juvenile facilities and large non-state facilities say they have experienced one or more incidents of sexual abuse by another inmate or a staff member of the facility.
But the incident rate climbs to an atrocious 30 percent or more at 13 juvenile facilities, including the Cresson Secure Treatment Unit in Cambria County. That facility, near Altoona, which houses fewer than 60 inmates, is run for the state by Justice Resource Institute of Boston.
Privately run juvenile-detention facilities are at the heart of the Luzerne County case, in which former judges Mark A. Ciavarella Jr. and Michael T. Conahan face federal racketeering charges. They allegedly sent young defendants accused of relatively minor charges to two youth detention centers in exchange for bribes.
The Justice Department report says coerced sex is too often the fate of juvenile-detention inmates. Even worse, it said 10 percent of the young inmates say the sex was with a staff member of the juvenile facility, and in 95 percent of those cases, the staff member was a female. Women make up about 42 percent of the staff at juvenile facilities nationwide.
Just last October, a former counselor at the North Central Secure Treatment Center in Montour County was sentenced to up to 23 months in jail for having sex with a 17-year-old inmate. Lisa Croak, 46, said, "It was a mistake. I know it was wrong." It also is too common, according to the Justice Department report.
Nearly 10,000 of the more than 26,000 youths being held in long-term juvenile facilities participated in the survey, a participation rate that greatly reduced the margin of error. About 4 percent of those surveyed said they had been forced to have sex with a staff member, while 6 percent said the sex was consensual.
Of course, there's no such thing as consensual sex when it involves a minor, or, for that matter, when one of the participants is locked up and under the authority of the other person. About 2 percent of the juveniles surveyed said they were forced to have sex by another inmate.
Pennsylvania officials appear reluctant to accept the federal government's findings. In regard to the Cresson facility's numbers, Andy Snyder, director of the state Bureau of Juvenile Justice Services, suggested that "kids whose IQs are rather low" may have misunderstood what they were being asked. "Their interpretations of questions sometimes skew what the results could be," he said.
OK, but a victim's misunderstanding or reluctance to answer questions also could be the reason that there was only one reported incident of sexual abuse at Cresson last year — and that allegation was eventually dismissed as a fantasy.
To his credit, Snyder says he won't ignore the federal survey's findings. The state will conduct follow-up surveys, he said, and increase staff training to detect sexual abuse. The state also must do a better job of screening the people and agencies supposedly hired to look after juveniles.
Juvenile-detention facilities are supposed to help turn children's lives around, not upside-down.
It's not too often that taxpayers describe government's actions as "fabulous." Especially at Philadelphia International Airport.

But the new cell-phone lot that opened at the airport more than a month ago is getting well-deserved praise from customers. The 150-space lot is convenient, easy to find, and free.

Previously, motorists parked illegally on the shoulder of I-95 or Route 291 while waiting to pick up arriving passengers. Or they tried to find the old waiting lot on Bartram Avenue through a maze of confusing signs.