About The Inquirer Editorial Board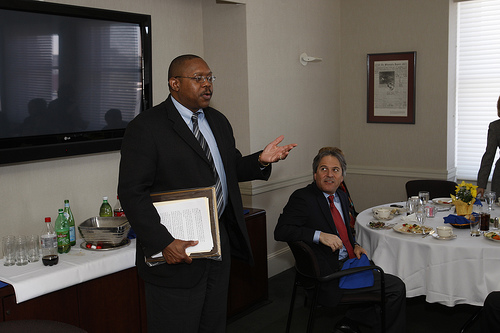 Inquirer editorial page editor Harold Jackson, a winner of the 1991 Pulitzer Prize for Editorial Writing, grew up in Birmingham, Ala., during the civil rights movement. He graduated from Baker University in Baldwin, Kan., in 1975, with a degree in journalism/political science. He has also worked at the Birmingham Post-Herald, United Press International, the Birmingham News, and the Baltimore Sun. He was at The Inquirer in the mid-1980s, returned in 1999, and became editorial page editor in 2007. Tel. 215-854-2555
About The Inquirer Editorial Board

Inquirer editorial page editor Harold Jackson, a winner of the 1991 Pulitzer Prize for Editorial Writing, grew up in Birmingham, Ala., during the civil rights movement. He graduated from Baker University in Baldwin, Kan., in 1975, with a degree in journalism/political science. He has also worked at the Birmingham Post-Herald, United Press International, the Birmingham News, and the Baltimore Sun. He was at The Inquirer in the mid-1980s, returned in 1999, and became editorial page editor in 2007. Tel. 215-854-2555
Josh Gohlke is The Inquirer's deputy editorial page editor. He came to the Inquirer after eight years at The Record of Bergen County, N.J., first as a reporter covering local and state politics and government and, ultimately, as the deputy editorial page editor. He also worked as a reporter for several smaller papers in New Jersey and California. Josh was born and raised in Los Angeles and graduated from Stanford University. He lives in Philadelphia. Tel. 215-854-5238

Kevin Ferris is assistant editor, overseeing the daily Commentary and Sunday Currents sections . He also writes an occasional weekly column on a wide range of issues. During his time on the board, he has handled letters to the editor and the Community Voices pages and has been Commentary Page editor. He started with The Inquirer in 1986, and his assignments have ranged from the copy and news desks to the Chester County bureau and the national/foreign desk. Tel. 215-854-5305
Trudy Rubin is the foreign affairs columnist for The Philadelphia Inquirer, and a member of The Inquirer's editorial board. Her column appears twice weekly in The Inquirer and runs regularly in many other newspapers around the United States. She is the author of Willful Blindness: The Bush Administration and Iraq. Tel. 215-854-4544
As an editorial writer for The Inquirer, Russell Cooke has written on a wide range of topics covering government, legal, civic and social issues. Before joining the Editorial Board, Cooke was a reporter in the Inquirer's City Hall bureau. He also edits the letters section and coordinates the Editorial Board's contributions to inquirer.com. Tel. 215-701-4744
Editorial writer Cynthia Burton has worked at the Moline (Il.) Daily Dispatch, but has spent most of her career in this region, starting at the Atlantic City Press, moving to the Philadelphia Daily News, the Newark Star-Ledger, and finally, The Inquirer. In all, she has covered most major metro beats ranging from Jersey politics and City Hall to education and the environment. She knows her way around both statehouses and has covered statewide, municipal, legislative, and federal races in Pennsylvania and New Jersey. Her favorite stories have been those that explore the issues and personalities that shape the region. Cindy grew up in Queens. Tel. 215-854-2652
Inquirer columnist Karen Heller sits in on Editorial Board meetings and contributes occasional blog items.
Daily News cartoonist Signe Wilkinson draws for The Inquirer three days a week, including Sunday.
Sahar Majid is a visiting journalist from Pakistan, who has joined the board for the spring and summer as part of the Alfred Friendly Press Partners program. Her home newspaper is Dawn, the most widely circulated English language newspaper in Pakistan.