Archive: April, 2010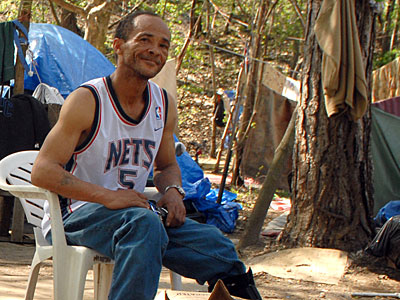 It is a disgrace that a third world-like homeless enclave known as Tent City exists just over the bridge in Camden. But it is even more maddening that no leaders in New Jersey seem to care or know how to resolve the problem. Anywhere from several dozen to more than 100 people live in the so-called Tent City, which is akin to something found in Haiti after the earthquake. The squatters have become so entrenched over the years that there is even a self-appointed mayor who fields media requests. The deplorable conditions are unsanitary, unsafe, and inhumane. A woman was reportedly raped there recently.
Tent City is also a black eye for a struggling city that claims to be making a comeback. More alarming, in addition to Tent City, there are three other similar sites in Camden.
Tent City has gained the most notoriety and media attention. Even Gov. Christie visited the wooded patch during a campaign stop last year. "I'll be back," he promised. Now is the time, Governor, especially since much of Tent City is located on state land. City and county officials have been unable to resolve the problem. They say their hands are largely tied because the state owns the land. The State Department of Transportation, which controls the site, says it can't provide social services.
All of that seems like a bureaucratic cop-out. Regardless of who has jurisdiction, the settlement is a danger and an embarrassment to the city, the county, and the state. Some advocates have been working with officials to move the homeless to permanent housing. Among the stumbling blocks is the self-appointed mayor, Lorenzo "Jamaica" Banks, who has no intention of leaving. Others say they feel safer there than in shelters. Some have mental-health and substance-abuse problems. Officials need to come up with a plan to deal with homeless residents of Tent City in a fair and humane way — soon.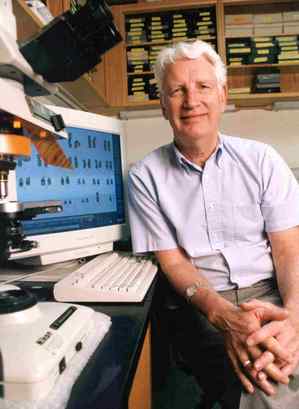 Among the 11 science, engineering, and business luminaries honored Thursday night with Franklin Institute awards, the best known was Microsoft founder William H. Gates 3d. But the pioneering cancer research done by University of Pennsylvania School of Medicine professor Dr. Peter C. Nowell — awarded a medal in life science — also changed the lives of millions.
It was 50 years ago that Dr. Nowell and a colleague found the link between disease and genetic mutations, discovering an abnormal chromosome that caused a rare form of leukemia. The discovery of the so-called Philadelphia chromosome led to the development of the drug Gleevec, which works as a cure in most cases. Its wider significance was that finding the link with chromosome damage established the foundation for doctors' modern understanding and research into advancing cancer treatment.
Though Nowell has been honored many times before, the golden anniversary of his breakthrough with the late David Hungerford, from the Fox Chase Cancer Center's Institute for Cancer Research, is a particularly poignant moment to restate society's appreciation for this great scientific achievement.
Careful consumers should check under the hood before buying what General Motors is selling in the TV ad touting "repayment" of its government loan. GM chairman Ed Whitacre says the money was repaid "in full, with interest, five years ahead of the original schedule." The Obama administration was also quick to trumpet this success. Vice President Biden said last week that GM's paying back "its TARP loan in full, in full, is a huge accomplishment."
Sort of. Unfortunately, the payment didn't come from a resurgence in car and truck sales. In fact, in the fourth quarter of last year, GM lost $3.4 billion. The money for the $6.7 billion TARP loan came from a TARP escrow account — a reserve fund the company no longer believes it needs, which is relatively good news. But the bottom line is, taxpayer bailout money was used to pay back a bailout loan
U.S. Sen. Charles Grassley (R., Iowa) correctly called it "an elaborate TARP money shuffle." Worse, the ad seems to imply that U.S. taxpayers, who still own 61 percent of GM stock, have been made whole. That's not even close. As originally conceived, GM's bailout package was a $52 billion loan. But that loan was reduced to $6.7 billion, with the remaining $45.3 billion converted to shares of stock. Taxpayers won't recoup the bulk of their money until there's a public stock offering.
When will there be "really good news from GM?", the TARP special inspector general was asked last week. His reply: "I don't have that crystal ball, senator." If Whitacre and his public-relations team have that crystal ball, they should let the rest of us take a look. If not, they should recall the misleading ad.
Local ownership of The Inquirer was described as an experiment in some stories that detailed this week's sale of this newspaper, the Daily News, and Philly.com to their parent company's creditors. But local ownership isn't an experiment. It's a tradition as old as this nation, and it remained prevalent until post-World War II America sprouted the voracious media chains that gobbled up newspapers from sea to shining sea.
It was good to see local ownership return to Philadelphia after a long absence. It was good to see people with roots in this town take a stab at returning its dominant newspaper to good fiscal health despite the twin challenges of a worldwide recession and increased Internet competition. In the end, the debt that Philadelphia Media Holdings took on in acquiring the local papers prevented it from keeping them. But let no one take from that result the idea that local ownership somehow failed. The prize-winning journalism, the civic contributions made, and yes, the revenue produced, say otherwise.
Publisher Brian P. Tierney and his chief lieutenants, Mark J. Frisby and Richard Thayer, can take pride in the job they have done over the past three-plus years. Now, comes a return to nonlocal ownership that will take the papers and Web site out of bankruptcy and place them in the hands of a group of creditors that includes New York hedge funds Alden Global Capital and Angelo, Gordon & Co. But with them will be a familiar face inside The Inquirer, former publisher Robert J. Hall, who is expected to make the transition easier.
Anyone who says the staffs at Philadelphia's top newspapers aren't concerned wouldn't be telling the truth. But changes were likely in this economy, even if the ownership didn't change. What our readers need to know is that our concern doesn't diminish our commitment to excellent journalism, and that the investment the new owners have made is a good sign that they share our commitment. That's worth celebrating.
Mayor Nutter's call for area colleges and universities to offer 1,000 scholarships to city students has apparently fallen on deaf ears.

Two years have passed since Nutter made the appeal to the nearly 100 higher-education institutions in the region. So far, only two schools have stepped up to the plate.

Drexel University plans to give 250 full scholarships to city high school graduates over the next five years. Harrisburg University of Science and Technology, located about two hours from the city, plans to provide 20 full scholarships over four years.
As a human and environmental tragedy plays out in the Gulf of Mexico after last week's explosion of an oil rig, President Obama's decision to expand offshore oil and gas exploration to the Atlantic Coast looks even more misguided. With little hope of finding 11 missing workers at the oil well 50 miles off the Louisiana coast, the focus at the site of the explosion has turned to the 42,000 gallons of crude belching daily from leaks in a pipeline some 5,000 feet under water.
An oil slick with a 600-mile circumference — described as the size of Rhode Island — is spreading closer and closer to the coastline. Even if efforts to plug the leaks using remote-controlled robots are successful, cleanup crews will drop toxic chemicals in the ocean to help break up the slick and possibly stage a controlled burn of the oil. Doesn't exactly sound like a day at the beach, does it?
For the future of the Jersey Shore, though, the Gulf disaster should be the wake-up that federal officials need on the risks of expanding offshore drilling up the East Coast.
Indeed, U.S. Rep. Frank Pallone Jr. (D., N.J.), sponsor of legislation to ban offshore drilling along the Atlantic Coast, on Tuesday renewed his call for the Obama administration to withdraw the dangerous plan.
While the oil industry has had few recent spills in the Gulf, the threat of just one mishap near Atlantic beach resorts simply isn't worth the minimal gains from exploration along the coast from Delaware to Florida. Oil wouldn't flow from wells in this region for many years, and even then it would trim prices by only an estimated 3 cents per gallon by 2030. But in New Jersey alone, the Shore economy sustains 500,000 jobs and generates as much as $50 billion annually.
The decades-old moratorium on offshore drilling along the shores of the East Coast still makes for smart policy — all the more so in light of what's happening this week in the murky depths off the Gulf Coast. Obama should reconsider that segment of his energy program.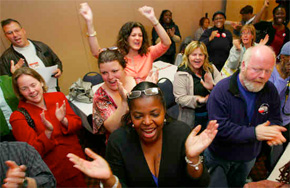 Anyone who has spent time in a hospital knows that nurses are on the front lines and can make or break the quality of patient care.
That's why it was welcome news that 1,500 nurses and allied health professionals at Temple University Hospital had reached a deal Tuesday to end their 28-day strike.
This was not an ordinary labor dispute. The stakes were particularly high, given the public-health concerns. Replacement nurses brought in temporarily by Temple may have been qualified, but there were complaints that the quality of care was not the same.
Special thanks goes out to U.S. Rep. Bob Brady (D., Phila.), who once again helped broker a labor settlement in the city. Peacemaker is clearly Brady's strong suit.
He's helped to resolve a number of disputes over the years, including the recent SEPTA strike. He was also instrumental in keeping the Dad Vail Regatta in Philadelphia. Helping end the nurses strike was typical Brady.
Immigration reform can't wait. If there was any doubt of that it should have been erased with the enactment of Arizona's misguided attempt to handle the matter at the state level with a new law that endorses racial profiling.
The Support Our Law Enforcement and Safe Neighborhood Act, signed Friday by Gov. Jan Brewer, gives police in Arizona authority to question anyone if there is a "reasonable suspicion" that he is an illegal immigrant. But what makes a person reasonably suspicious? Speaking Spanish? A brown skin? Holding a job landscaping lawns? Ordering from the drive-through window at a Taco Bell? The person who looks the least like an illegal immigrant might actually be one.
The new law goes beyond its ridiculous profiling, though, and prohibits churches or other agencies from adopting so-called sanctuary polices that deny police the ability to question clients about their immigration status. If this reminds you of how the gestapo was enabled to catch hiding Jews, it would be understandable. America has a problem with illegal immigrants. But this is not the way to deal with it. A federal answer is needed before other states follow Arizona's poor lead.
The border state acted in frustration with the lack of federal leadership. But with 12 million illegal immigrants in this country, a round-them-up-and-send-them-back approach won't work. The cost alone is prohibitive. And many who came here illegally are living upstanding lives. People who are working hard, raising families, staying out of trouble, and paying taxes — on their purchases, if nothing else — deserve the opportunity to make amends for their crime and be placed on a path toward legal residency and eventual citizenship.
Yes, America's borders must be made more secure, especially in this era of global terrorism. But care must be taken in that area, too. In fact, there is some evidence that stricter border enforcement helped swell the population of illegal immigrants. A new Louisiana State University study points out that before the U.S./Mexican border was militarized, migrant workers would routinely leave this country after filling a job temporarily to earn money to take back home. Now, it's too dangerous to go back and forth, so they stay here.
The LSU study further correlates the increase in Latino immigrants staying in this country and taking low-skill labor jobs with an increase in violence among unemployed African Americans. "Few will address these issues because they're politically explosive," said sociology professor Edward Shihadeh, one of the study's authors. A bigger explosion will occur if Congress further delays action on an immigration reform bill. Better regulation of the financial industry is before it now. But there is a push to move immigration ahead of climate-change on the agenda. That makes sense, given what's happening in Arizona.