Archive: October, 2010
Gov. Rendell's order banning natural-gas drilling in 1.5 million acres of state forest sounded impressive until you drill below the surface.

The governor's executive order can be reversed in a Republican heartbeat. If GOP candidate Tom Corbett wins the governor's race on Tuesday, the needed ban will be only a blip on the drilling boom in Pennsylvania.

The barn door has been open for all but the final two months of Rendell's tenure. He and the state legislature have allowed the leasing of nearly 140,000 acres of state forest since 2008 for methane drilling in the Marcellus Shale formation.

The first time I sat down with Pat Toomey he was talking about — what else? — government spending that was way out of control, tax rates that were hurting people and businesses, and the debt we would be passing on to our children and grandchildren.

Such reckless federal policies, he warned over lunch at the Vietnam restaurant in Center City, would lead to a new majority in Congress. He was the first Republican I heard predict that the political winds were shifting.

That conversation could have happened at any point in the last year or so, as Toomey has campaigned for the U.S. Senate seat currently held by Arlen Specter. But it actually took place in the spring of 2006, right after primary voters angry about the midnight pay raise had ousted several GOP state lawmakers. Republicans in Washington were next, Toomey predicted.

How can you vote for a guy who acknowledges his campaign tried to game the forthcoming election?

That's the $64,000 question in the closely watched Seventh Congressional District race between Republican Patrick Meehan and Democratic State Rep. Bryan Lentz.

Jim Schneller, a conservative third-party candidate, is also on the ballot, but he has the same chance of winning as the Phillies have to sweep this year's World Series.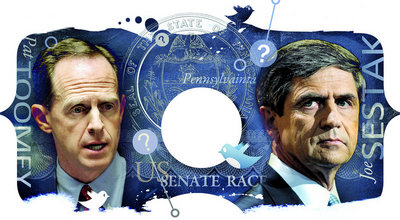 In the spirit of Twitter, Pittsburgh Post-Gazette editors asked the candidates for U.S. Senate in Pennsylvania - Republican Pat Toomey and Democrat Joe Sestak - to answer 15 questions in 60 words or less. Here are their responses, courtesy of the Post-Gazette:
Q. Best/worst things Barack Obama has done?
Joe Sestak: President Obama made some tough decisions — and did what was necessary — to control the damage that had been done to our economy. But I firmly believe we should have focused our recovery efforts on small businesses from the beginning, as they create 80 percent of all jobs.
The best argument against democracy is a five-minute conversation with the average voter.
— Winston Churchill

American voters have gone insane.

At least that seemed to be the premise behind satirists Jon Stewart and Stephen Colbert's "Rally to Restore Sanity and/or Fear" held Saturday on the National Mall in Washington.

The two Comedy Central network talk-show hosts tried to play down any seriousness of their event before it had actually occurred. But the rally's title struck a chord with thousands who think there really is something crazy about the 2010 elections.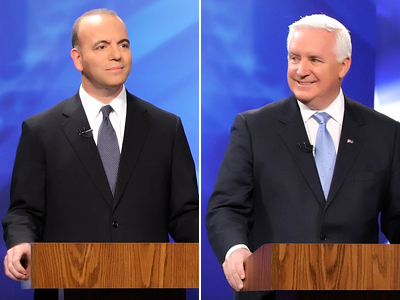 The choices Tuesday will shape policies in Harrisburg, Trenton, and Washington. Voters should focus on candidates with experience, independence and integrity.

Here's a recap of The Inquirer's endorsements:

The race for Pennsylvania governor boasts a candidate with the experience and track record needed to run a complex bureaucracy. As Allegheny County chief executive, Democrat DAN ONORATO confronted budget deficits and demonstrated an ability to shrink a bloated bureaucracy.

JERUSALEM — On the Mamilla Mall, on a balmy fall evening, a group of Israelis and tourists swayed to the piped-in beat of a passe doble, dancing on an open air walkway lined with chic shops selling jewelry and clothing.

Families with strollers watched, young people flirted, intellectuals perused books in nearby Steinmatsky's or sipped cappuccino in Café Café. Yet a five minutes walk away stood the Jaffa Gate entrance to the hotly contested Old City, and 10 minutes distant were the East Jerusalem neighborhoods that Palestinians want for their capital. The towns of the occupied West Bank, once 20 minutes by car but now fenced off by the "separation wall," might as well have been on another planet.

Can this Israeli status quo last if peace talks with the Palestinians end?

Can we all agree that secret money in politics is a bad thing?

OK, you're with me. So far, so good.

And can we all agree that the Republicans have been hypocrites on this issue — having long declared that they were against secret money, only to flip-flop in 2010 and declare that they were for it?