Archive: December, 2010
Longtime U.S. diplomat Richard C. Holbrooke was a towering figure in foreign policy whose skill in resolving conflicts will be missed acutely. Holbrooke died Monday at age 69 from complications from surgery to repair a torn aorta. At the time of his death, he was serving as President Obama's chief envoy to Afghanistan and Pakistan.
Beginning with Vietnam in the 1970s, Holbrooke served four Democratic presidents over 40 years to help establish national-security strategy. His greatest achievement was brokering the 1995 Dayton Peace Accords that ended the war in Bosnia. He accepted the most difficult jobs, and thus seemed a natural choice by Obama to negotiate the complex challenges in Afghanistan and Pakistan.
Holbrooke spent the last two years trying to persuade allies to promote economic development there. Sen. Bob Casey (D., Pa.), chairman of the Senate subcommittee on foreign relations for that region, called Holbrooke "tirelessly dedicated to the security of the United States and its allies."
His passing also highlights the uncertainty about our nation's unfinished work in Afghanistan. Fostering a viable central government and economy in Afghanistan has been much more elusive than military success. And without economic and political stability in Afghanistan, U.S. involvement seems destined to drag on.
Obama and NATO have agreed to extend the military presence there until 2014. Holbrooke also fought hard to secure economic aid for Pakistan, knowing that its stability is vital to efforts to rout Islamist insurgents from the border region. Holbrooke was a larger-than-life figure on the world stage. His passing leaves a void at a critical moment in U.S. foreign policy.
Sen. Bob Menendez (D., N.J.) has found a way to avoid the painful reality of voting for tax cuts for wealthy Americans. He's calling it something else.
Menendez issued a news release Monday afternoon announcing that he voted to approve "the middle-class tax relief package" hammered out by President Obama and Republican leaders. The measure does provide tax cuts for the middle class. But it provides continued tax breaks as well for families earning $250,000 per year or more.
"Throughout this process, Republicans have prioritized millionaires ... which does not sit well with me or many others," Menendez said.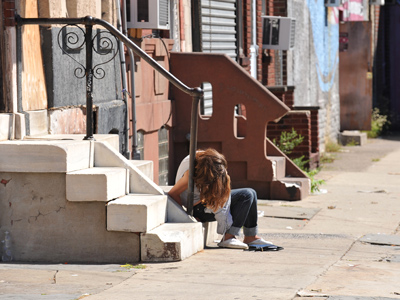 Many government officials are finally admitting the war on drugs is a costly failure. That lesson is on display daily in North Philadelphia.
Inquirer reporter Alfred Lubrano in an article Sunday detailed the devastation and despair wrought by the illicit drug trade in the Kensington neighborhood. Generations are being lost to cycles of addiction, violence, and a shortage of legal alternatives. The article is part of an ongoing series on poverty and hunger in the city's First Congressional District, the second-poorest in the nation. In the article, University of Pennsylvania anthropologist Philippe Bourgois, who's living in Kensington part-time, chronicles the lives of drug dealers. The story (found at go.philly.com/drugsdilemma) should be required reading for anyone who cares about trying to reverse decades of decay in the cities.
Kensington has been in the news recently as police search for an a man who has strangled three women and attacked several others. The murder victims all had battled drug addictions. Beyond this immediate crisis lie other problems that can't be solved solely by law enforcement.
Drug dealers, who can earn up to $2 million per year, are hauled off to jail by police routinely. Usually, though, they're back on the street within hours. If not, rivals replace them. They work in a landscape of closed factories and crumbling housing stock neglected by absentee landlords. There aren't enough jobs, especially in this weak economy. Even if good-paying jobs were available, the lucrative drug trade is too tempting for many to resist.
Most suburban dwellers try to avoid such neighborhoods. But one type of suburbanite helps to fuel the problem — the addicts who regularly drive to Kensington to buy drugs. The police see them all the time, and hear their lame excuses. Got lost looking for that fancy restaurant? Right.
The United States has spent at least $1 trillion on the war on drugs, but the streets of Kensington prove it hasn't worked. The job for police is as endless, Bourgois observed, as "sweeping sunshine off the sidewalk." There must be consequences for people who violate the law, but the criminal-justice system alone can't solve the problem.
Nationally, there must be more focus on treatment and reducing America's appetite for drugs. Meanwhile, city and state officials must focus on policies that return jobs to the city. Not all the young people who give over their lives to drugs and violence can be saved, but more can be helped.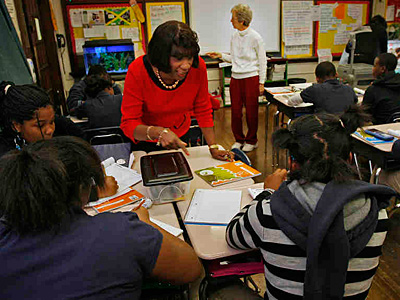 A new poll that shows most adults blame bad parenting for the poor state of education in this country doesn't diminish the role that teachers must play in improving their schools.
What would elected office in Pennsylvania be without the trappings of power? Take judges, for instance.
In addition to being able to accept gifts -- like a trip to this past weekend's Pennsylvania Society festivities in New York City, or a round of golf at an exclusive club -- judges in the state get to lease fancy cars courtesy of the taxpayers. The details were spelled out in a recent Pittsburgh Tribune-Review report, complete with a list of top jurists' choice in vehicles.
Nothing new there, but the recession and another looming state budget crisis offer a good opportunity to rethink all costs associated with maintaining elected officials in the style to which they've become accustomed. Gov.-elect Tom Corbett should add that to his to-do list.
Inquirer Editorial Board
@ 8:22 AM 
Permalink
|
Looking back at this age of the killer omelet, future historians may puzzle over Congress' long-standing inability to pass a food-safety bill.

Just a few months ago, egg magnate Jack DeCoster was telling members of that same deliberative body that he was "sorry" about having unleashed a mass poisoning on the American public.

DeCoster's squalid Iowa mega-farm was the source of a salmonella outbreak that sickened at least 1,500 and led to a recall of half a billion eggs. Until then, the Food and Drug Administration had never inspected the facility.

One way to improve public education is to speed up the process to remove bad teachers from the classroom.

Getting rid of bad apples has become nearly impossible under union tenure rules that were crafted to protect teachers' rights but too often deny children a decent education. The antiquated system that fails to hold teachers with a bad performance record accountable. They should not be allowed to wear tenure like a badge of honor that entitles them to a lifetime appointment in the classroom.

The New Jersey Education Association last week came up with a good idea to allow an arbitrator to handle tenure cases instead of an administrative judge. The change could save time and money.