Archive: April, 2012
The case before the Supreme Court challenging life-without-parole sentences for teens is really about hope. Does the Constitution somehow bar the courts from depriving all hope of release from prison for young offenders who, in fact, are not fully responsible for their actions, no matter how heinous?
Judging from recent arguments, the court could be leaning toward yet another landmark decision that would bolster the core tenet of the juvenile-justice system — namely, that youthful offenders deserve a second chance.
A ruling that bans no-parole sentences for juveniles would be the next logical step for the court, in keeping with earlier decisions prohibiting teen executions and barring life-without-parole sentences when a crime does not involve a killing.
The science behind ending throw-away-the-key jail sentences for youths is compelling, with the widely held understanding that teenagers' brains are not fully developed. That means young criminals have a diminished capability to understand the consequences of their actions, and can be swayed easily by peer pressure to commit crimes.
Pennsylvania is giving its new voter-suppression program a test run in Tuesday's primary. Voters will get a feel for the sort of intimidation the state has in store for them in the fall.
When they show up at the polls Tuesday, voters must produce a photo ID. But for this one Election Day only, if the ID doesn't pass muster, voters will still be allowed to vote. In November, however, they're out of luck. That's when the voter-ID enforcers can use their authoritarian powers to keep non-driving city dwellers, the elderly, young, poor, and anyone else without an acceptable ID from voting.
To make matters worse, the state keeps changing its definition of an acceptable ID. This week, it expired driver's licenses are acceptable. That would cover the elderly whose licenses have lapsed. But many non-driving students would still be in trouble.
Dick Clark made it cool to be an adult.
Unlike other disc jockeys and entertainment personalities who tried to dress and talk like teenagers to gain their acceptance, Clark on TV was always as perfectly groomed and attired as any businessman, which is what he was.
He didn't talk down to young people; he talked to them — about the music they preferred, the dances they performed, and sometimes whatever else was on their minds.
Any parents who happened to glance up from their newspaper and notice the discussion on American Bandstand suddenly knew more about their children than they could get from any conversation they tried to elicit.
Poll: How will you remember Dick Clark?

(860 votes)
With Mitt Romney now the presumptive Republican nominee for president, Pennsylvanian voters still have several statewide primary races to decide on Tuesday — with heated contests on both the Democratic and GOP ballots.
An uncharacteristically competitive battle to face U.S. Sen. Bob Casey (D., Pa.) in November pits a field of five Republicans, including two largely self-financed millionaires — one from this region, one from the Pittsburgh area. Despite the inspiring life story of an opponent who went from working in a coal mine to owning a coal company, Malvern businessman STEVE WELCH is the best choice.
Welch, 35, is an entrepreneur whose first successful company developed patents to make flu shots more efficient, and his ideas fly like sparks off an anvil — a quality that no doubt helped him earn his party's endorsement. Besides fresh ideas, Welch offers the wisdom of a man who has actually started businesses from scratch, and has the humility to admit he made mistakes on the way to his considerable fortune.
Acres of rotting industrial properties sit with impunity on the city's lists of building-code violators and tax deadbeats. They languish in the haze of uncomfortable realities urbanites have learned to live with until something horrific happens.
It happened on April 9, when fire Lt. Robert Neary and firefighter Daniel Sweeney died in a blaze at the long-idled Thomas W. Buck Hosiery factory. Afterward, there were the all-too-common reports that the building had outstanding code violations and its out-of-town owners were behind on their taxes.
A grand jury was announced Tuesday to look into the fire, but it must do more than remind Philadelphians that irresponsible property owners are sucking the life out of this city. In the bluntest of terms, the jury's report should lay out the missteps leading up to the tragic loss of life and place unrelenting pressure on all parties to change Philadelphia's shameful distinction as having the worst tax-collection rate among big cities.
Mayor after mayor has promised to rid the city of these albatrosses by stepping up tax-collection and building-code enforcement — the two most powerful tools it has against reckless property owners. To its credit, the Nutter administration has made strides in fighting the abysmal culture in which speculators and other property owners avoid paying taxes or fixing dangerous conditions.
Before last week's fire, the city was already in court with the hosiery factory's New York owners. A May hearing on the building-code violations and a June sheriff's sale for nonpayment of taxes were planned. The city is also moving ahead to create a land bank to put delinquent properties into the hands of new, and presumably better, owners. But while that progress is encouraging, weary Philadelphians deserve more than a few good spurts of action.
Generations of parents have worked hard to send their children to college, believing higher education is the best path to a better future.
But faced with the soaring cost to obtain a college diploma, members of the so-called millennial generation, ages 18 to 34, are on track to become the first in America not to do better than their parents.
This country says it values education, so why do so many students have to go deep into debt to get educated? In fact, student loan debt is expected to hit $1 trillion this year, which for the first time will push it above credit-card debt.
When Congress gave the Food and Drug Administration regulatory power over tobacco products, the industry actually promoted the plan. But that support seems to have lasted about as long as a typical smoke break.
As soon as the FDA banned one of the cigarette makers' favorite marketing ploys — the sale of cigarettes with healthy-sounding names like light, mild, and low-tar — the companies cried foul. They then promptly took other steps to market supposedly less-harmful cigarettes to smokers, even while admitting as an industry that "there is no safe cigarette."
Now the tobacco companies are in a pitched legal battle with the FDA over the sensible plan that takes effect this fall to require graphic warnings on half of every cigarette pack, front and back, as a reminder of the deadly consequences of tobacco use.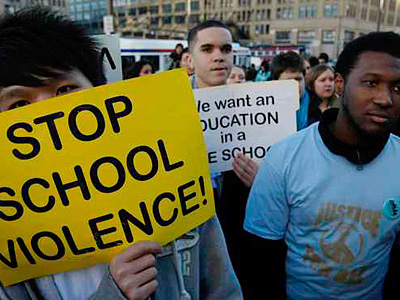 Now that hands have been shaken, hugs shared, congratulations extended, and champagne imbibed, Philadelphians not in the newspaper business may want to take a moment to ask what it means to them that The Inquirer has won journalism's top award — the Pulitzer Prize for Public Service.
It is a tribute to any city to have an award-winner, but virtually every town with a Pulitzer recipient also has a problem that the newspaper or online publication revealed. In the case of The Inquirer's 19th Pulitzer, a team of reporters, editors, photographers, and videographers pointed out the prevalence of violence in Philadelphia's schools.
In a seven-part series titled "Assault on Learning," which ran last spring, the team detailed tens of thousands of violent incidents that occurred in city schools over a five-year period. More disturbing, many of the incidents were either not reported or classified as lesser altercations by administrators who feared having their schools labeled as dangerous.
Interviewed Monday by PBS Newshour, reporter Kristen Graham said "students as young as elementary school, even kindergartners, were both victims of violence and committed violent acts." Teachers were targeted, too, often enough that some dared not intercede even when they witnessed a child being bullied.
The series reported that nine out every 10 schools in the district had reported a serious assault in the previous year, and that the violence rate at some schools had increased as much as 17 percent over the five years surveyed. Most of the incidents were classified as assaults, with robberies and rapes also in the mix.
The official response to the violence was exasperating. Then-Superintendent Arlene C. Ackerman correctly pointed out the violence was emblematic of a greater societal problem, but didn't adequately address the district's responsibility for what happens inside its schools.

The one thing that seems to get otherwise rational New Jersey residents to foam at the mouth is the state's punishing property-tax system. Property owners spend an average of $7,759 a year to support schools and municipal services. Sometimes they get tax rebates to offset the pain. Sometimes they don't.
Now there is a dispute between state Senate and Assembly leaders, who want to give residents a property-tax credit on their state income taxes, and Gov. Christie, who wants to cut the income tax by 10 percent.
The governor's plan would mean a $7,000 tax cut for millionaires, but only an $80 reduction for families earning $50,000. If that sounds wrongly skewed, it's because it is. That paltry sum won't help poor and middle-class New Jerseyans struggling with higher prices for food, gasoline, and health care.
The Christie plan also rests on a very shaky projection that state revenues will increase 7.3 percent next year, a figure that only the governor's office seems to think is realistic in this fragile economy. His plan should be dismissed out of hand, so legislators can concentrate on meaningful property-tax cuts.
The Assembly's proposal would give property owners earning less than $250,000 annually a 20 percent credit on their income taxes for property taxes paid up to $10,000. That would be paid for, in part, by raising the income taxes of millionaires. The Senate plan would grant a 10 percent credit for those earning $250,000 or less, but relies on the governor's revenue figures to cover costs. That's too big a gamble.
The Assembly plan makes more sense. Only about 16,000 of New Jersey's 2.6 million income-tax filers would see their tax rate increase from 8.97 percent to 10.75 percent. They can well afford to sacrifice a bit more than others who have shouldered the most in this down economy, with its job losses, wage cuts, and higher gas prices.
Both legislative plans would fold the property-tax credits into the state's tax code. That means governors would no longer be able to dangle property-tax rebates in election years and pull them back when revenues fall.
For thousands of low-income Philadelphia households not connected to the Internet, it will take more than a bargain-rate price of $10 a month for Internet service to get them across the so-called digital divide.
The fewer than 500 takers for the service Comcast Corp. began offering in September as part of its merger with NBCUniversal makes it clear greater efforts are needed. So it's good to see a "Freedom Rings" partnership, which includes city agencies, the Free Library, various nonprofits, and Drexel University, form to expand training and computer access.
Free hands-on computer training and online access is under way at more than 80 locations, which can be found at phillyKEYSPOTS.org. Open to the public, about one-third of the training spaces are reserved for Philadelphia Housing Authority residents.