Archive: June, 2010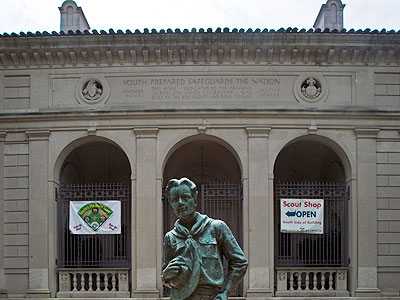 The Boy Scouts' court victory over Mayor Nutter is no a badge of honor, since it hinged on the organization's disgraceful, antigay policy on membership and hiring. The Philadelphia-based Cradle of Liberty Council of the Scouts may have won a local court fight, but the group is losing a culture-war skirmish.
When even the U.S. military is soon to accept gays, it reveals how the Scouts' policy is out of step with mainstream sentiment on wrongful discrimination. So what if the legal victory means the group can remain for now in its $1-a-year digs on the Benjamin Franklin Parkway near Logan Square? The good name and many good works of scouting are at risk as long as the policy of national scouting leaders is that — as permitted under U.S. Supreme Court ruling from 2000 — gay youths and troop leaders can be barred.
There was no endorsement of the antigay policy, certainly, in a verdict by a U.S. District Court jury on Wednesday that the city violated the Scouts' First Amendment rights by trying to evict them over the rule. With good reason, the previous city mayor, along with City Council members, moved to evict the Scouts in 2007 after years of wrangling. There's simply no way to reconcile the antigay policy with the city's ban on discrimination.
As long as the Scouts' official policy is to bar homosexuals, the city has no choice but to continue to try to cut all ties. Indeed, U.S. District Judge Ronald Buckwalter urged the scouts and city to reach a deal. There are remaining issues in the court case that could be the basis for more talks. Particularly with the Scouts' likely to claim reimbursement from the city for $860,000 in legal expenses, both sides have some incentive and leverage to reach a deal. That deal might involve a lease-sale of the building to the Scouts, or at least an accord on a rental payment that's closer to market rate.
It's not in taxpayers' interest to foot such a large legal bill, so Nutter could seek to offset that cost with terms for the building that the Scouts might find more affordable. The Scouts' primary incentive should be to put this controversy behind them and get on with the good work of providing mentoring and educational programs for thousands of area youth. For both the city and Scouts, a negotiated end to this dispute would be far better than dragged out court appeals over a unanimous jury verdict. Nationally, the long-term interest of Scouting would be best served by ending antigay rules.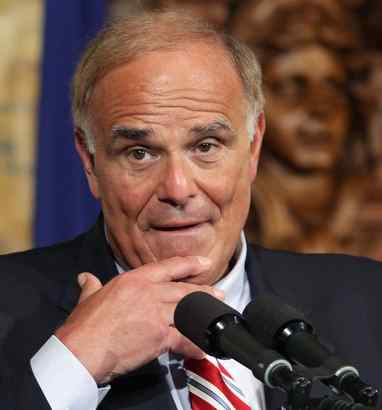 Budget time in Harrisburg is never easy, but Republican lawmakers in Washington just made it more difficult.

The legislature and Gov. Rendell were making slow progress toward balancing Pennsylvania's budget in another year of weak tax collections. Democrats lowered their spending proposal from $29 billion — an unrealistic 4.1 percent increase over last year — to $28.2 billion, nearer the Senate Republicans' demand of $27.5 billion.

It was starting to look as if Harrisburg might meet the constitutional budget deadline of June 30 for the first time in Rendell's eight-year tenure.

But on Thursday, Senate Republicans in Washington blocked a jobs bill that would have sent $850 million in extra Medicaid funds to Pennsylvania.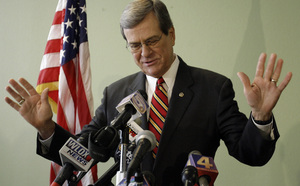 Some of the biggest challenges facing this nation — reducing debt, fixing Social Security, reforming immigration policy — can't be done unless Democrats and Republicans work together. Yet partisanship in Washington is at its worst level in decades. The two parties rarely agree on minor matters, let alone on the bigger problems that require hard work and political risk-taking. The crisis has grown worse partly because the more partisan voters in both parties have been voting out lawmakers whom they view as too cooperative with the opposition. The systematic weeding out of moderate lawmakers makes compromise more difficult. Regardless of which party holds the presidency or controls Congress, it's in the nation's best interests for both parties to work together more often. The question is how to reduce the level of partisan rancor and foster compromise.
Former members of Congress from both parties gathered recently at the National Archives in Washington to discuss this challenge. Their consensus: there are no quick solutions, and change will come only when voters and party leaders desire finding common ground. Trent Lott, the former Senate Republican leader from Mississippi, acknowledged he was part of the problem while serving until 2007. "The problem is us — we became such partisan warriors," Lott said. "Men and women of goodwill have to step up and say, 'We're going to stop this.' It takes work." Tom Foley, the former Democratic speaker from Washington state, said members of opposing parties need to find ways to build friendships. Lawmakers today usually don't bring their families to Washington to live, reducing the opportunities for socializing. "You cannot have a better personal relationship than when your children are involved," Foley said.
One key way to ease partisanship is for more states to adopt nonpartisan redistricting. Every 10 years after the census, states redraw the boundaries of congressional and legislative districts. Too often in states such as Pennsylvania, the process is controlled by partisans. Their goal is to protect incumbents by creating "safe" districts that are contorted to include more Democratic or Republican voters. The advent of computer technology using voter registration patterns to redraw district boundaries has turned protecting incumbents into a science. The trend makes elections less competitive, and incumbents concern themselves more with satisfying their base of partisan voters.
"That polarizes the two parties," said former Rep. Martin Frost, a Democrat from Texas.
The Iowa system, which uses a nonpartisan commission and requires geographically compact districts, helps to produce competitive elections. Pennsylvania, one of the most "gerrymandered" states in the nation, would need to approve a constitutional amendment to change its reapportionment system. Not surprisingly, the legislature has resisted this important reform. (New Jersey uses a bipartisan commission with a nonpartisan "tiebreaker" member). Voters, too, have the ability to bring about changes in attitudes among lawmakers. It can be as simple as asking a candidate to name one major piece of bipartisan legislation that he or she intends to support if elected. In the end, it requires voters who truly want their representatives to find common ground.
New rules that limit how long airline passengers can be stuck on a stranded plane should be extended to international flights.

The latest horror story of customer disservice on a transatlantic flight from London to Newark shows the need for tougher regulations to force carriers to treat passengers humanely.

About 300 passengers were trapped Tuesday on a Virgin Atlantic plane when it was forced to land in Hartford, Conn., because of bad weather. What they endured could only be described as abuse.

They were stuck on the tarmac for more than four hours in a dark, stuffy cabin without power or air-conditioning much of the time. They were given water, but no food.

Two years after Philadelphia officials took initial steps to thwart thieves who steal properties using fraudulent deeds, hundreds of homeowners are still being victimized.

So it's good to hear that City Council members Bill Greenlee and Maria Quiñones-Sánchez are taking steps to provide better safeguards.

The scam artists who forge paperwork to acquire Philadelphia deeds — effectively stealing homes out from under their unsuspecting owners — are exacting a steep price from law-abiding citizens for living in the city. The home-theft scams are rare in proportion to the total number of properties sold legally, but they create ill will and signal a city bureaucracy that cannot perform a very basic service.

Until recently, it was rare that scam artists were prosecuted. One notable legal victory came in the spring, when a Philadelphia man, Carlos Quiles, was sentenced to eight to 20 years in jail for stealing dozens of houses in Kensington and North Philadelphia.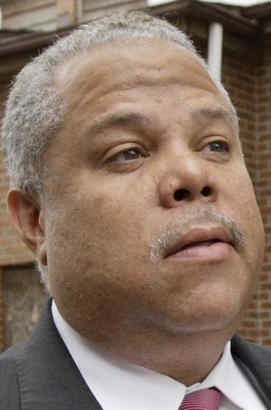 State Sen. Anthony Williams set a record by getting three individuals to each contribute more than $1 million to his failed bid in this year's Democratic primary for governor.

The extraordinary largesse raised eyebrows, even for a state with no campaign giving limits and a governor who has raised millions over the years from firms and individuals who have profited off government contracts. The three Williams donors have refused to speak about their motives, but were said to support his stance on school choice, and in particular vouchers.

In the end, the three men — Joel Greenberg ($2.07 million), Jeffrey Yass ($1.86 million), and Arthur Dantchik ($1.45 million) from Susquehanna International Group in Bala Cynwyd — wasted a lot of money on a long shot.
But another troubling part of Williams' campaign has received too little attention. That has to do with Williams' failure to file his campaign-finance report on time.

Center City just became a bit more interesting and visitor-friendly, thanks to two initiatives that should showcase Philadelphia artists' work as well as better guide tourists in their travels around the city.

Mayor Nutter's push to promote the arts received a visible boost with last week's opening of a ground-level arts office in City Hall that includes an 800-square-foot gallery.

The gallery in Room 116 will serve as the administrative roost for the city's chief cultural officer and arts office director, Gary P. Steuer. But even more significant, the public space provides a glimpse of how more of City Hall's ground floor might be transformed with amenities such as a cafe and other visitor services.

Declaring a state of emergency in Chester and imposing a curfew was a drastic but necessary move to try to stem the bloodshed.

What a shame that it took a string of violence — four homicides in eight days — and the opening of a soccer stadium to bring public attention to the impoverished city.

Mayor Wendell N. Butler Jr. said he was moved to act after the senseless murder of 2-year-old Terrence Webster. The toddler was shot in the head and his parents were wounded in an attack in a public-housing development.

Stanley McChrystal's command has become a casualty of war. But the wounds were self-inflicted. No one is irreplaceable in battle, not even the general in charge. So it must be with McChrystal. His absence only means another soldier must step up to fill the breach.

President Obama had to accept McChrystal's resignation Wednesday. By publicly airing his disdain for this country's civilian leaders, McChrystal and his aides, in effect, endangered U.S. troops by giving the enemy another reason to fight harder in the belief that they will ultimately prevail.

Beyond that, their remarks expressing contempt for Vice President Biden, Ambassador Karl W. Eikenberry, National Security Advisor Jim Jones, and Richard C. Holbrooke, special representative to Afghanistan and Pakistan, amounted to an indirect slap at the president that questions a key tenet of this nation — that the military is always subservient to its civilian commander in chief.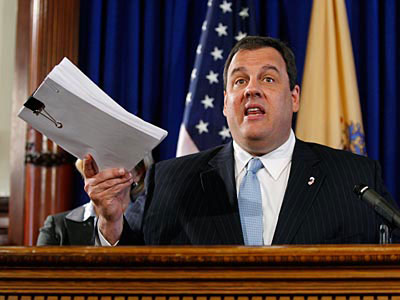 When Governor Chris Christie delayed reforms that would cut pensions and benefits to teachers, he created an atmosphere of uncertainty that may prove deleterious to New Jersey schools.
The proposed reforms include erasing a 9-percent increase to pensions passed by the state Legislature in 2001 and a change to the way pensions are calculated. The administration has deferred the reforms in an effort to focus on Christie's controversial 2.5-percent cap on property tax increases and state employee raises.
Fearful of what's to come, nearly 6,500 school employees have filed for retirement. That's almost double the number of retiring teachers last year.
The increase in retiring teachers can benefit the state economically, since it will leave more room for younger teachers, who receive lower salaries. Still, some school districts will lose what experienced teachers bring to the classroom: teaching expertise and mastery of content.
The state pension system is underfunded by $46 billion, and change is necessary to balance the budget. But this delay only scares capable teachers into retirement without actually delivering reform.