Archive: November, 2009
About 45 million turkeys will be consumed today for the greater good, so let us pause to reflect upon one bird that avoided the usual fate.
Her name is Tammy the Turnpike Turkey. She's an 11-pound wild turkey from New Jersey (no, not all wild turkey in the Garden State comes in a bottle).
Tammy lived at the toll plaza at exit 14B of the New Jersey Turnpike. You know - the exit after Bayonne, but before the Holland Tunnel? It's not your usual wild gobbler habitat.
How she got there, nobody knows. It's not clear why she chose the Jersey City toll plaza. Maybe she heard about a stuffing surplus in Secaucus.
Anyway, the toll collectors grew fond of Tammy. They fed her Cracker Jack and sunflower seeds.
Philadelphians have long looked to the Police Department's Civil Affairs officers to defuse unruly confrontations like the street brawl Saturday night in Port Richmond. But that night, an off-duty Civil Affairs cop shot and killed an unarmed 21-year-old.
So how did Civil Affairs Sgt. Frank Tepper - who fired the round that killed aspiring barber William "Billy" Panas Jr. - lose his touch as a peacemaker?
That's a question Police Commissioner Charles H. Ramsey and the District Attorney's Office need to answer quickly. If the inquiry drags on into January, it will be the first major test for freshman District Attorney Seth Williams - who takes over an office that, under Lynne M. Abraham, often was slow to prosecute cops for wrongdoing.
This isn't a case where the usual one to two years should be allowed to lapse before citizens are given a full explanation why an officer resorted to deadly force.
There are just too many troubling questions about the events leading up to Panas' shooting during the 11 p.m. incident outside Tepper's own home on Elkhart Street near Edgemont.
New Jersey is one of seven states with fuzzy eminent domain laws that make it easier to wrongly take people's property. It's a measure the Garden State should clarify, especially in the wake of the fallout from a landmark Connecticut case.
Eminent domain allows governments to take private property and compensate its owners when the result would benefit the greater community. That may sound reasonable, but it isn't when the greater good isn't so clear cut.
A perfect example is the recent announcement that Pfizer Inc. is shutting down a Connecticut facility that became the poster child for the wrong way to apply eminent domain. People were kicked out of their homes to make room for new development, including a hotel, that never occurred.
It all began more than a decade ago when Pfizer announced it wanted to build a $300 million office complex in New London, Conn. The town sought to solidify the deal by promising to redevelop the adjoining Fort Trumball neighborhood, using eminent domain to evict homeowners who wouldn't voluntarily move.
Some property owners proved pretty ornery, however. Seven sued the town and took their case all the way to the U.S. Supreme Court.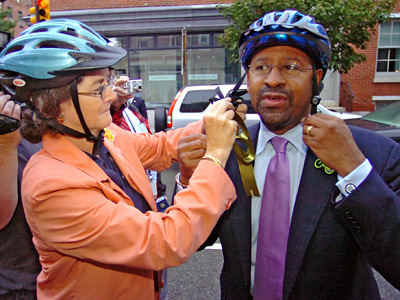 The Police Department's welcome crackdown on bike safety was launched after two Philadelphia men died from injuries suffered after cyclists hit them last month. The move shows the city is trying to balance the safety needs of motorists, bikers, and pedestrians.
City Council is also getting into the act, with one good measure to boost fines for unsafe cycling and a second silly proposal that calls for registering bikes.
Cars and trucks still pose the greatest risk to pedestrians, but the growth of bicycling has highlighted the dangers from some riders on two wheels.
At the risk of being nicknamed the million-dollar man, Pittsburgh lawyer Templeton Smith Jr. insisted on a costly - and likely fruitless - recount in the close race for a fourth seat on the Pennsylvania Superior Court.
The recount is expected to be completed by tomorrow, with the winner certified next week. Secretary of State Pedro Cortes estimates that the recount could cost taxpayers as much as $1.3 million.
That's a hefty price tag at a time when the state faces budget shortfalls, including cuts at the environmental protection agency and historical sites like the Brandywine Battlefield.
It's makes even less sense since there's little doubt about the outcome of the judicial election. Few votes are outstanding, and the count certainly isn't likely to alter much in the 50 counties that use electronic voting machines.
But Smith insisted upon on the recount and isn't concerned about any public backlash over the cost. In fact, he questions whether it will cost as much as the Democratic Rendell administration says.
In any review of the nation's worst public-policy practices, New Jersey can usually expect a prominent mention — so much so that residents could be forgiven for ignoring such dubious honors.
But the latest example, in a report by the Pew Center on the States, makes some illuminating points about the Garden State's fiscal quagmire.
The report, "Beyond California: States in Fiscal Peril," measures others against the Golden State as the gold standard for fiscal apocalypse. While California is "in a league of its own," Pew ranked nine other states as playing at the triple-A level — just shy of the big leagues of budgetary disaster. It shouldn't surprise anyone who's been paying attention that New Jersey is among them.
All that passes for a bright side is that seven states were judged to be worse. Of course, that means 42 are looking better. (Pennsylvania was ranked among those farthest from California-style calamity.)
New Jersey's weaknesses are troubling in that they have relatively little to do with the recession. Rather, decades of bad management of state finances are mostly to blame. The report quotes the Center for Budget and Policy Priorities' Jon Shure, a longtime Trenton watcher, comparing the recession in New Jersey to "a tornado hitting a house that was already falling."
Some of the states profiled have taken the recession's hardest punches — soaring foreclosure rates in California and Florida, for example, or Michigan's auto industry collapse. But New Jersey's foreclosure rate and its rise in joblessness have been less severe than the nation's.
The state did suffer disproportionately from Wall Street's contraction, but financial industry woes weren't enough to put New York or Connecticut on the list. Unlike the troubled states in the West and Midwest, New Jersey isn't part of any regional cluster of concern.
Its problem, as Pew notes, is a structural imbalance between what it spends and what it collects. And there's little room to raise more revenue: Taxes on property, income, businesses, and sales are all at or near the national ceiling.
Instead of fixing the imbalance, politicians from both parties have engaged in irresponsible borrowing for years, contributing to a per capita debt that's almost unmatched nationwide. Paying the interest puts still further pressure on the budget.
If you're a governor-elect named Chris, it might be particularly dispiriting to learn that Gov. Corzine has taken many difficult steps toward righting the state's finances — and yet "barely made a dent," Pew says. Corzine performed the remarkable feat of reducing state spending, eliminated fiscal gimmicks, limited borrowing, and pushed unsuccessfully to retire state debt with highway toll increases.
Probably the most tangible immediate result of all this was Chris Christie's victory earlier this month. In some ways, Christie is well positioned to meet these daunting challenges. He was elected on vague promises to bring upheaval to Trenton, and that gives him considerable leeway to do so. He will need it.
The slow reaction by the Department of Veterans Affairs to a flawed cancer-treatment program in Philadelphia suggests an agency that would rather forget its mistakes than learn from them.
Problems in treating nearly 100 veterans with prostate cancer began with the earliest cases, in 2002, The Inquirer has reported. But seven years later, and more than a year after this newspaper uncovered the substandard care, the VA and other institutions involved in the program have done little to hold anyone accountable.
The University of Pennsylvania doctor who performed most of the faulty procedures, Gary Kao, lost his job when the Philadelphia VA Medical Center shut down the program in June 2008. He's on leave from his research position at Penn. Another doctor agreed to a three-day suspension.
And that's about it for penalties to date. It's a disappointing statement about the absence of oversight and responsibility by the VA, the university, and others.
A total of 98 veterans with prostate cancer were treated in the program, using a procedure called brachytherapy. The treatment involves placing radioactive seeds in the prostate gland to kill cancerous cells.
The procedure works well when done correctly. But veterans treated at the Philadelphia VA received incorrect doses of radiation, often because the seeds were implanted in the wrong locations.
Eight veterans have been sent to Seattle for further treatment, and at least five patients have filed claims with the VA. More are expected.
It's bad enough to give substandard medical care to people who sacrificed for their country. But the injury is compounded by the apparent reluctance of various agencies to face up to the episode and to ensure that similar problems don't happen again.
The Nuclear Regulatory Commission, which oversees the medical use of radiation, has reached disturbing conclusions in a report on the program. It said the Philadelphia VA staff didn't know when to report mistakes. And the cancer-treatment team didn't even check radiation doses for more than a year because a computer wasn't working.
The VA's own review of the program contained errors, the NRC said. And the VA didn't compile a complete list of the overdoses and underdoses of radiation until last month.
The NRC will hold a public meeting Dec. 17 to decide what, if any, action to take against the VA Medical Center. The possible penalties range from a reprimand to stiff fines. The Department of Veterans Affairs' inspector general is conducting a separate investigation.
Veterans and the taxpaying public deserve a full accounting of how these mistakes in the program occurred, why it took so long for the problems to come to light, and who wasn't doing his job.
The Department of Veterans Affairs also needs to explain how it intends to ensure better safeguards for its medical care going forward.
One by one, the obstacles to a once-unimaginable overhaul of the nation's $2.5 trillion health care system are tumbling by the wayside.

The Senate's deliberation this weekend over its prescription for expanding health insurance coverage to most Americans represents, as President Obama noted, another milestone on the road to health-care reform.

Despite the entrenched and increasingly shrill opposition from congressional Republicans to any and all comprehensive reform, there is growing reason to hold out hope for success.

In predicting on behalf of the GOP that the coming Senate debate will be "a holy war," veteran Sen. Orrin G. Hatch (R., Utah) appears to ignore what most Americans understand about the critical need for reform.

In the wake of another round of indictments alleging corruption in the legislature, Harrisburg is again embracing "reform."

House Minority Leader Sam Smith (R., Jefferson), whose name appeared frequently in the grand jury's report despite not being charged, proposed an "ethics officer" to field complaints of misconduct. He also wants rules to bar staffers from campaigning on state time, or using government equipment for campaign work.
Both practices already are illegal — hence the heavy workload of Attorney General Tom Corbett these past two years.

Smith sounded very much like former Democratic House leader Bill DeWeese (D., Unindicted) did 16 months ago. He professed shock and surprise that close colleagues in his party's leadership, including former Speaker John M. Perzel (R., Phila.), allegedly spent public money illegally on political campaigns right under his nose.

There's nothing wrong with Smith's proposal for corrective action, except it doesn't go far enough. The culture in Harrisburg of blurring the political and the legislative is too pervasive to be changed by new caucus rules, which could expire later. Smith rightly wants to bar government contractors from making campaign donations, but doesn't touch needed donor limits.

Whatever else you might think of him, Sen. Robert Byrd (D., W.<TH>Va.) reached an impressive milestone on Wednesday.

The adopted son of a coal miner became the longest-serving lawmaker ever in the history of Congress: 56 years and 319 days.

Byrd, who is in poor health and turned 92 yesterday, is in his ninth term in the Senate. He has served under 11 presidents, beginning with President Dwight D. Eisenhower in 1953.

The record for congressional longevity had belonged to Carl Hayden of Arizona, who served nearly 57 years in the House and Senate from 1912 to 1969. Three years ago, Byrd surpassed the late Sen. Strom Thurmond of South Carolina as the longest-serving senator.