Archive: October, 2009
The Rev. Dr. Martin Luther King Jr. once referred to 11 a.m. Sunday as "the most segregated hour in this nation," but two Philadelphia congregations have shown it doesn't need to be that way.
White members of St. George's Methodist Church and black congregants from Mother Bethel A.M.E. gathered last Sunday to worship together under the same roof at St. George's in Old City. Not only was their union inspirational, it had historical significance.
The forerunners of these two congregations split, black from white, more than 220 years ago. They had been separated ever since.
Two central figures back then were Richard Allen and Absalom Jones, both born into slavery, who had become free men and settled in Philadelphia. They joined the congregation of St. George's, one of the few churches in the city at the time that opened its doors to blacks. Allen even preached from its pulpit.
But one Sunday in 1787, Allen, Jones and several other African Americans were praying when white church leaders tried to pull them off their knees and move them to the balcony, where they'd be segregated.
Offended, Jones and Allen left, never to return. They formed the Free African Society, and eventually founded what became Mother Bethel at Sixth and Lombard streets. It was an important Underground Railroad stop before the Civil War.
But enmity between the two churches lingered. In fact, some of today's Mother Bethel members still recall family who expressed animosity toward St. George's.
The current pastors of both churches deserve credit for working to overcome that sad legacy. As St. George's prepared to celebrate its 240th anniversary this year, its pastor, Rev. Fred Day, invited Rev. Mark Kelly Tyler of Mother Bethel to preach as part of the commemoration. Tyler suggested bringing Mother Bethel's congregation with him. And last Sunday, black and white worshippers filled St. George's, 222 years after the schism.
Day presented Tyler with a wooden cross, fashioned with nails from the church's balcony. Some hurts are never too old to try to heal.
Perhaps this gesture will lead to future examples of cooperation and understanding, among these and other congregations. To paraphrase a good book, love keeps no record of wrongs.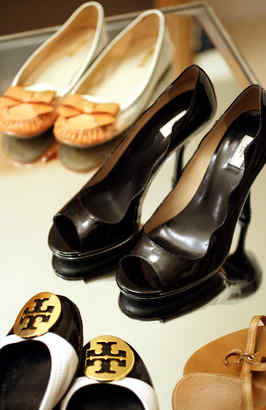 Here's a good reason to clean out your closet and help a worthy cause.
Philadelphia Sports Club is collecting new and gently worn shoes for Soles4Souls, a Nashville-based nonprofit that depends on the generosity of footwear companies and the public to recycle shoes for the needy.
With Americans hoarding an estimated 1.5 billion pairs of unused shoes, no need to wait to make space in cluttered closets. Let someone less fortunate walk in your shoes.
The shoes will be refurbished and shipped around the nation and world to natural-disaster victims and those living in extreme poverty.
The campaign was started by Wayne Elsey, who was motivated to organize a footwear relief effort after seeing a single shoe wash ashore after the 2004 tsunami in the Indian Ocean. When Hurricane Katrina struck the Gulf Coast a year later, Elsey tapped friends in the shoe business, who sent more than one million pairs.
Since then, the charity has given away more than 5.5 million pairs of shoes in the United States and 125 other countries, including Kenya and Thailand.
Shoes may be dropped off at the Philadelphia Sports club in Chalfont until Nov. 15, when the drive culminates with a "Phillyfit Bash." Visit www.giveshoes.org to find other participating locations.

Somewhere in Philadelphia, there's a hit-and-run driver who needs to face up to the awful consequences of having run down and fatally injured a pedestrian in mid-October.
Anyone walking on a Center City street should keep a wary eye out for him. Description? He'll be riding a bicycle.
How's that for giving a knock to the normally warm-and-fuzzy image of cycling?
At a crucial juncture — where Mayor Nutter is taking important steps to promote environmentally friendly cycling — the bizarre accident on Oct. 15 at the intersection of 16th and Locust Streets turns the issue of cycling safety on its head.
More often than not, it's bicyclists who risk life and limb at the hands of reckless motorists when venturing out on city streets. But the crash that took the life of Andre Steed, 40, a Center City paralegal, was a reminder that pedestrians face serious risks, too.
Indeed, the dangers of riding on city streets perversely leads many cyclists to ride illegally on city sidewalks, swerving around and between pedestrians.
A fitting memorial to Steed — in addition to holding the man who struck him accountable before the law — would be to take strides toward making the streets safer for everyone, whether on foot, bicycle, or in a vehicle.
With its push for more bicycle use, the city is steering the right course in promoting commuting by bike to reduce congestion and pollution and promote exercise.
The recent opening of dedicated cycling lanes along Spruce and Pine Streets as a pilot project means that, for the first time, cyclists can cross Center City with greater safety. If the city establishes a bike-sharing program, even more people will hop on bikes.
But these efforts raise the stakes in assuring that cyclists ride safely, and obey the rules of the road just as drivers must do.
So it's good to hear that Nutter officials are planning a two-pronged approach once grant funding is secured: a public-awareness safety campaign, followed by enforcement. In the meantime, the city's new handheld cell-phone ban for drivers and cyclists alike could reduce dangerous riding distractions.
Everyone in the city has a stake in making cycling safer.
What does it say about our culture that Halloween has become the second biggest decorating holiday in America, lagging behind only Christmas?
Notice, that's second biggest holiday for decorating. Halloween ranks number-six when it comes to overall consumer spending, says the National Retail Federation.
When it comes to all shopping, it would take a lot more trick-or-treat candy to pull ahead of Father's Day, Mother's Day, Easter, Valentine's Day, and what retailers now coyly call "the winter holidays."
But who knows how high Halloween would go if retailers could convince consumers to send flowers for this holiday, too? Black roses, anyone? Oh, those don't really exist.
Neither do the characters that make up this year's list of most-popular adult Halloween costumes. The top five are witch, vampire, pirate, clown, and wench. For kids, it's princess, witch, Spider Man, pirate, pumpkin.
Guess those costume choices send a message about people today, too. Policeman didn't even make the children's costume list. It's number-10 for adults, but you have to wonder if the cop is naughty or nice.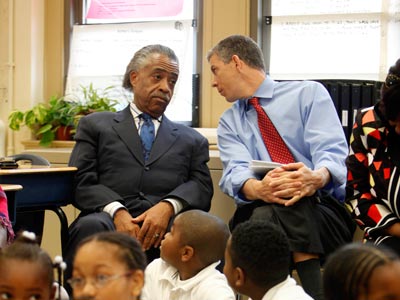 By 2014, the country's 95,000 public schools will need to hire as many as a million teachers and principals. More than half will be trained at education colleges. But will they be prepared for the classroom? Probably not, shortchanging another generation of the quality education they deserve.
U.S. Education Secretary Arne Duncan has sounded the alarm that more must be done to prepare future teachers, especially those sent to failing urban school systems such as Philadelphia and Camden's.
Duncan is citing a 2006 report by former Columbia Teachers College President Arthur Levine that found that 61 percent of educators believe they were inadequately prepared for the classroom.
Duncan, who brought his message to Philadelphia in September, may have ruffled some feathers when he concluded that most of the nation's 1,450 teachers colleges are doing a mediocre job at best of preparing future teachers.
But that frank assessment confirms what lackluster student performance on standardized tests has shown for years. Reforming public education and boosting student achievement must begin with better teacher training — mediocrity is unacceptable.
Nearly 30 percent of students nationwide, roughly 1.2 million, drop out or don't complete high school in four years.
The statistics are even worse for minority students. Only about 60 percent of black and Latino students graduate on time in many urban districts, while more than half drop out.
Such a bleak cycle of failure demands a new approach that includes placing student teachers in urban schools so they get get a firsthand experience in the social and cultural challenges that come with teaching in the inner city.
America's teachers colleges need to revamp their curriculums to be more relevant to today's classroom situations. Universities with second-rate colleges of education must invest more resources to turn them around.
Future teachers must be as adept at managing a classroom as they are preparing a lesson plan.
Although Duncan failed to provide specifics on how the federal government will help improve teacher preparation and accountability, his message must resonate with every teachers college and university.
To put itself on the right track, Rowan University plans to send about 300 sophomore student teachers to Camden schools this year for semester-long field work.
Next year, the university plans to launch a teacher-residency program that will include a year-long student teaching assignment, instead of the typical semester.
That's the right approach. Students in troubled schools typically have the least qualified teachers. Students won't do better without better teachers.
Buried in a gaming bill that began as a reform measure (only in Harrisburg) is a provision that will enable casinos to provide customers in-store credit.

Call it easy credit for easy marks.

It's another example of why, when Gov. Rendell leaves office, his most lasting legacy may well be that he made it easy for every schlub in Pennsylvania to gamble his life away.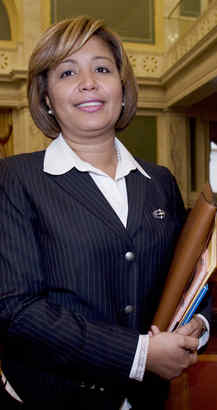 Philadelphia's budget crisis all but ended the tax-cutting efforts begun in the early 1990s that are credited with revitalizing Center City and many neighborhoods. So a recent task force report urging a revival of reform comes at an opportune time.
If nothing else, the report provides a stark reminder that — barring renewed cuts — the city will continue to bleed jobs and businesses, even if it somehow slows the long-standing exodus of middle-class residents.
Those predictions should serve as the counterpoint to Mayor Nutter's retrenchment on wage- and business-tax cuts amid the city's budget crisis. Not only have tax cuts been delayed, but the city's sales tax was increased by 14 percent. As such, the city's overall tax burden remains the highest in the country, and holding.
The mayor's panel, chaired by Harold Epps, president of PRWT Inc., offers a multipronged strategy that could help alter an otherwise grim economic future. It calls for a commonsense shift of local taxes away from wage earners and businesses, relying more heavily on property taxes while also cushioning the blow for homeowners.
Just as important, the report recommends trimming city spending by 5 percent a year through efficiencies and limiting pension costs. Anyone who thinks that can't be done hasn't spent much time examining the Byzantine and patronage-laden operations at City Hall.
Together, the reforms could lead to 70,000 more private-sector jobs over 15 years — a roughly 10 percent improvement over current levels.
While worthy, the proposals are similar to a six-year-old report that went nowhere. So turning the reforms into reality will require mayoral leadership.
But Nutter accepted the report last week with a lukewarm endorsement. He singled out the recommendation for a tax amnesty program as promising, but that was about it.
Before any changes to property taxes, of course, Nutter and City Council need to fix the city's broken tax-assessment process.
That requires scrapping the Board of Revision of Taxes, which is riddled with mismanagement, cronyism, and flawed property assessments, as detailed by The Inquirer this spring. So far, a plan to switch to marketplace-value assessments has problems and is well behind schedule.
The Nutter administration has time to formulate a tax-reform plan, but not much. Indeed, just after the tax-reform report was released, City Councilman Bill Green called for the city to aim higher.
Green, whose own paperless-government initiative fits the bill for a 5 percent savings measure, rightly questions whether the proposals are aggressive enough to reverse job and resident losses or the city's growth in the number of residents living in poverty.
That said, driving the wage tax down below 3 percent would represent real reform. There are other worthy ideas out there as well, such as the one from Green and his Council colleague, Maria Quiñones Sánchez, to restructure the gross-receipts business tax.
But what's missing is a sense of urgency akin to the 2002 "briefcase brigade" of business leaders at City Hall. With the task force's proposals in hand, it's time for Nutter and Council to get serious again about tax reform.
When Bill Ackman speaks, people listen. So, the Pershing Square hedge fund manager got a lot of people's attention last week when he said he was locking up his money.
More specifically, Ackman has acquired about a 10 percent stake in Corrections Corporation of America, the nation's largest private operator of prisons and jails.
"The biggest risk to Corrections Corp. is that people stop committing crimes, and I think that's a low-probability event," said Ackman. He's looking at the trend of more and more state and local governments deciding that it's more economical to let a business run their lookups.
In a presentation at the Value Investing Congress in New York, Ackman noted that private prisons had gained 49 percent of the incremental growth in America's prison population in 2007. Every inmate probably represents a dollar sign to him.
Camden County is thinking of joining the private-jail crowd. But it must be concerned about more than dollars and cents. Privatized jails have yielded mixed results. In some cases, disastrous outcomes overshadowed savings.
For example, at Pennsylvania's only privately run jail, in Delaware County, seven inmates died in 2005 under the watch of its former operator, Geo Group. After paying hundreds of thousands of dollars to settle wrongful-death lawsuits, the company eventually terminated its contract. A new firm currently runs that jail.
Earlier this month, a long-awaited study of the Camden County jail by a consultant recommended replacing the facility with a privately built and operated jail.
Corrections officers are threatening legal action to block the move. The officers fear that their salaries will be drastically cut if they are hired by a private firm, or they will lose their jobs to ill-trained replacements, which raises valid security concerns.
Before county freeholders consider turning the jail over to a for-profit company, they must take a close look at other jails that have gone that route.
Regardless of its operator, closing the current facility appears to be the best course. The Camden County jail has been plagued with problems since it opened in 1988.
Built to house 1,200 prisoners, the jail has been dangerously packed with as many as
2,000 inmates. Given its disrepair and inhumane, unhealthy, and unsafe conditions inside the jail, replacing it should be an easy choice.
Other options in the $100,000 consultant report include building a new jail operated by the county outside the city of Camden, or partnering with another county to develop a new regional jail.
Before anything happens, there should be extensive discussion. County officials say they plan to take as long as a year to weigh their options. That's fine. Privatization may seem attractive, but the freeholders need to hear from critics who believe badly run private facilities too often bypass the scrutiny that they need.