Archive: June, 2010
Kate Fagan
In the first half of Saturday night's 1-1 tie against England, U.S. goalie Tim Howard absorbed a collision with England's Emile Heskey. The collision, Howard said afterwards, was "agony." He was down for 3 minutes, but stayed in the match. At halftime, he received a cortisone shot, which allowed him to play (mostly) without pain in the second half. He made a number of crucial saves to preserve the result.
But, today, the question for the U.S. team is what that collision will cost them: Howard is being evaluated today and U.S. coach Bob Bradley told reporters at the team's headquarters that "a decision will be made about whether he needs further tests," on his ribs. Tests such as an MRI or x-ray.
Will he play on Friday against Slovenia?
Kate Fagan
Is this the game of the decade for the U.S. team? Has there ever been a more anticipated U.S. Soccer match? Impossible to say, really, but Rustenburg is rocking. There's not much around Royal Bafokeng Stadium, which is about two hours outside of Johannesburg, but there's one little place just across the street. You can see it in the attached picture: hundreds of U.S. and English fans waiting until the stadium opens.
I went over for about 30 minutes. The beer is cheap (I'm confused as to how they have enough, they're selling like a dozen a minute), and there's a projection screen showing the Argentina/Nigera match. The English and Americans appear to be co-existing quite nicely. Next to the "pub" part of the establishment is a joint selling raw meat, red meat and chicken. You carry the raw meat and bread out to a giant stone grill and you grill it yourself. Interesting set up, but the line was long to buy raw meat. You can see videos of all this stuff in the video player below on the right. I uploaded three videos of the scene across the street from RBS.
The sun has just set here in South Africa. The gates to the stadium open in about 45 minutes, but everyone I talked to "across the street" said they'd be staying there longer, mostly for the cheap beer (less than $1 a bottle is what someone told me).
Kate Fagan
Here's a video report from Day 1 of the World Cup:
Kate Fagan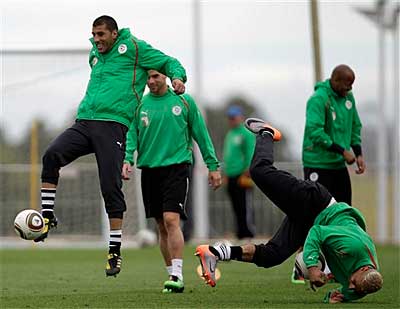 Today is the day: the opening ceremonies and opening match of the 2010 FIFA World Cup. While the U.S. team is already in Rustenburg (two hours north of Johannesburg), where they will train today, the crush is at Soccer City in Johannesburg, where South Africa will play Mexico at 4 p.m. local time, 10 a.m. in Philly. The Opening Ceremonies will precede the game and include approximately 1,500 performers.
I'm at Soccer City. When I arrived it seemed the masses were also spilling into the stadium, so the euphoria was just beginning. (Although folks were blowing vuvuzelas on the streets most of the night, and quite consistently beginning at the crack of dawn.)
At a coffee shop in Sandton called "Mugg and Bean," I stopped for a latte this morning. The place was filled with pairs wearing South Africa's green-and-yellow game jersey. The waiter said this World Cup is the most exciting thing that's ever happened to South Africa. The roads are jammed. It took our bus nearly 90 minutes to go 15 miles. People are getting out of cars and walking to Soccer City.
I posted two videos. The first is from yesterday's scene outside of Soccer City: the advertising set ups and tents (specifically Castrol's "Challenge Ronaldo" tent) and a video from today, which begins with the Mexico fans who are dressed in various constumes.
It's early, but you can watch on one of the ESPN channels.
Here are the most interesting notes as Day 1 of the World Cup begins:
1. Pele has predicted that the World Cup final will be played between Brazil and "an African team." Africa has six countries in this World Cup (I guess folks are calling them "The African Six Pack"): South Africa, Ivory Coast, Ghana, Nigeria, Cameroon and Algeria. Also of note, Pele has a new sports label, creatively named "Pele Sports."
Pele's exact quote: "Brazil are in my thoughts and heart, they have a good team which I have no doubt will make Brazilians proud. I foresee them playing in the final against an African team."
2. World Cup courts! This could be near and dear to the hearts of Eagles' fans. At a cost of R2.2 million (off the top of my head around $350,000), 56 courtrooms across the country have been allocated to deal with any World-Cup related issues. The courts operate seven days a week. So far the courts have heard a total of seven cases: a drunk driving by a Frenchman, some petty thefts, a bomb threat, and a case of counterfeit money.
3. Vuvuzelas are in trouble with the doctors. In a story today in the Sowetan, a London doctor has determined that it's possible vuvuzelas – the South African horn that sounds like a herd of elephants – could spread the flu. Oops.
"Vuvuzelas have the potential to spread colds and flu as a lot of breath goes through the vuvuzela," Dr. Ruth McNerney to the Sowetan, adding that they can infect others on a greater scale than coughing or shouting.
I hear vuvuzelas outside now. People are taking their chances,
--Kate
Kate Fagan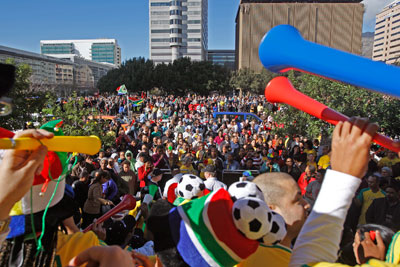 What would a victory over England mean for U.S. Soccer?
Would a victory, coupled with a strong showing in the rest of the tournament, signal a shift in the culture of soccer within the U.S.? What has David Beckham, the English star who currently plays (until his injury) for the Los Angeles Galaxy, done for the landscape of soccer in the U.S.? And – most importantly – who would play Landon Donovan in the movie, if the U.S. were to make magic on Saturday and at this World Cup?
These were some of the questions addressed today at the U.S. base in Irene, South Africa. These questions, and, of course, the nuts and bolts regarding Jozy Altidore's ankle and Oguchi Onyewu's fitness and Bob Bradley's starting lineup for Saturday.
U.S. Soccer President, Sunil Gulati, addressed some of these big-picture questions. He spoke rationally about the progress the U.S. has made in the last 15 years, the stability of the MLS, the consistent qualification of the U.S. in the World Cup, the grass-roots foundation of youth programs, and the gap between the U.S. and other European nations.
Here's one indicative quote: "I think we do get a lot of respect in many places in the world, but there's still people in the U.S. who ask, 'So, when do you think soccer will take off?' And there are still articles across the Atlantic that say the MLS is a good pub team …" – the best part of this quote was that there were many English media members in attendance, one who corrected Gulati and said the articles actually call the MLS a "Mickey Mouse" league.
Gulati was convinced that Saturday's U.S.-England game is the most talked about, most hyped game in many years. Gulati said the "water cooler" factor was high. Here were his exact words: "I think there will be more interest in this game than any game the U.S. has played in some time.
"
Ever? "Maybe. Yeah. I think that's probably right."
Now, I don't claim this blog is an accurate reflection of the buzz surrounding the World Cup. It's running on a philly.com page that's currently focused on the Stanley Cup Finals. And even if the Flyers weren't going for the Stanley Cup, chances are good it would still be about the 100th most-read blog. In addition, it's based out of a city that is historically passionate about sports, but more specifically passionate about its own teams. Also, I've been in South Africa for a week, without ESPN, without traditional means to evaluate the interest level for Saturday's game.
All that is to say that I have no idea if people care about the World Cup, or, more specifically, Saturday's game against England and the U.S.'s fortunes in this tournament.
If it's taken 15 years to get the MLS to where it currently resides in the sporting landscape within the U.S., it's going to take much more than a victory over England to boost it higher in the public conscience.
As for Beckham's contribution, Gulati was modest. He didn't claim Beckham had caused a significant shift in the public's awareness of the MLS, but there was something there to which his presence added.
"David has taken us into households that didn't appreciate the game, didn't know the game … but it's, 'Do people come back to watch the Galaxy again, when Beckham isn't playing?' … He's made it clear that whatever effect he's had, he wants to see that continue, whether that's in coaching, ownership."
As for the actor to play Landon: "I don't know who would play me, but I like Johnny Depp."
Here are the hard-core updates about the U.S.: Bob Bradley said that Altidore's ankle was fine. "Jozy, it cost him a couple of days, but from the start we knew it was very minor and the fact that he's back in regular training certainly means he's available for whatever role we choose for Saturday." When asked if he felt Onyewu was ready for a full 90 minutes (he hasn't played a full match since his patella injury seven months ago), Bradley said, "Sure." Later, he elaborated: "The fitness program that we put our players through to prepare for the World Cup, I think, has every player in our 23 ready to play 90 minutes if asked."
Does Bradley yet know his starting lineup for Saturday? (This is very different from asking if Bradley would like to share his starting lineup, which we're all quite sure he would not). Bradley: "We have an idea of what the lineup might be. But then there's always the part that as you go through a week and prepare for the game, you keep an eye on different possibilities."
There's some thought that, because Donovan and Clint Dempsey provide flexibility with their ability to play multiple positions, we might see both Donovan and Dempsey in the midfield and two attackers – maybe Altidore and Findley or Altidore and Buddle. Just a thought.
Here's my fun piece of South African info for the day, from a Sky News report about Bafana, Bafana's parade through a Johannesburg suburb, Sandton, which took place today: "Schoolchildren were allowed to leave at midday on a special extended month-long World Cup holiday, adding to the party atmosphere." A month-long holiday? And I thought the city was frenzied yesterday. I drove through the fringes of that South African parade today and I wish I could adequately convey the hysteria surrounding the country's team, Bafana, Bafana, and the entire World Cup. Here's the link to the Sky Sports article:
MONTH-LONG HOLIDAY
!
I'll end with my favorite quote from today, from Mr. Landon Donovan: "I know I'm going to play well on Saturday."
--Kate
Kate Fagan
While most folks in Johannesburg are embracing the energy building for the World Cup, the U.S. team is doing its best to avoid it.

Here's what U.S. forward Clint Dempsey said today: "I think you need to stay away from the energy. So you do feel like you get away from it because you can't be thinking about it non-stop, you'll stress yourself out. You need to prepare for it as you go, gradually building until game time. Because I'm someone who doesn't like to think about things too much because it can cause you to stress a little bit."

Dempsey said the team has had two speakers -- a captain from a Black Hawk Down helicopter and Boston Celtics legend Bill Russell -- and has watched some documentaries. The team is also spending its free time playing XBOX 360's FIFA World Cup game, ping pong, and maybe a little bit of chess. Dempsey said he played midfielder Ricardo Clark in chess.
Kate Fagan
The U.S. rested today. No practice and no media availability. According to the Tweets I follow from U.S. Soccer, a few guys went golfing, a few relaxed. The team returns to practice on Tuesday. The England match is on Saturday, so tomorrow will begin a standard week of preparation.
As for England, they held their final warm-up match this evening at Moruleng Stadium, which is about 2 hours, 30 minutes north west of Johannesburg, near to Rustenburg, which is where the U.S. vs. England match will be held. Unlike most nations here in South Africa, the English decided against scrimmaging against another nation (like the U.S. did against Australia), choosing instead to play the Platinum Stars FC, a local side that plays in South Africa's Premier Soccer League. Platinum isn't even currently in season, with the players being called back from vacation.
Kate Fagan
Today was an interesting day. I awoke this morning and looked at all the options: Argentina closed practice session? Nope. France training session in Cape Town? That's a plane ride away. Portugal arriving at Johannesburg airport at 8 a.m.? That would be fun – Cristiano Ronaldo – but they'd already landed and were likely at the hotel already. Brazil press conference with Lucio and Luisao? Only 25 minutes away at Brazil's complex in Randburg?
Yes. That would be perfect. Everyone loves witnessing the spectacle of Brazil and everything surrounding that team. Driving over to Randburg I was, of course, slightly concerned about the language barrier. There would be plenty of Portuguese being spoken, yes, but (like a true American), I figured a few questions would go down in English. After all, Brazil's group includes North Korea, Ivory Coast, and Portugal – how else would media from those teams ask questions and write stories? The common denominator would be English – I was sure.
I arrived at The Fairways Hotel, a gated compound, about 30 minutes early for the press conference. I watched as the room filled with 10 times the media usually present for the U.S. press conferences, and then I listened for 40 minutes as questions darted first towards Luisao and then Lucio – every single one of them in Portuguese.
When it was over, the English guy sitting in front of me, with whom I'd been speaking while waiting for the conference to start, asked me if spoke Portuguese. I informed him I did not. He said I wasn't missing much, that it was one of the team's more boring press conferences. He also said not to worry, that it would be translated and online very soon.
He was right. Here's my favorite quote from the morning, although at the time all I heard was a foreign language as I stared at my computer screen in dismay. It's Lucio talking about Brazil's final warm-up game against Tanzania:
"It is not a competitive game, but our enthusiasm and will should be the same as in the World Cup. Injuries can happen any time, but we have to be careful and pay attention in training to avoid risky plays. When you are on the field to train or playing with fear of getting injured, it finally happens. I beg God to bless and protect us."
I took a video of Lucio and Luisao walking onto the podium. Not sure if the videos are making it into the video player, but I promise I'm uploading them.
Kate Fagan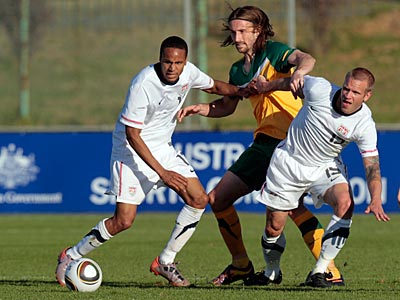 The U.S. wins its final exhibition match against Australia, 3-1.
Chances are good if you're reading this blog, you watched the match on ESPN2. If you didn't, here's the quick-hit lowdown: forward Edson Buddle scored two goals, forward Herculez Gomez added a third, the U.S. defense looked better than it did during the send-off series, but there were still some holes, especially on corner kicks (that's how Australia scored its only goal) and crosses. U.S. forward Jozy Altidore did not play because of that sprained right ankle. He's officially listed as day-to-day, but he did go through some drills (with the trainer) during pre-game warm ups and he wasn't limping. Chances are good he might be back on the field tomorrow.
This morning, I went down to Soccer City just outside of Johannesburg to collect my credential. I took a video after getting my credential (that took 90 minutes) of the Soccer City stadium. I read on the flight over to South Africa that the stadium was designed to look like African pottery. It's beautiful. I'm sure you can't exactly tell how striking it is from the video, but driving towards it this morning, and coming over a hill to see it, it's an amazing piece of architecture. You can check out that video in the player below on the right.
One of the main highways in Johannesburg, the N1, was closed both ways this morning. Listening to the radio, the DJ said the North-bound was closed due to a major accident with fatalities and the South-bound was closed due to an overnight shootout in which a police officer was killed. The D.J. then said, "For all you folks not from Johannesburg, welcome! – it's not always this bad." Hmmmmm. Either way, I spent a good amount of the morning getting to Soccer City on back roads and then to Roodepoort (where the U.S. played) on even more crowded roads. Thousands of people are landing every hour in Johannesburg, so maybe traffic will be awful.
Today's match was a perfect warm-up for the World Cup: 7,000 folks inside a stadium that can't hold much more; animated Aussie fans, animated USA fans, and thousands of Africans chanting. You can check out the second video, of the stands and atmosphere as the Australian team runs out onto the field, in the video player. I make no claim to be a good videographer.
Here were some interesting quotes from after the game: (Sorry, the first one is still about the soccer ball. Almost all of the guys mentioned after the game that the ball was the reason the team is struggling to clear corner kicks and crosses.)
"The ball is terrible. You're going to hear that now, you're going to hear that a month from now … " said goalie Tim Howard. "You're trying to read an unreadable situation. If you hit five balls in the same striking motion, you wouldn't get the same result."
England star David Beckham was at today's match. Beckham is injured for the World Cup. U.S. coach Bob Bradley made it clear today's starting lineup was no indication of who he might start against England. When asked if Buddle might be the guy, Bradley said he hasn't decided yet. It's unclear how much of that is truth and how much is a continual strategic game with England.
"You need the match," Bradley said of today. "You need the adjustment to the altitude, the adjustment to the conditions, but clearly you want to make sure you're careful."
Tomorrow's training session is 100 percent open to the media – the entire training session – so we'll be back tomorrow with more videos and updates.
--Kate