Archive: June, 2010
Joseph N. DiStefano
US Sen. Scott Brown, R-Mass., can rightfully claim to have killed the planned $19 billion bank tax that was supposed to fund the nearly-done bank reform law; but congressional negotiators merely agreed to increase the Federal Deposit Insurance Corp. tax on large banks to make up the difference. Negotiators also killed the unpopular Bush-era TARP bank subsidy program; but "this has little practical impact" since the remaining billions weren't getting spent anyway, notes FBR Capital Markets analyst Edward Mills in a report to clients.
The House didn't vote on the final bill Tuesday as expected, and it's not likely to vote until the Senate has 60 votes lined up for final passage, and that's going to take awhile, maybe til mid-July, Mills adds. The earlier Independence Day deadline "now appears unlikely if not impossible," Blank Rome bank lobbyists told their clients in a report.
Joseph N. DiStefano
Shares of AstraZeneca Plc, the European drug giant whose US headquarters are on US 202 between Wilmington and Chadds Ford, jumped 10 percent in London trading today after Wilmington-based federal Judge Joseph Farnan Jr. vetoed an effort by Israeli-based Teva Pharmaceuticals, whose US headquarters are in suburban Philadelphia, and seven other generic-drug makers to break AstraZeneca's Crestor cholesterol-drug patent.
According to AstraZeneca, Farnan's judgement upheld the Crestor patent licensed to AstraZeneca by drugmaker Shionogi, and "will preclude the Food and Drug Administration from issuing final approvals" for generic knockoffs of Crestor until the patent expires in 2016.
Joseph N. DiStefano
Radnor-based Lincoln National Corp., best known locally as the naming-rights sponsor of the Eagles football stadium in South Philadelphia, says it's bought back all $950 million worth of preferred stock that the U.S. Treasury purchased to help the company during the late financial crisis under the Bush administration's TARP program (which President Obama prefers to call the Capital Purchase Program, or CPP).
The money, plus interest, "was an important bridge program to help stabilize the U.S. financial markets," Lincoln chief executive Dennis R. Glass said in a statement. "We always viewed CPP as a temporary cushion," to be repaid "as soon as market conditions warranted," and sooner than expected: Lincoln had earlier talked about paying the money back next year.
As I noted in a column last December, Special Inspector General Neil Barofsky questioned the government's decision to invest billions in scarce taxpayer dollars in Lincoln and rival Hartford Financial to build up a business - selling insurance - that had "little to do with lending to consumers and businesses," TARP's supposed purchase.
Joseph N. DiStefano
UPDATE: Fisker Motors this afternoon was cleared by a federal bankruptcy judge in New York to close on its $20 mllion acquisition of the former GM factory in suburban Wilmington where Vice President Biden last fall announced a half-billion-dollar U.S. Department of Energy loan to refit the place as a fancy Fisker electric car factory.
EARLIER: Tesla Motor Corp. has burned through many millions of investors' money and hasn't made a dime yet selling its fancy $100,000 electric sports cars, but founder Elon Musk (who made his fortune taking PayPal Inc. public) has pocketed over $20 million in the sale of $226 million worth of stock in today's initial public offering (Nasdaq: TSLA). Read Tesla's Securities and Exchange Commission filing here. Stock has been trading up a bit from IPO price, says MarketWatch.
Joseph N. DiStefano
"We will be growing them rapidly," promises Jack McGinley, founder of RoundTable Health Care Partners, Lake Forest, Ill., of West Chester-based Aqua Pharmaceuticals LLC, his firm's latest investment.
Aqua, a prescription-drug marketer founded in 2004, is building a national sales force. The firm sells Allergan's Flouroplex cream (for precancerous skin conditions) and Watson Pharmaceuticals' Cordran steroid (eczema, psoriasis) and Monodox antibiotic (acne), among other skin drugs, to doctors, pharmacists and wholesalers.
McGinley won't say how much RoundTable paid for its "controlling interest" in Aqua. RoundTable says it's raised more than $1 billion in two equity funds and a debt fund since 2001, with average investments of more than $50 million per firm, though some were smaller. "This is our first Philadelphia-area investment," McGinley told me.

Aqua founders Jay Gooding, originally of Detroit, and Craig Ballaron, a Newtown Square native, worked together at Bioglan Pharma Ltd. in Malvern, and started Aqua when Bioglan was sold by its North Carolina owners to Bradley Pharmaceuticals of New Jersey (corrected). Under RoundTable, they will remain part owners and will continue to serve as company executives, Gooding and McGinley told me.
Joseph N. DiStefano
Wachovia Corp., the North Carolina-based company that's the biggest bank in Philadelphia and other East Coast markets, "made a habit of helping move money for Mexican drug smugglers," writes Bloomberg's Michael Smith here. http://noir.bloomberg.com/apps/news?pid=newsarchive&sid=aXf9c5B9KWfA

"Wells Fargo & Co., which bought Wachovia in 2008, has admitted in court that its unit failed to monitor and report suspected money laundering by narcotics traffickers... Wachovia admitted it didn't do enough to spot illicit funds in handling $378.4 billion for Mexican-currency-exchange houses from 2004 to 2007. That's the largest violation of the Bank Secrecy Act, an anti-money-laundering law, in U.S. history -- a sum equal to one-third of Mexico's current gross domestic product...

"Behind the [drug-war] carnage in Mexico is an industry that supplies hundreds of tons of cocaine, heroin, marijuana and methamphetamines to Americans... Narcotics cost the U.S. economy $215 billion a year -- enough to cover health care for 30.9 million Americans -- in overburdened courts, prisons and hospitals and lost productivity...

"'It's the banks laundering money for the cartels that finances the tragedy,' says Martin Woods, director of Wachovia's anti-money-laundering unit in London from 2006 to 2009. Woods says he quit the bank in disgust after executives ignored his documentation that drug dealers were funneling money through Wachovia's branch network. 'If you don't see the correlation between the money laundering by banks and the 22,000 people killed in Mexico, you're missing the point.'"

While "Wachovia is just one of the U.S. and European banks that have been used for drug money laundering... no bank has been more closely connected with Mexican money laundering than Wachovia... In the three years leading up to Wachovia's agreement with the Justice Department, grand juries served the bank with 6,700 subpoenas requesting information. The bank didn't react quickly enough to the prosecutors' requests and failed to hire enough investigators, the U.S. Treasury Department said in March.
"After a 22-month investigation, the Justice Department on March 12 charged Wachovia with violating the Bank Secrecy Act by failing to run an effective anti-money-laundering program. Five days later, Wells Fargo promised in a Miami federal courtroom to revamp its detection systems. Wachovia's new owner paid $160 million in fines and penalties, less than 2 percent of its $12.3 billion profit in 2009. If Wells Fargo keeps its pledge, the U.S. government will, according to the agreement, drop all charges against the bank in March 2011.

"Wells Fargo regrets that some of Wachovia's former anti- money-laundering efforts fell short, spokeswoman Mary Eshet says. Wells Fargo has invested $42 million in the past three years to improve its anti-money-laundering program and has been working with regulators, she says... The bank declined to answer specific questions, including how much it made" from handling drug money.
Joseph N. DiStefano
Roll down Wall St. Journal's Twitter feed and you see this "Breaking News" from Washington: "Supreme Court stirkes down Sarbanes-Oxley, the anti-fraud law."

Wow! But Not True. Reuters quickly Twittered a less misleading summary: "Sarbanes-Oxley auditing board ruled unconstitutional."
Next, the New York Times got it right: "Supreme Court Stikes Down Part of Sarbanes-Oxley"

Later the Journal clarified: "Sarbanes-Oxley 'remains fully operative as a law.'"

Asks Philadelphia's own investor Josh Kopelman: "Did the WSJ take headline writing lessons from @BusinessInsider?"

Leaving Reuters' Felix Salmon to smirk down his nose: "The dangers of a flagship Twitter feed: Fast is good so long as it's not inaccurate and misleading."
Joseph N. DiStefano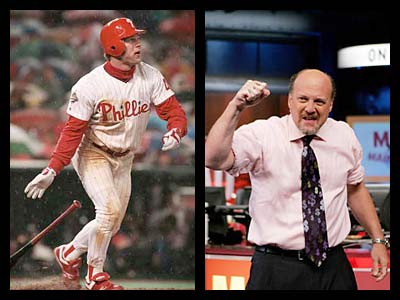 UPDATE: I asked Jim Cramer's office at CNBC about the allegations, by Lenny Dykstra's former publisher, that Dykstra was taking money to promote stocks on Cramer's show and TheStreet.com. Cramer's reponse: "I haven't read the book but as the author, Randall Lane, points out, I knew nothing about this issue. Of course it is terribly disappointing." No reply from Dykstra so far.
EARLIER: TV investor Jim Cramer's "star pupil, ex-baseball star Lenny Dykstra, secretly sold access to Cramer and stock endorsements on TheStreet.com," writes failed financial publisher Randall Lane, in his book, The Zeroes.
From Lane's Daily Beast summary: