Archive: May, 2009
General Motors is ready to file for bankruptcy reorganization at 8 am Monday. Bondholders approved the plan, more or less, says Reuters here. Turnaround specialist Al Koch, who tried to fix Kmart, will help Obama-approved GM boss Fritz Henderson dispose of parts of the carcass. This according to unnamed people cited by Bloomberg's report here.
I can see how some sheltered persons could be intimidated by a Supreme Court justice nominee who was quoted saying, as Sonia Sotomayor told a crowd at Berzerkley seven years ago in re judicial selection, "I would hope that a wise Latina woman, with the richness of her experience, would more often than not reach a better conclusion than a white male who hasn't lived that life." ("Racist statement," says Rush Limbaugh here.)
I wish I could have asked my late grandfather, a Cuban citizen who graduated first in his class at a Boston night law school that Harvard tried to shut down, what he thought of this. As befit a corporate counsel, he was skeptical of politicizing the judiciary: "I don't agree with the idea that we need one Catholic, one Jew, one Anglo-Saxon on the Supreme Court." Good justices are rare; they need to make law for everyone; no ghetto. (Sotomayor would make the court two-thirds Catholic; nobody seems much worried about that.)
On the other hand, as befit the son of a revolutionary, Grandpa was also an ardent Latin American nationalist. And in our family we knew lots of wise Latinas in his and the next generation: My Cuba-born mother, my Mexican grandmother, my Puerto Rican godmother, and their pan-American amigas y companeras who filled our home en tiempos festivos gave me harto excellent advice, on education, money, women, family, and what constitutes true success. In those cases where I didn't follow it, I came to wish I had.
George E. Norcross III, chairman of $1 billion (yearly sales) insurance brokerage Conner Strong Cos. Inc., chairman of Cooper University Hospital and architect of its recent expansion, and premier Democratic Party leader and fundraiser in South Jersey, has moved his firm's headquarters and 130 Conner Strong workers to 40 Lake Center Executive Park, a four-story, 55,000-square-foot trapezoid on NJ 73 in Marlton.
The building was formerly the local office of subprime mortgage lender IndyMac Bank before the government took it over last year. Norcross told me he sublet the space, vacating his old office at 1006 Astoria Blvd in Cherry Hill. Conner Strong employs another 60 in Philadelphia, and 100 in North Jersey.
Deflation Watch: Starbucks is using brokers from the Cushman & Wakefield commercial real estate brokerage to push landlords to reduce rental rates for stores around the country, a couple of Philadelphia real estate sources tell me.
Starbucks operates more than 7,000 stores and licenses more than 4,000 more, and said in January it was trying to cut costs across the board. The company "is pushing some U.S. landlords for as much as a 25 percent reduction in lease rates, taking advantage of a declining real estate market to save on rent," Bloomberg reports here.
Tough on landlords. But will it mean cheaper coffee? If not, we're still stopping at Wawa - or boiling our java on the stove.
Harvard University, with Yale and Princeton, was among the first U.S. institutions to invest heavily in venture capital. Commercial real estate. Hedge funds. The Pennsylvania State Employees' Retirement System and other aggressive investors followed. The University of Pennsylvania and other stock-and-bond shops worried they'd missed the party.
But now poor Harvard is saddled with illiquid assets, budget cuts and a big financial hangover from depending too much on its wonder-working millionaire fund managers, many of whom have left.
In "Harvard Has a Cold," lead article in the first issue of PlanSponsor founder Charles Ruffel's new online magazine, www.ai5000.com, writer Kristopher McDaniel reports Harvard's had such a hard time turning its unwanted positions into the cash it counts on to support annual operations that it's "preparing a large bond offering" to borrow money. That's "indicative of a cash shortfall which impacts the university, the endowment and other Harvard entities."

"Yale plans for its endowment to support 44 percent of the university's budget this fiscal year. Harvard depended on the endowment for about 35 percent of its revenue during the fiscal year ended June 30," Bloomberg reports here. By contrast, Penn derives just 9% of its operating budget from its endowment, according to spokeswoman Lori Doyle.
Now that TimeWarner has spun off AmericaOnline and Time Warner Cable, WSJ's Deal Journal blog offers this "most attractive option" for Jeff Bewkes, who runs Time Warner's remaining, slow-growing video programming businesses (HBO, Turner Broadcasting, Warner Bros.):
"Sell the company to the likes of, say, Comcast, or News Corp... or perhaps DirecTV Group. Instead of trying to reinvent Time Warner, whose conglomerate structure he once derided as bull----, he could go down as the man who finally solved the company's growth riddle once and for all."
Raises questions for us deal-watchers here in the shadow of Comcast Center: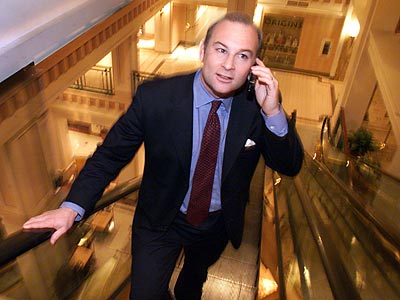 Shares of Brandywine Realty Trust topped $7 for the first time in four months yesterday after the Radnor-based office landlord sold 35 million new shares at $6.30 each. Brandywine sold another 5.25 million shares to underwriters led by Merrill Lynch, JPMorgan and Citi, bringing proceeds to the company from the sales to $243 million, and opening the stock higher again today.
The company also said it's bought back $34.5 million of its 5.625% Guaranteed Notes due next December, at 93 cents on the dollar.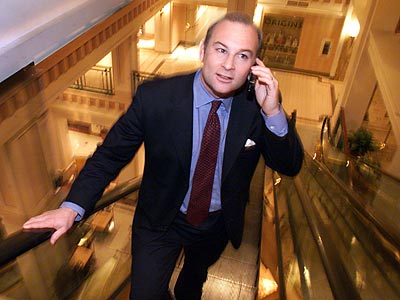 Walter Tsou, former Philadelphia health commissioner and former head of the American Public Health Association, along with hospital union leaders, will address a noon rally tomorrow outside health insurer Cigna Corp.'s Two Liberty Place headquarters, at 16th and Market Streets.
On Sunday, U.S. Rep. John Conyers (D., Mich.), sponsor of H.B. 676 calling for a single-payer system, will speak at Princeton Theological Seminary's Mackay Center in a program starting at 1:30 p.m., cosponsored by the Presbyterian Church (USA).
Also speaking in Princeton will be Michael Paluszek, president of Princeton Satellite Systems. "I have an insurance plan for my employees. It's expensive and complex," said Paluszek, who employs 50. "Every year the plans change, with more fees. The cost for employees with families is prohibitive...I think that universal health care should be paid for by a progressive income tax paid for by all taxpayers." More in today's PhillyDeals column here, scroll to second item.