Archive: March, 2012
Joseph N. DiStefano
Harrisburg's state-appointed receiver, bond lawyer David Unkovic, has resigned.
The move surprised Gov. Tom Corbett. Unkovic "sent a resignation letter to Commonwealth Court, which appointed him, this morning," Corbett spokesman Kevin Harley told me. "His resignation is unexpected and unfortunate."
Harley added, "Gov. Corbett will move quickly to recruit another receiver. Gov. Corbett remains committed to working toward financial stability for the city of Harrisburg."
Joseph N. DiStefano
Audubon, Montgomery County-based Globus Medical, which claimed $60 million in profits last year from sales of spinal-repair devices worth $330 million, has filed for an initial public stock offering, read its SEC prospectus here.
Joseph N. DiStefano
Originally published March 29, 2012
UPDATE: Best Buy says it'll cut costs - and improve service - which sounds doubtful:
Service "should be its advantage over online retailers," but the chain's latest plans to build more small Best Buy Mobile stores and service-incented Best Buy Connected stores, in the face of continuing big-box store shutdowns, look like "too little, too late," writes analyst Carol Levenson at Gimme Credit LLC.
Joseph N. DiStefano
David Unkovic, the veteran bond attorney appointed with the blessing of (corrected) PA Gov. Tom Corbett to reorganize over the city of Harrisburg's finances, says he's asking for state and federal investigations of "possible illegal activities" surrounding the incinerator bonds that have left the city insolvent, Bloomberg LP reports here.
At a press conference in Harrisburg yesterday, Unkovic cited a report his office published in January saying the city and its paid professionals should have realized the incinerator wasn't likely to make enough money to pay back the bonds they were selling to fund it.
Unkovic asked the US Attorney's Office and Pennsylvania Attorney General Linda Kelly "to investigate possible illegal activities in connection with the matters described" in the report.
Joseph N. DiStefano
"A federal court in Chicago has ruled that a supermarket chain and a consulting firm enjoyed a legal right to engage in a secretive campaign to thwart competitors," says the Wall Street Journal here.
The judge on Tuesday "dismissed a lawsuit brought by two Illinois property developers who claimed that Supervalu Inc. [which owns Acme Markets and other grocery chains] and Saint Consulting Group had engaged in fraud and other illegal business practices in blocking proposed shopping centers in suburban Chicago that were to include Wal-Mart Stores Inc. supercenters."
The lawsuit, which followed a Journal expose', "claimed that Supervalu, based in Eden Prairie, Minn., and Saint Consulting secretly funded and organized citizen opposition to the shopping centers, even paying for a lawyer who helped landowners petition a judge and other officials to block a shopping center.
Joseph N. DiStefano
Kentucky voters may support politicians who talk about shrinking government to nearly nothing, like US Sen. Rand Paul (R-Ky.) But the Bluegrass State also offers emerging biotech firms cash benefits that oldtime healthcare centers like Pennsylvania can't match, according to professors who have left Penn and Jefferson behind for Lexington.
"Kentucky has a couple of really unique programs" that finance companies in the "Valley of Death" period between start-up and main-line venture capital, says Eric Ostertag. The University of Pennsylvania-trained molecular biologist moved his company, Transposagen, which develops MutaRat gene-testing animals, to Lexington in 2008.
"The one that really caught my attention: they are the first state in the nation to match the Small Business Innovation Research Grants" given by the federally-funded National Institutes of Health, Department of Defense, and National Science Foundation to early-stage companies that collaborate with universities. While several states match initial government grants up to $200,000 and a year, "Kentucky is the first state to match the second phase, two years and up to $2 million," Ostertag told me.
Joseph N. DiStefano
At least one Main Line investment firm is mulling a move downtown after City Council voted 16-1 (Councilman Curtis Jones dissenting) last week for Councilman Bill Green's tax break for investment funds and their general partners. "Mayor Nutter has said he will sign it," Joseph Bright, tax attorney at Cozen O'Connor, told me.
The bill exempts these investors from the city's 6.5% business privilege tax levy on profits. Green predicted small venture, private equity and hedge funds will be more likely to locate here now.
Green was also quoted claiming Philadelphia lacks an investment industry and the tax break will help start one. Of course the city is and remains an investment hub, though it's true the 'burbs are full of outfits that ought to be downtown. I asked some of Philadelphia's biggest money managers if the law will make a difference.
Joseph N. DiStefano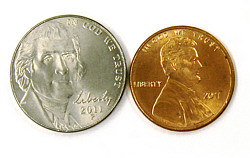 US Treasury Secretary Timothy Geithner hopes to strip copper and other valuable metals from the Philadelphia and Denver coining lines that mint America's small change, as a cost-cutting measure.

"Currently, the costs of making the penny and the nickle are more than twice the face value of each of those coins," Geithner told the House Appropriations Committee in this testimony today. Treasury is pushing a law that would give it the freedom "to change the composition of coins to utilize more cost-effective materials." He didn't specify in his testimony if that means plastic or aluminum.
The U.S. Mint says nickels are currently 75% copper, 25% nickel. Pennies are copper-plated zinc.