Archive: June, 2012
Joseph N. DiStefano
Two strong stories from Bloomberg LP today:
- JPMorgan chief Jamie Dimon cut off his own right hand - forcing out his veteran investment banking bosses - when they criticized his out-of-control treasury investment desk.
They were right, he was wrong; JPMorgan lost billions, and Dimon's credibility as the "last man standing" of American banking and the most vocal critic of proposals to split investment and commercial banking is badly damaged. He'll get to explain himself in Congress today. Read the story by Erick Schatzker, Dawn Kopecki and Brad Keoun here.
Joseph N. DiStefano
Northern Liberties and adjoining blocks -- the 19123 Zip code, between the Delaware River and North Broad Street, Vine to Girard -- are among the 25 "fastest gentrifying neighborhoods" in the United States, reports the Washington DC-based Thomas B. Fordham Institute, a school advocacy nonprofit funded by a dead Ohio industrialist, in this brief report.
The tract went from 25% white in 2000 to 46% white in 2010 as Bart Blatstein's Piazza at Schmidt's and other housing developments lured young people from colleges and retirees from the suburbs and other city neighborhoods.
The increase ranks Northern Liberties with districts in Brooklyn, Washington DC, Chicago, and in Columbia, SC and other southern towns, which have attracted more affluent apartment renters, especially since the home-purchase market and new suburban constructoin collapsed in the mid-2000s.
Joseph N. DiStefano
(Note correction on Point 2)
Philadelphia City Planning Commission will meet Tuesday June 12, 1 pm, upstairs at 1515 Arch St. Agenda here. Among the projects the planners will look at, three Delaware River waterfront housing proposals (apartments, most likely):

1) At 230-250 North Christopher Columubus Blvd.: a 180-unit residential development with ground-floor stores/restaurants. Builders' lawyer Carl Primavera will represent developer Louis Cicalese of Ensemble Real Estate.
Joseph N. DiStefano
Wisconsin's Department of Natural Resources has referred a unit of developer Michael O'Neill's Radnor-based Preferred Sands "to the Department of Justice for prosecution of alleged pollution violations in west-central Wisconsin," reports the Eau Claire, Wisconsin Leader-Telegram here. No immediate callback when I asked Preferred for comment.
The facility is one of six U.S. sites Preferred maintains for supplying sands to the natural gas industry for use in drilling hydraulic fracturing (fracking) gas wells.
Wisconsin "alleges that on March 3 a dike embankment collapsed, apparently as a result of heavy rains, at a Preferred Sands of Minnesota mine in Trempealeau County. The resulting river of mud flowed more than 2,100 feet onto surrounding privately owned land, damaging a barn and other property," the Leader-Telegram reported.
Joseph N. DiStefano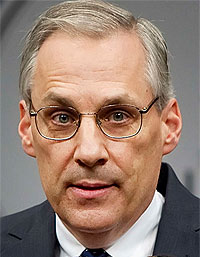 "Hundreds" of U.S. municipalities "are suffering the financial ravages caused by the unchecked greed of major financial institutions and their local enablers," writes David Unkovic, longtime bond lawyer at Philadelphia-based Saul Ewing Remick & Saul and Cozen & O'Connor, and PA Gov.Tom Corbett's former receiver for cash-strapped Harrisburg PA, in this extraordinary piece in the Harrisburg Patriot-News.
Unkovic resigned after concluding that Harrisburg-area public officials, New York investment bankers and Pennsylvania bond professoinals had violated Pennsylvania's Local Government Unit Debt Act, the law governing performance bonds for public construction projects, and other state laws, as laid out in this Harrisburg Authority fiorensic audit and this Harrisburg Authority management and financial audit.
He has called for state and federal investigations of the Harrisburg bond sales. His article renewed those calls: "In order for a Democratic republic to work, a fundamental respect for the law is essential, particularly by the public officials elected to carry them out and their lawyers and agents. ... Disdain for the law is so embedded in Harrisburg's political culture that it constitutes a very insidious form of corruption.
Joseph N. DiStefano
Metro Bank has raised another $200 million, doubling its 2010 capitalization, says founder Vernon Hill, late of the former Commerce Bancorp of Marlton (now part of TD Bank).
Where'd he get the money? Reports Britain's City AM:
"Upstart lender Metro Bank," opened last year by former Commerce Bank boss Vernon Hill, "wants to open seven new branches by the end of this year after completing a £126m capital raising." Ceo Craig Donaldson confirmed Metro is still planning a public stock offering in 2014.
Joseph N. DiStefano
Philadelphia-based VantaCore Partners LP says it has bought Laurel Aggregates LLC, a Pittsburgh-area limestone quarry serving Marcellus Shale drillers and road-builders in the northern Appalachians, for an undisclosed sum.
The deal includes Laurel's surface and underground limestone quarry and an estimated 197 million tons of limestone reserves at Lake Lynn PA, 65 miles south of Pittsburgh. Laurel also buys stone from other quarries.
Laurel executive Barry Fink, who joined Laurel in 2007 and has handled sales to Marcellus Shale and Utica Shale drillers, will join VantaCore as vice president and General Manager, bringing with him other Laurel employees. VantaCore said. VantaCore boss Colin Oerton called Laurel's markets "areas of significant growth," and noted Laurel is VantaCore's "seventh acquisition since its 2006 formation" -- and is bigger than VantaCore's previous mining and road materials acquisitions in Clarksville, Tenn., Todd County, Ky., and Baton Rouge, La., combined.