Joseph N. DiStefano
UPDATE: Patriot Equities, a Wayne investment firm, says it will spend at least $60 million acquiring and improving 1110 American Parkway Northeast, a pair of office buildings totalling 563,000 square feet. Patriot says the site is the largest commercial office complex in the Lehigh Valley.
Patriot plans to market the site as one of the biggest properties available to business in the greater Philadelphia area (now that the Northeast Extension linking Allentown to Lansdale and Plymouth Meeting has been widened). Built in 2002 as headquarters for AT&T equipment-manufacturing spinoff Lucent Technology, the building remains home to successor companies that now own pieces of the former Lucent, including Avago Technologies and Intel Corp.
Mission Capital Advisors, with offices in New York, says it arranged $41 million in "acquisition and repositioning financing" to help pay for the acquisition and improvements. Patriot would not disclose the purchase price. The buyer says the property includes 145 acres and that the site is approved for 400,000 sf in future construction. There are two parking garages and an atrium connecting the structures. Patriot could end up spending up to $100 million, including acquisition, updating and expansion, "depending on the level of buildout," Geoffrey Gardner, the firm's chief investment officer, told me.
Joseph N. DiStefano
Headcount at the School District of Philadelphia headquarters at 440 N. Broad St., onetime home of TV Guide when it was the most-popular magazine in America, is down to 590. The place has room for 2,000 staff -- was home to more than 1,500 when it opened in 2005 -- but, after years of cuts, much of the space echoes empty.
Why not move out? Because the district owns the property -- and has to pay off what it owes before it can afford to leave, school spokeswoman Raven Hill told me.
The state-sponsored School Reform Commission that oversees city schools, headed then by investor James Nevels (current chairman of the Federal Reserve Bank of Philadelphia, and Hershey Co.), bought the building from a Goldman Sachs affiliate in 2003 for $45 million. The school system spent $90 million more renovating it as offices in 2005, the Inquirer reported at that time. Today, the district still owes $110.7 million for the underused site, Hill told me. It will have to cover that debt, plus moving expenses, before it can afford to move, she said.
Joseph N. DiStefano
Versa Capital Management LLC, the Philadelphia-based, $1.4 billion-asset turnaround investor run by Greg Segall and backed by Ira Lubert's Independence Capital Group, says it is "the winning bidder" in an auction for The Wet Seal Inc., the bankrupt young women's clothing store chain, and its 173 remaining stores in 42 states and Puerto Rico. The money-losing chain announced in January it was closing 338 stores, and starting in December 2014 closed another 150 locations, as a wave of retail bankruptcies and shutdowns has alarmed shopping-mall owners. Surviving Philadelphia-area Wet Seal locations include the Deptford and Springfield malls. Wet Seal is based in Foothill Ranch, Calif.
Versa plans to take over debtor-in-possession financing, under a proposal pending before U.S. Bankrutcpy Court in Wilmington, Del. that will be the subject of a March 18 hearing. The proposed sale under Section 363 of the Bankruptcy Code would sell Wet Seal to a Versa affiliate. Details at www.donlinrecano.com/wetseal .
After reviewing Wet Seal and its competitors over the past year, Versa found that Wet Seal "was best positioned in the marketplace, and thus we pursued this deal with determination," Segall, Versa's chairman and CEO, said in a statement. He added that Versa will work with Wet Seal CEO Ed Thomas to close the deal "and pursue the many opportunities for growth and profitability now available under Versa's ownership." Segall inferred Versa may look for other women's retail opportunities, as it has in the outdoor sector (see "other Versa retail" below).
Joseph N. DiStefano
"We were very pleased" with 2014 pension investment returns," writes James Grossman, chief investment officer at the Pennsylvania School Employees' Retirement System (PSERS).
PSERS says its investments yielded 8.83%, beating its yearly target of 7.5%, besting both the state pension system (SERS), which reported 6.4%, missing its target; and also Montgomery County, which in 2013 dumped its SERS- and PSERS-style mix of stock, bond and private-investment managers and bought a bunch of low-fee Vanguard index funds last year to score a 7.7% return, slightly above target (more on SERS and Montco here). ALSO: New Jersey Division of Investment returned 7.27% for 2014, see here.
What gave a boost to PSERS's 2014 returns? The system will put out more detail in its yearly Budget Book soon, but here's what yielded above average: "Real estate (up 17.2%), Master Limited Partnerships (up 16.3%), private markets (up 10.4%), fixed income (up 10.3%), U.S. equities (up 11.7%) [though that trails the S&P 500's 13.7%], and risk parity [a portfolio designed to reduce volatility] (up 10.2%)."
Joseph N. DiStefano
"Dole Food Co., the fruit producer and the Port of Wilmington's largest tenant, has urged (Delaware state) lawmakers to limit shareholder lawsuits," and legislators say company reps have threatened that Dole may pull its fruit-shipping business and hundreds of dependent jobs out of the state if the legislators don't cave in and limit hedge fund investors' powers to file lawsuits, Jonathan Starkey in the Wilmington News-Journal reports here.
"Dole, like other companies incorporated in Delaware, has been spending millions of dollars in defense costs due to appraisal litigation initiated by hedge funds," C. Michael Carter, president of Dole, wrote in a December letter to state lawmakers, the News Journal reported. He called the litigation "abusive" and sent the lawmakers draft legislation that would restrict such suits.
Shareholder disputes are big business in Delaware, which is home to more corporations and other business entities than people, and is the legal home to many big U.S. companies and subsidiaries with offices elsewhere, thanks to its lack of taxes on intellectual property income, its business-friendly Chancery Court of appointed judges who speed shareholder disputes to resolution, and its infrastucture of local, New York and Philadelphia law firms and other services to accomodate corporate clients. Corporate fees help Delaware afford its status as one of just four states without a sales tax, though Gov. Jack Markell wants to levy one.
Joseph N. DiStefano
(See UPDATE in Paragraph 5 below) Citing "a difficult second half of the year," the underfunded, $27 billion-asset Pennsylvania State Employees' Retirement System says its investments returned only 6.4% last year, below the system's annual target of 7.5%, according to a report by Chief Investment Officer Tom Brier. The less the funds earn, the more taxpayers may have to pay, under state formulas designed to bring pension assets closer to long-term pension obligations.
SERS fell short despite its history of spending hundreds of milions of dollars a year on fees paid to a range of private managers and strategies designed to boost returns while protecting investments from weak markets. SERS's stocks, bonds, real estate and hedge funds all posted returns below the fund target. Only one category, "alternative investments," posted higher returns than the 7.5% benchmark for 2014, thanks in part to soaring private equity valuations attributable to the strong U.S. stock market of the past few years. But even alternative investment returns sagged, posting a loss of 0.3%, during the fourth quarter of last year as stocks turned down.
By contrast with SERS, Montgomery County's $500 milllion pension system saw investments return 7.7% for 2014, beating its own 7.5% annual target, county finance director Uri Monson told me. Starting in mid-2013, Montco dumped SERS-style private investments and investment managers and bought indexed stock, bond, U.S. and foreign-investment funds from Malvern-based Vanguard Group, in hopes of cutting costs and boosting returns.
Joseph N. DiStefano
Why did chocolate maker Hershey Co. agree in January to pay a reported premium-high price of $200 million-$300 million for Krave, a small ($36 million in sales last year) jerked-beef snackmaker started by California wine heir Jon Sebastiani just five years ago?
With U.S. consumption of meat snacks (jerky and sticks) jumping to $2.5 billion last year from $1.5 billion in 2009 (according to IRI Worldwide data), and new brands like Krave marketing to young, sports-oriented or nature-food enthusiasts, "jerky could be next on the short list of categories -- coffee, Greek yogurt, nut bars -- that have experienced breakthrough-led expansion in the last five years," writes Berwyn-based food-companies analyst Jonathan P. Feeney today in a report to clients of Athlos Research. That explains "the expansion into meat snacks for (Hershey), a heretofore pure play confectionary company," he writes.
Hershey acquisitions are rare and strategic (see its $584 million 2013 deal for Shanghai's Golden Monkey Food Co.), and Krave marks a departure for Hershey into a whole new U.S. category. Some analysts compared the deal to Hershey's $130 million acquisition of Mauna Loa Macadamia, the Hawaiian nut company, in 2004 (Hershey sold Mauna Loa to Hawaiian Host for an undisclosed sum as soon as the Krave deal was done).
Joseph N. DiStefano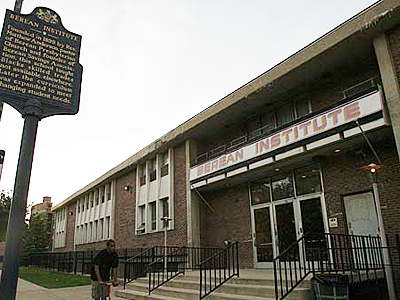 The Philadelphia Technical Training Institute (PTTI), a nonprofit training school which says it has developed a six-month math, science and technician training program for automotive, welding and factory job preparation, which it has used to place graduates in jobs with Pep Boys, U-Haul and other employers, says it has made a $270,000 down payment toward the $2.2 million purchase of the former Berean Institute building at 1901-45 W. Girard Ave. in North Philadelphia. The institute has until May to raise the balance of the funds and close the purchase with the property's owner, the Commonwealth of Pennsyvlania, said founder Sherman McLeod.
McLeod says his group has raised more than half the balance, is soliciting charitable contributions for the last $830,000 PTTI needs, and is confident it will move into the historic 34,000 sq. ft. Berean space this Spring. He said PTTI will move downtown from a 9,500 sq. ft. building he owns near the corner of Ogontz Ave. and Washington Lane, and is prepared to scale up enrollment, from 100 last year, to several hundred, in the larger space and with expanded staff. The building that long housed the Berean Institute, which traces its roots to African American Presbyterian minister Rev. Matthew Anderson, who also founded Philadelphia's longest-lived black-run bank, has been vacant since Berean Institute's cosmetology program was evicted for non-payment of rent and utilities in 2012, after losing state funding, the Daily News reported here. Calls to numbers listed on Berean's Web site weren't returned.
McLeod says he studied engineering at Drexel and worked a series of jobs in corporate America, including a stint as a design engineer at Johnson & Johnson's Epicon sutures division, where he focused on high-speed automation. But "I wanted to do my thing, and get people hired in Philadelphia," he told me. He noted President Barack Obama has called for increased funding for job-training programs to boost the number of workers able to fill technical positions. PTTI says it is licensed by Pennsylvania's Department of Education licensed private schools division, accredited by the Middle States Association, and approved for Federal Title IV student aid.