Joseph N. DiStefano
Toll Bros.' proposed purchase of 52 acres at Philmont Country Club, on the Pine Road side of the Huntingdon Valley golf and tennis center, has been cancelled. "It is no longer under contract, we are not moving forward," Toll chief marketing officer Kira Sterling confirmed to me this morning. She wouldn't say why. Philmont general manager Ed Rubin didn't return a call seeking comment.
As I reported in January, homebuilder Toll had agreed to buy the property, a few minutes from its offices, enabling the club to retain 27 holes and its clubhouse, pending a final sale agreement. Toll has been ramping up suburban construction as the high-end housing market strengthens. (Neither side would confirm a source's claim that the Philmont price approached $12 million.)
The recession was tough on country clubs: Toll is moving ahead with other golf-course-turned-home redevelopments, including the Barbin family's former Horsham Valley Golf Club in Montgomery County and the former Hercules Inc. country club near Greenville, Del. Developers have also purchased the Woodcrest (Cherry Hill, NJ) and Brandywine (Wilmington, Del.) country clubs, founded like Philmont by Jewish families during the old days of social segregation on the links.
Joseph N. DiStefano
By a vote of 19-8, divided Penn State trustees this morning approved a litigation settlement proposal promising the university will "remain committed to full compliance with the Consent Decree" signed with the NCAA in 2012, including a $60 million payment, management reforms and football program sanctions. Read the resolution here.
The proposed settlement approved by the board majority, if accepted in court, could be used to resolve state and federal lawsuits over the Decree, requiring among other steps that the $60 milllion be spent in Pennsylvania "to assist victims of child sexual abuse and prevent future child sexual abuse."
The eight elected alumni trustees who voted all opposed the resolution, splitting from members representing state government, business and farm groups, who backed the proposal. Trustees divided over whether the proposed settlement goes too far in accepting the NCAA sanctions, which the alumni trustees say are based on unproven criticisms of former University President Graham Spanier, the late football coach Joe Paterno, and university practices and pro-sports culture as detailed in the scathing Freeh Report, which blamed them for failing to stop ex-assistant football coach Jerry Sandusky from abusing children on college property.
Joseph N. DiStefano
Scott Freidheim, a veteran European buyout investor (Investcorp), brand rebuilder (Sears' Kenmore, Craftsman and Diehard) and merger-and-crisis dealmaker (Lehman Bros.), has agreed to move with his family from London to Philadelphia to run CDI Corp., the $1.1 billion (yearly sales) engineering solutions and placement firm. Statement here.
Mike Emmi, the former SCT Corp. CEO who served on CDI's three-director search committee, explains the choice: "We met with 30 candidates for the position. A wide range of backgrounds, from very strong young entrepreneurial people, to operators of businesses similar to CDI. But no one quite like Scott."
CDI is in the people business. It ran the five finalists through layers of background checks, psychological screeing and testing, made them write 12-page essays. Emmi says CDI, aided by recruiter Gayle Mattson, weighed two possible CEO models: a strong operating manager who could boost profitability; or a turnaround-and-acquisition star. Freidheim, 49, was both, Emmi says.
Joseph N. DiStefano
A joint team at Boeing and United Technologies Corp.'s Sikorsky Aircraft has been picked by the U.S. Army to build a sample new SB-1 Defiant Joint Multi-Role (JMR) demonstration helicopter -- for possible Navy use as well -- to be ready for testing in 2017. Statement here.
Both companies make helicopters in the Philadelphia area, but it will be years, if ever, before these Army ships add jobs here. Boeing has made Black Hawk, Apache and Chinook helicopters among others for the U.S. military and employs more than 4,000 at its Ridley Park works. Sikorsky employs hundreds at its Coatesville facility, but that's mostly for civilian aircraft.
The team the Army tapped to build what may end up being one of a few rival Defiant models is based at Sikorsky's Connecticut works, Alison Sheridan, a Boeing spokeswoman in St. Louis, told me. "We will be building one helicopter. It's intended to fly higher, hotter, faster." The ship will be more conceptual, "shaping requirements for future acquisitions," than operational. Will parts eventually be built in Ridley? "It's way too far down the road to speculate. It may not fly until the 2030s." Still, "it's a good news story for the team. It reinforces our commitment to helping the Army develop these guidelines," instead of waiting to bang it all out in production.
Joseph N. DiStefano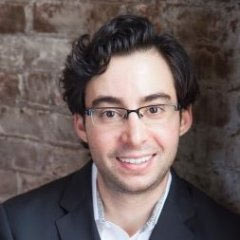 Daniel Kline loves Philadelphia. But he's not putting his fund's millions to work around here.
"The city has so many great reasons for people to want to rent and live here," says Kline, who named his real estate investment firm Delancey Street Capital after one of Society HIll's premier residential addresses. "I grew up here, went to school here (Wharton, and Akiba), learned the business from Mitch Morgan here." His Morgan Properties Inc. used the late recession to buy cheap and expand fast, becoming at one point the biggest apartment landlord in New Jersey.
Kline left Morgan and set up Delancey in the spring of 2013 and began hunting properties in Pennsylvania and Maryland. In that time Kline has invested $35 million -- none of it in the Philadelphia area. His firm's latest buy is Sail Cloth Factory Apartments -- $12.9 million for 107 units in a converted downtown Baltimore ship-supply loft factory building -- in a neighborhood Kline is sure will support both improvements (24-hour valet and gym, roof deck, free Internet and yoga), and higher rents, squeezed between a big state college campus and a university medical center. In fact, all his deals have been in Maryland, not Pa.
Joseph N. DiStefano
Vox Media's TheVerge.com reporter Adrianne Jeffries writes that her publication "interviewed more than 150 current and former employees in an effort to understand Comcast's lousy reputation. We heard the same stories over and over again: customer service has been replaced by an obsession with sales; technicians are understaffed while tech support is poorly trained; and the company is hobbled by internal fragmentation."
So TheVerge has published Comcast Confessions, extracts from dozens of interviews with mostly unnamed current and former Comcast customer service phone workers, installers and supervisors. They detail a sprawling, inconsistent, often outsourced "customer service" operation that pushes workers to sell and cut costs.
Comcast responds a bit in the third installment: "Comcast knows it has a problem with coordinating all its moving parts. D'Arcy Rudnay, Comcast's chief communications officer, says the breaking point came in 2011. 'Everything was completely different geographically,' she says. 'It became impossible to deliver the customer experience that we wanted to.' The company has taken steps, but "we're only in the first, second, or third inning of this," Rudnay added. "There are so many pieces of the infrastructure that need to be fixed."
Joseph N. DiStefano
Six Pennsylvania farm owners. Six Pennsylvania business people. Nine alumni, elected by alumni. Nine people (including three cabinet members) chosen by the Governor. Is that who ought to hold voting seats on Penn State's board of trustees?
- Yes, says Nationwide Insurance chairman (and Penn State farmer trustee) Keith Eckel, the Penn State board is just as good as the boards at other Pennsylvania state colleges (West Chester U or Kutztown U, for example.)
- No, says ex Sallie Mae CEO (and elected trustee) Al Lord. He thinks Penn State ought to have a board like Penn's or Princeton's, full of prominent state and national figures who can build Penn State's status as a leading university.
- What do you think? You can tell trustees in person if you drive to State College for a public meeting by the board's Governance and Long-Range Planning committee meeting on Friday, at the Penn State Hotel, State College, Room 204. Eckel chairs the committee; alumni trustee Al Lubrano is a member.
That follows tomorrow morning's hearing on how Penn State should modify its unpopular "Consent Agreement" with the NCAA. Watch at 8:30 a.m. Wednesday at http://wpsu.org/live More in my column in today's Philadelphia Inquirer here.
Joseph N. DiStefano
John Wanamaker, first among the department store moguls whose palaces once lined Philadelphia's Market Street and spread to New York and across the Northeast, survives only as a green metal statue outside City Hall, facing the city's faded retail district.
But Eddie Gindi, co-owner of New York's Century 21 department stores and scion of a family of Brooklyn retailers, still believes "Philadelphia is the right spot for us." And he's chosen the former Strawbridge's at 8th and Market (downstairs from this newsroom) for the chain's first location outside the New York area.
Gindi tells his story -- and how the 9/11 attacks that wrecked Century 21's flagship store gave him new purposes -- in my column in the Aug. 4 Inquirer here.