Archive: May, 2012
Joseph N. DiStefano
Pep Boys, the Philadelphia based auto Parts and service chain, says it will collect $50 million to cancel planned $1 billion sale to private equity buyer Gores Group. Boss Mike Odell says firm is solvent and will refinance debt.
Joseph N. DiStefano
The Philadelphia City Planning Commission plans a "special meeting" Tuesday May 29, 1 pm upstairs at 1515 Arch St., to review plans for more than 800 new Philadelphia homes, traffic features at Penn and Temple, the revised billboard-limitation proposal, expansion at Finnigan's Wake, and other business. Agenda here. Some highlights:

- In Eastwick near Philadelphia International Airport: After a long court fight with factions of the Korman family, Philadelphia is taking back 93 acres where the Kormans were granted development rights in the 1960s but failed to do much.
The city wants to hold the ground along Septa's Airport Line and Bartram Ave. for airport expansion, though there's no specific plan. Planners will review a proposal to strike streets, sidewalks and utility rights-of-way.

Joseph N. DiStefano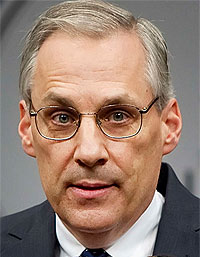 More about how the man Gov. Corbett tapped to manage Harrisburg's debts found himself questioning the state capital city's political-financial arrangements - and what happened next - in my Sunday Inquirer column here. Excerpts:
1) From David Unkovic's statement on why he quit as Harrisburg's court-appointed receiver:

"After my news conference of March 28, 2012, I was called into the Governor's Office of General Counsel. Steve Aichele was adamant that I was no longer able to negotiate a settlement with the creditors, given my criticism of them and my call for an investigation of possible criminal activity in connection with the incinerator financings."
Joseph N. DiStefano
Forensic accounting firm Intelysis Corp., Haddonfield, has put together a checklist of how bosses can scare workers into Doing the Right Thing on company computers. Highlights:

"Tell employees the company is watching everything they do on their company issued computers. The deterrent effect is worth it, even if you aren't that vigilant." (At least until they figure out you're not really paying attention.)
"Install Internet monitoring software at the company server level and keep track of the activity, then present it at the employee's annual review." (Gotcha!)
Joseph N. DiStefano
At least 30% of South Jersey and Wilmington-area homeowners with mortgages still owe more than their houses are worth; it's more like one-quarter in Philadelphia and Delaware County; and less in wealthy Chester, Montgomery, Bucks, says Zillow.com in this cool map.
By contrast, some upstate Pennsylvania gas counties have few if any "underwater" loans.
Joseph N. DiStefano
Pennsylvania raises more tax money from gambling than any other state, notes Bloomberg here, citing this recent American Gaming Association report.
Gross revenues for the state's casinos still trail those of Nevada and New Jersey, but Pennsylvania's higher gambling taxes make the public's cut of betting losses the nation's highest, with $1.5 billion of the total $3 billion wager going to the government.
No other state topped $1 billion in gambling tax collections, according to the association
Joseph N. DiStefano
Shares of Horsham-based homebuilder Toll Bros. Inc. topped $28 for the first time since 2007 yesterday after this stronger-than-expected quarterly sales and profit report.
Toll is exploiting a "resurgence of demand from move-up and luxury homebuyers," and "gaining significant market share" from private builders who have a tough time borrowing money from banks these days, wrote Raymond James analyst Buck Horne in a report to clients. RayJay boosted Toll Bros.' target price to $32, from $28, on expectations of higher profits.
"Downsizing baby boomers" who don't need big loans are filling Toll "City Living" developments in Brooklyn, Seattle, Center City Philadelphia and other markets, Horne added. So far in 2012, "orders climbed 47%" from last year, almost double what was expected, "allowing Toll to raise prices and reduce incentives in its most desirable communities. Demand has remained steady into May," with deposits (non-binding) up around 40% vs last year.