Archive: January, 2012
Joseph N. DiStefano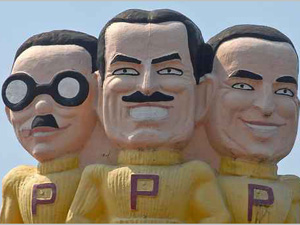 ("There's going to be more stores": See DiStefano's column in Tuesday's Inquirer for an interview with Pep Boys' prospective new owner.)
Pep Boys - Manny Moe & Jack, the Philadelphia-based auto parts and service chain, says it has agreed to be acquired by Alec Gores' Los Angeles-based Gores Group for $15 a share, pending shareholder approval, unless a richer offer comes in quick. News release here.
The price works out to around $790 million in cash, plus over $200 million in Pep Boys debt that Gores will take over, for a total "enterprise value" of around $1 billion.
Joseph N. DiStefano
Around Philadephia, high-end commercial office prices are stuck near where they were nearly four years ago - and not too much worse - if this deal is a sign:

MIM-Hayden Real Estate Funds, West Conshohocken, has paid $70 million ($30 million cash, $40 million mortgage assumption, via New York Life) for Five Tower Bridge (a short walk from MIM-Hayden's office), an eight-story (plus 3 stories of parking), 226,000 sq ft office building that counts Brazilian-owned McDonald's meat supplier Keystone Foods, investment manager Hirtle Callaghan, Oracle Corp.'s regional PhaseForward drug software offices and Wells Fargo as tenants, among others.
The sale price, at $312/sq ft, is down from the $73 million previous owner Peter Bren's KBS Real Estate Trust of Newport Beach, Calif., paid for the Skidmore Owings & Merrill-designed, Oliver Tyrone Pulver Corp.-built tower during the financial collapse of October 2008.
Joseph N. DiStefano
The Pennsylvania State Employees' Retirement System, close to "fully funded" in the early 2000s, is falling farther behind balancing its current assets with its expected future liabilities as it pays pensions to lawmakers, judges, state troopers, social workers and other public employees faster than payroll deductions, investment profits and tax revenues can fill the gap.
SERS assets totalled $24.9 billion in market value at Dec. 31, down $1 billion during the year despite what SERS managers say was above-average performance by the highly-compensated buyout fund managers (Mitt Romney's rivals) who manage a large chunk of its total investments.
That total is just 61% of the $40.6 billion in actuarial accrued liability SERS faced at Dec. 31. The ratio is down from 66% a year earlier. Taxpayers will make up the difference through bigger payments into the public pension system, unless investment values turn around fast.
Joseph N. DiStefano
Saladworks, the 100-store, Conshohocken-based company that calls itself the nation's "largest fresh-tossed salad" chain, says it plans to open 25 new stores this year, and that it has signed deals to expand beyond the Northeast and open 73 new stores in California, Washington State, Texas, Arizona, Florida, Louisiana, South Carolina, and Washington, DC.
Last month founder and chairman John Scardapane said company franchisee plans to open 3 stores in Singapore in the next two years, and eventually a dozen more. "We've got the tools and the drive to grow in other countries," he added.
Saladworks investors include former Commerce Bank boss and longtime Burger King franchisee Vernon Hill of Moorestown.
Joseph N. DiStefano
Philadelphia City Councilman Bill Green, D-at large, wants to certify Philadelphia-based businesses and give them preference in bidding city-funded jobs. Three bills introduced by Green today would:
- Require Philadelphia residents "perform 100% of the work hours" on all city competitively-bid contracts over $150,000
- "Private-party beneficiaries of public subsidies" must "interview Philadelphia residents first for all new, entry-level jobs"
Joseph N. DiStefano
VIST Financial, based in Wyomissing, says it's agreed to be bought by Tompkins Financial Corp., Ithaca, N.Y., for $86 million, or $12.50 per share. That's almost double the stock's recent trading price, but only about half what it was worth before the banking crisis of the late 2000s.

VIST is at least the third Philadelphia-area bank to be swallowed by an upstate New York bank recently. Other deals include Harleysville National's 2010 acquisition by First Niagara and Wilmington Trust's takeover by M&T Bank last year. Both were been followed by staff cuts. But Tompkins says it will continue to operate VIST as a local bank under president and chief executive Robert D. Davis (name corrected)

What's with all the New York-to-Pa. mergers? There's "geographic arbitrage" between banks in the Philadelphia area and other East Coast centers, where fallen real estate prices and borrower losses continue to drain bank capital, and upstate New York, where prices didn't inflate so much and banks are stronger, Joseph Harenza, boss at Griffin Financial Group, King of Prussia, told bank investors in a report last week. "We introduced (VIST) to Tompkins," he said..
VIST's 21 branches include 10 in Philadelphia and its suburbs, most with less than $50 million in deposits, according to Federal Deposit Insurance Corp. data. List here. VIST, which combined the former Leesport Bank, Madison Bank, Allegiance Bank, Philadelphia Financial Mortgage and other firms, has $1.2 billion in deposits and $960 million in loans; it holds well under 1% of the Philadelphia-area banking market, according to the FDIC.
Joseph N. DiStefano
Shares of J&J Snack Foods slipped again today, a day after the shares fell more than $2, to $50.06, after a quarterly earnings report fell short of investor targets. Boss Gerald B. Shreiber, in a confernece call with investors, blamed "higher ingredient and packaging cost" including "significantly higher gasoline costs" and resistance to raising retail prices.
Shreiber also said J&J "hope(s) to be part" of Wawa's Florida expansion. The Delaware County-based chain plans its first Tampa- and Orlando-area stores this summer.

Shreiber "is the Steve Jobs of the food business," in that he demands a lot from his people, Huntingdon Valley asset manager Robert Costello told me later. But there's only so much he can do about the weather: "The last two years there's been bad wheat harvests all over the world," which has driven up food costs; consumer resistance to higher prices has squeezed food processors, he noted.